The 4 Best Brushes For Cockapoos (and the Best Comb) You Will Ever Buy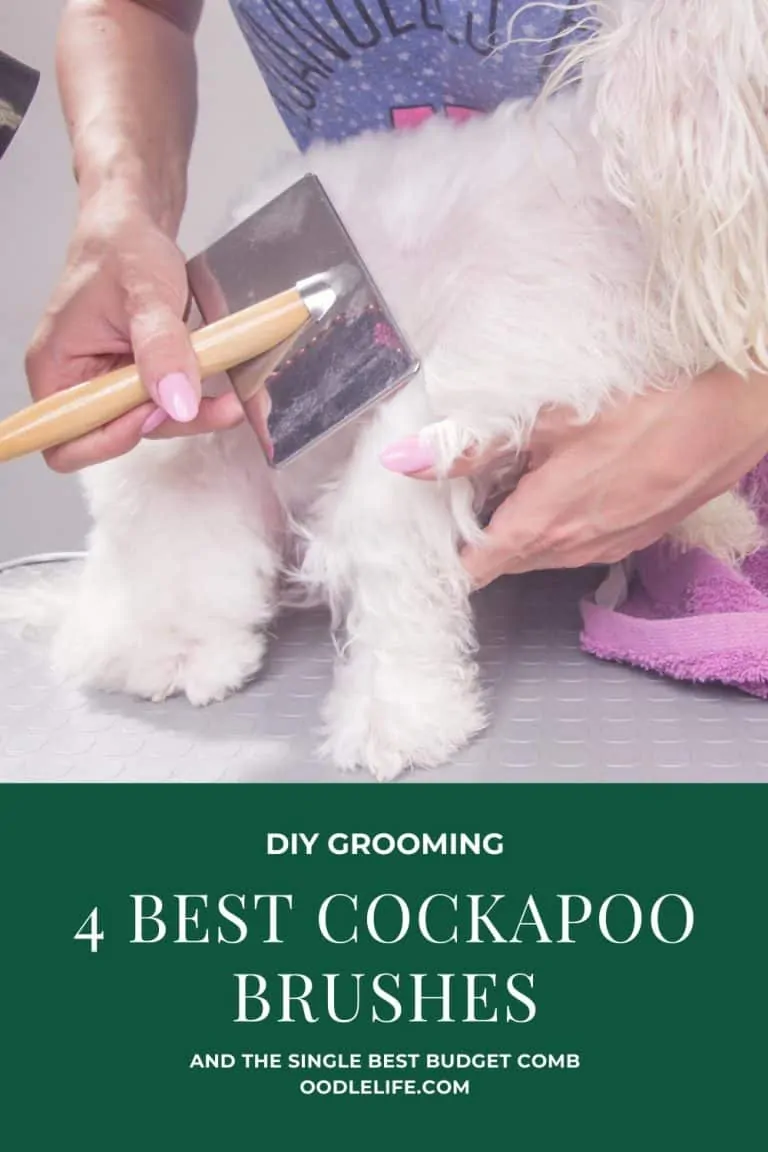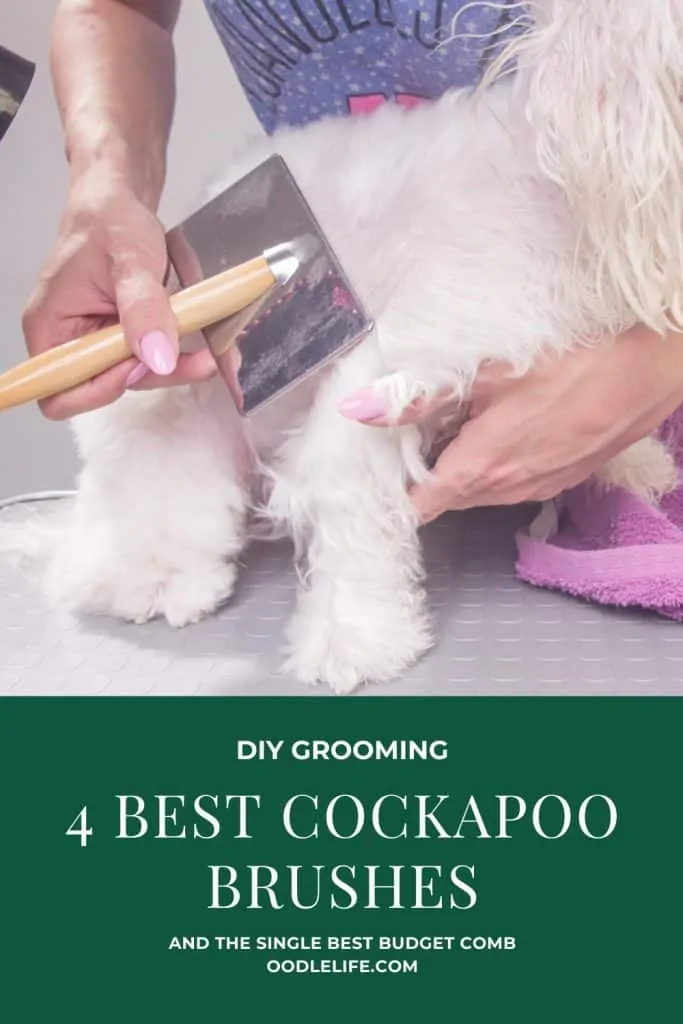 Cockapoos are loyal, sweet, and playful dogs. If you're thinking about getting a Cockapoo puppy for your household, you should know that grooming plays an essential part in the care of this dog.
I won't mess around – the best Cockapoo brush we reviewed is the Chris Christensen Large Slicker brush. The best comb is the budget-friendly and straightforward Andis steel comb.
Cockapoo hair is low to non-shedding, super soft, and as close to hypoallergenic as you can get.
Pros:

Professional groomer quality

German made steel

Perfect for coat maintenance

Pros:

Decent build quality

Slicker density high

Good for thick coats

Pros:

Perfect for detangling

Helps with every brush

Quality Lifetime steel
Nothing Compares
Pros:
Professional groomer quality

German made steel

Perfect for coat maintenance
Budget Pick
Pros:
Decent build quality

Slicker density high

Good for thick coats
The Perfect Comb
Pros:
Perfect for detangling

Helps with every brush

Quality Lifetime steel
One drawback of a Cockapoo coat is that non-shedding coats require weekly brushing. Using the best possible brush and comb makes at-home Cockapoo grooming a breeze.
Discover a bit about the challenges of grooming a cockapoo and our review of the three best brushes for Cockapoos (and the only comb you will ever need to buy).
Challenges of Grooming a Cockapoo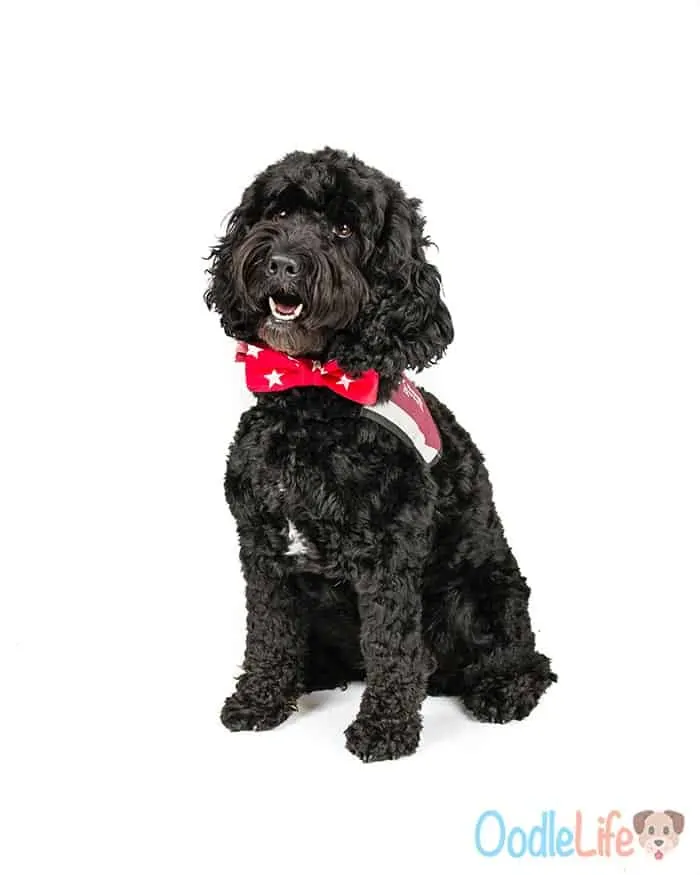 One of the most endearing qualities of a Cockapoo is its thick, beautiful coat.
Cockapoos can have long, medium, or short hair made up of tight curls or waves. The tight curls are an inheritance from the Poodle side of the family! It's best to give your dog thorough grooming to keep its coat healthy.
This dog's long, wavy hair is prone to tangles. Knots form when a Cockapoo runs through the woods, jogs in the park, or rolls on the carpet.
If the tangles are left, they can turn into mats. Mats are clumps of tangles stuck together, making a huge mass of hair. Mats sit close to a Cockapoo's skin, making them difficult to brush out.
Grooming your pet every day with the best brush for cockapoo dogs is a great way to remove any tangles and prevent mats. This daily grooming also allows you to watch over the health of your dog's skin.
So, if there's an issue happening, you can address it right away. Removing the tangles from your Cockapoo's coat every day makes brushing a less stressful experience for both you and the dog.
Plus, your Cockapoo is likely to enjoy its daily grooming routine!
The Four Best Brushes for Cockapoos (Three Brushes and One Comb)
The Best Brush for Cockapoos
Chris Christensen Big G Dog Slicker Brush, Groom Like a Professional, Fluff Detangle Style, Saves Time Energy, Made in Germany, Coral, Large
GROOMERS MIRACLE BRUSH - Best slicker brush for removing matts, fluffing and brushing your dog. A fantastic de-shedding tool Premium "comfort glide" pins will not scratch your dog. 30% more pins than other premium brands this brush does more work with less effort. Ergonomic handle with fantastic comfort grip. Will not slip out of your hand. Makes grooming easier for both home groomers and salon groomers alike.
GROOMGRIP - The unique GroomGrip rubber coating is great for using in the bath to prevent the brush from slipping in your hands and its ergonomic handle will help prevent brushing fatigue.
DOG BREEDS - It is the best dog slicker brush for Poodles, Goldendoodles, and Labradoodles because of its ability to remove tangles and mats with ease. Fluff, detangle and style with one tool. Available in three sizes to fit your breed and size of dog.
SIZING - Baby - Head: 2 3/8" x 2 3/8". Body: 7 3/8", Medium - Head: 2 3/8" x 3 3/4". Body: 7 3/8", Large - Head: 3 3/4" x 3 3/4". Body: 8"
WHY CHRIS CHRISTENSEN - It all started in 1996 when Chris Christensen developed the first true color correcting shampoo for canines and felines. White on White was a catalyst in the evolution of canine coat care. The momentum that followed has allowed Chris Christensen Systems to bring you the finest grooming products ever available in the dog show and pet care worlds.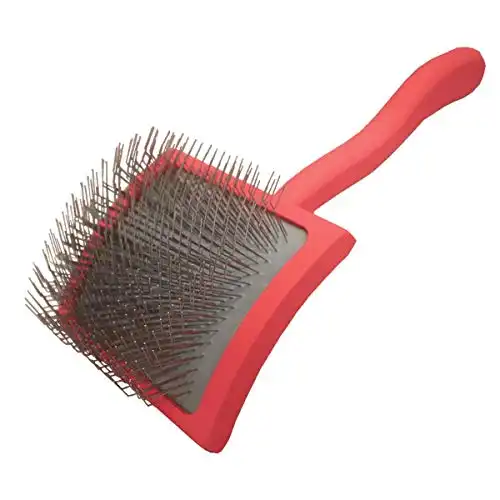 We earn a commission if you make a purchase, at no additional cost to you.
Good things about the Chris Christensen Brush
One of the reasons this is the best slicker brush for cockerpoo dogs is its ability to work through a dog's hair down to the roots. This provides thorough, effective brushing.
Next, this slicker brush has a large number of pin bristles in its design, allowing you to cover more of your dog's coat with each stroke.
Another pro that makes this the best slicker brush for cockerpoo dogs is it removes small mats with ease.
This brush has a long, ergonomic handle making it comfortable to hold as you brush through your dog's coat.
The flexibility of the cushion on this brush allows you to maneuver it through your dog's coat. You can clear out tangles at the top of its fur as well as in its undercoat.
This cockapoo brush is durable so that you can keep it in your box of grooming tools for years.
Cons to the Chris Christensen Slicker Brush
One of the most significant disadvantages of this slicker brush is its price. It's expensive, but you could consider it an investment in the overall health of your dog's coat.
Another con of this brush is the handle has been known to break off. If this happens, you can contact the supplier and let them see the issue.
Best Budget Brush for Cockapoos
Andis Large Firm Slicker Brush for Dogs
Reduces shedding up to 90%
Removes dead hair from undercoat and topcoat
Stimulates hair follicles to promote growth and healthier hair
Anti-slip, soft-grip handle for safe and comfortable grooming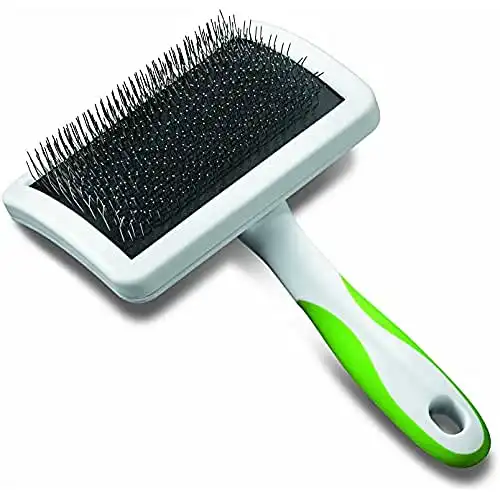 We earn a commission if you make a purchase, at no additional cost to you.
Pros of the Andis Firm Slicker Brush
One of the most considerable advantages of this brush is its anti-slip grip. So, whether you're combing a stubborn tangle or working through a tangle-free coat, the brush grip feels secure in your palm.
The size and design of this brush allow you to cover a lot of area on your Cockapoo's coat in a short amount of time.
The design of this brush also includes a small rubber ball on the end of each bristle. This allows you to give your Cockapoo a thorough brushing without hurting its sensitive skin.
Using this brush can reduce the amount of shedding done by your Cockapoo, making the grooming process quicker.
This brush is easy to empty and clean after grooming your Cockapoo.
The price of this brush is a reasonable investment for the health of your dog's coat.
Cons of the Andis Slicker
The bristles can easily fall out of this brush, making it less useful for brushing a Cockapoo's thick coat.
The plastic used to make this brush is somewhat flimsy and can be a disadvantage when brushing a dog with an unusually thick coat.
Best Two in One Detangling Brush for Cockapoos
Hartz Groomer's Best Combo Dog Brush
Developed with pawfessional groomers for everyday de-shedding, detangling and removing small mats
Features two brushes and grooming actions in one! One side contains stainless steel tips with a protective coating to remove lose hair and detangle coat; the other side has dense nylon bristles to redistribute natural oils for a healthy, shiny coat
Ergonomically designed handle allows for maximum comfort and control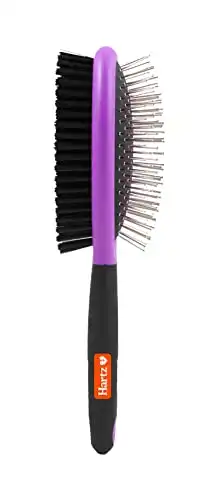 We earn a commission if you make a purchase, at no additional cost to you.
Pros of the Hartz Brush
One reason why this made the list of best brush for cockapoo dogs is its price. This is an inexpensive brush for you to purchase for your dog's grooming routine.
Another pro is this is a two-sided brush. One side is useful for removing tangles, and the other is excellent for smoothing your Cockapoo's coat, making it shine.
The ergonomic handle is an advantage, especially if you add more than one Cockapoo to your household!
The small metal balls on the ends of the stainless-steel bristles on one side of this brush make brushing easier on your Cockapoo's skin.
The ease of cleaning is another pro of this brush for cockapoos. You can easily remove loose hair and wash both sides of this brush.
This brush is made by Hartz, a trusted manufacturer of grooming tools for pets.
This is a brush that works well on cockapoos with long or short-haired coats. You can have one brush for cockapoos with different coats.
Cons of the Hartz Brush
The bristles on this brush have been known to fall out over time.
The surface of the brush is relatively small, making it a longer process to groom your Cockapoo.
The Best Comb for Cockapoo
Andis (Pet) 7-1/2-Inch Steel Comb ,Silver
Eliminates tangled, dirty and loose hair
Stimulates the skin and hair follicles
Perfect way to end and provide volume
Lightweight for fatigue
Ideal for cats and for dogs of all sizes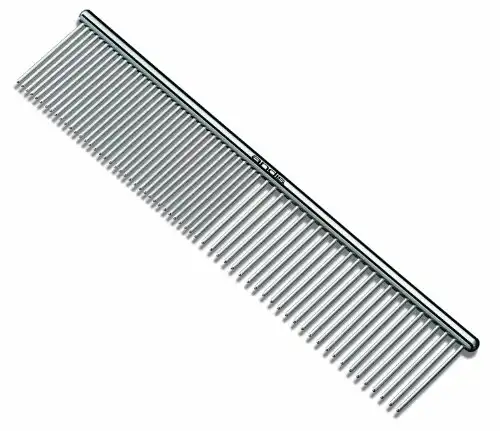 We earn a commission if you make a purchase, at no additional cost to you.
Pros Andis Pet 7 1/2 -inch Steel Comb
This is the best comb for cockapoo dogs because it's useful for loosening tangles and removing matted hair from your Cockapoo.
It's a durable comb made of lightweight steel.
This is a long comb which makes it effective at covering large areas of a cockapoo's coat at one time.
This comb is easy to wash and dry, so it's simple to keep it in good condition.
The comb has two sets of teeth for different types of grooming. Its elegant set of teeth is effective at removing small debris and dead skin. The coarse teeth remove loosened dead hair.
Cons
This comb can be slippery and awkward for some cockatoo owners to use.
The steel design of this comb means it only moves in a straight line. It's not a flexible tool for grooming your dog.
The price of this comb is a little high for cockapoo owners looking for inexpensive grooming tools.
If you want to give your Cockapoo's hair a fluffy look before finishing your grooming routine, this comb can serve that purpose.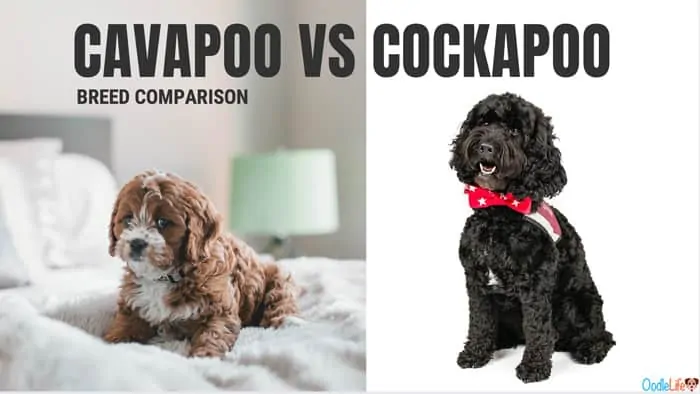 How to Deal with Matted Hair
If your Cockapoo's coat does become matted, there are some things you can do. A comb is a tool you want to use to remove a mat. Put your fingers around the lowest portion of a mat between the dog's skin and the mat. Doing this will help you to avoid pulling on the dog's skin as you loosen the mat. Removing a mat can be painful otherwise.
Using the comb, loosen the mat by focusing on small sections of tangled hair. You are trying to relax the mat until you can use a brush to remove the rest of it. Be as gentle and patient as possible to avoid making your dog wary of the grooming process.
You may be tempted to give your dog a bath hoping it will loosen the mats of hair. But, bathing your Cockapoo will make the mats tighter and more compact. However, there are creams and sprays available that can help to loosen the matted hair of a cockapoo.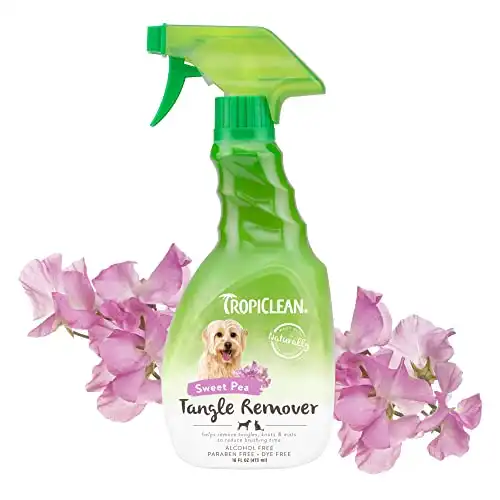 We earn a commission if you make a purchase, at no additional cost to you.
Many groomers say that a simple spray of detangler will make brushing much easier. Most quality detangles use natural ingredients, some rely on silicon to separate the fine Cockapoo hairs.
Always pick a no rinse detangler like the Tropiclean. Go for a reputable brand. The cost should NOT break the bank and the supply should last for many grooms. Pairing a quality detangler with the best brushes for Cockapoos will make DIY Cockapoo grooming a breeze.
Sometimes keeping your dog's hair trimmed can reduce the possibility of mats forming. Once the mats are removed, be sure to give your Cockapoo some treats for staying still during the mat removal work.
Are you adopting a Cockapoo puppy? Check out our list of 35 indoor games to play with your dog. We also made the best list of actually good Star Wars dog names. You might also want to find out if dogs have belly buttons – and see how to calculate small dog age in human years (we have a calculator).