7 Best Shampoos for Australian Shepherd (2023 Update)
Australian Shepherds are playful dogs and super agile for their size. These dogs thrive in the great outdoors and make excellent travel companions for most people.
Their colorful coats are a magnet for debris with a double-layer outer cover that's challenging to detangle. Luckily, these dogs enjoy the water, making bath time a stress-free process.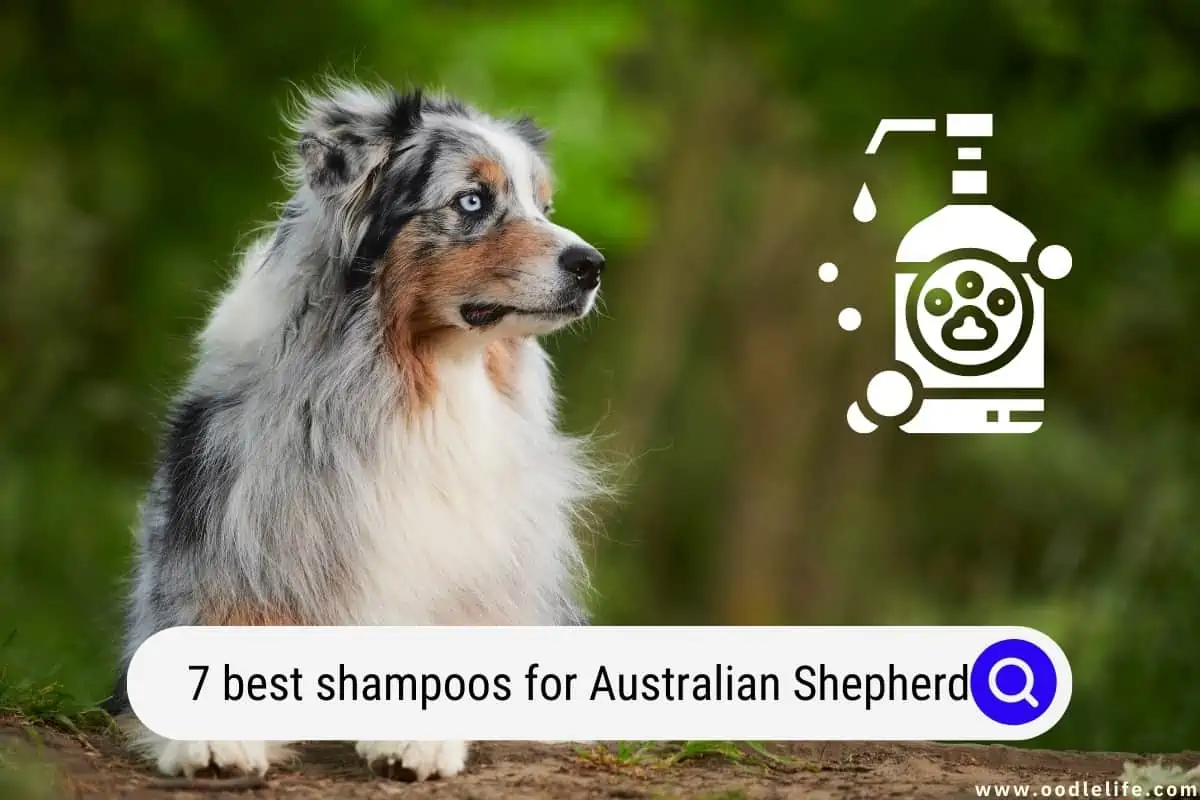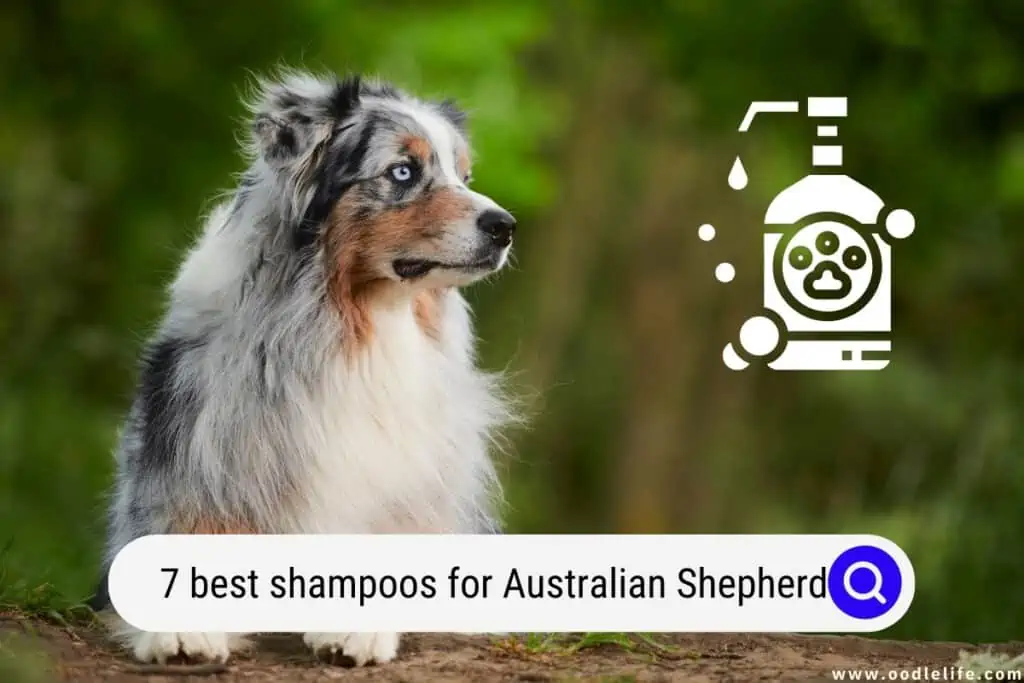 This list contains the best shampoo for Australian Shepherd emphasizing the need to maintain their natural oils, prevent shedding, and keep their lustrous coats in good health.
Best Overall – PetAg Fresh 'n Clean
Fresh 'n Clean is the best overall because it has everything an Aussie Shepherd needs. Firstly, this shampoo is enriched with Vitamin E, and Aloe Vera extracts to moisturize your dog's coat and keep the hair glossy.
Classic scent
PetAg Fresh 'n Clean Scented Dog Shampoo - Classic Fresh Scent
Soothing Agents: Aloe vera leaf juice and vitamin E gently clean the hair and lock in moisturizer
Cleansing Shampoo for Dogs: Provides a fresh, soft, and shiny coat while strengthening and repairing hair
Doggie Odor Control: Has a long-lasting classic fresh scent that clings to hair for up to 2 weeks
Ready-To-Use Formula: Keep pets smelling fresh and clean between baths or trips to the groomer with this shampoo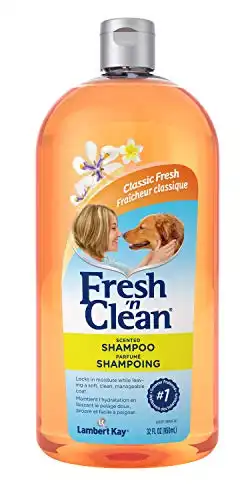 We earn a commission if you make a purchase, at no additional cost to you.
The shampoo is gentle and uses plant-derived cleansing agents to wash off the grime, dirt, and excess fatty oils. The floral scent is mild and lasts up to two weeks after the initial bath.
Interestingly, it's a famous brand among groomers and contains a conditioner that prevents the dog's coat from drying out.
I love that this product makes the dog's coat easy to brush and helps with mats and tangles. Most Aussie Shepherd owners enjoy a couch snuggle, and the scent makes you want to hug your dog for days!
Pros
Long-lasting scent.
It helps to manage knotty hair.
Vitamin E repairs damaged coat.
Great for adult Aussie Shepherds and puppies.
Cons
The smell can be overpowering.
A bit on the pricey side.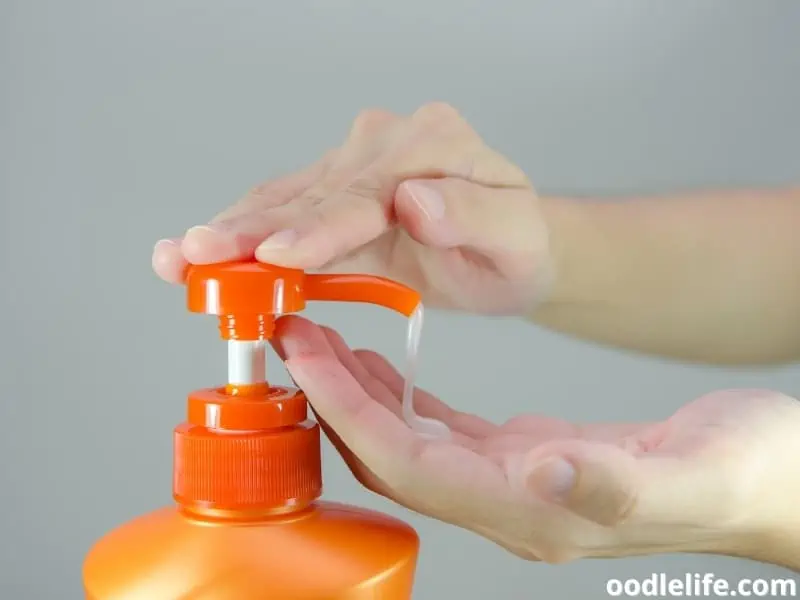 Best Premium – Vermont Soap Organics
The brand is Vermont Soap, but this shampoo has no soap inside. It's designed for dog owners who want to give their Australian Shepherd the VIP treatment.
Vermont Soap Organics Pet Shampoo - Infused with Organic & Natural Olive Oil, Coconut & Aloe Vera Dog Shampoo for Sensitive Skin - USDA Certified Grooming Pet Shampoo - 16 Fl.oz
INFUSED WITH ORGANIC OLIVE OIL & COCONUT: Vermont Soap dog shampoo for sensitive skin is made from organic coconut, olive and jojoba oils, organic aloe vera, a combination of natural and organic...
SUITABLE FOR DOGS WITH SENSITIVE SKIN: Vermont Soap USDA organic dog shampoo is made of a gentle yet effective formula that can be used on dogs with sensitive skin. The extraordinarily milk based...
USDA CERTIFIED: After passing all the federal guidelines, our Vermont Soap coconut dog shampoo is Certified by the USDA organic food standards. It means Vermont Soap only sells products that are...
NO HARSH CHEMICALS: Vermont Soap never uses chemicals such as Sulphates, Paraben, enzymes or Phosphate in it's aloe vera dog shampoo. Our plant based formulation which is free of petroleum or animal...
MADE IN THE USA: Maintaining our uncompromising quality standards across the entire process of ingredient selection, manufacturing thru to packaging, all Vermont Soap range of products are...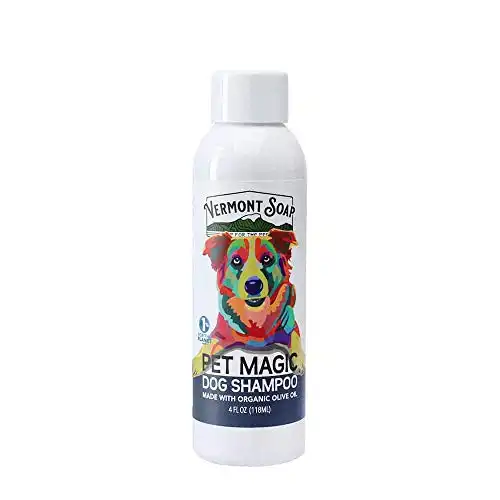 We earn a commission if you make a purchase, at no additional cost to you.
The shampoo moisturizes the dog's skin for days thanks to the coconut, olive, and jojoba oils – all ingredients you'll find in high-quality hair care products for humans.
Besides, it contains rosemary extract that's amazing for soothing itchy dogs. This shampoo is USDA certified and has zero artificial additives like sulfates, parabens, or phosphates that you find in many regular brands.
It's the mildest shampoo for allergic dogs, and the lemongrass oil acts as a natural flea and tick repellant.
Pros
It contains high-quality natural ingredients.
USDA Certification.
Great for dogs with sensitive skin.
Cons
Liquid is thin.
The smell is unremarkable and doesn't last long.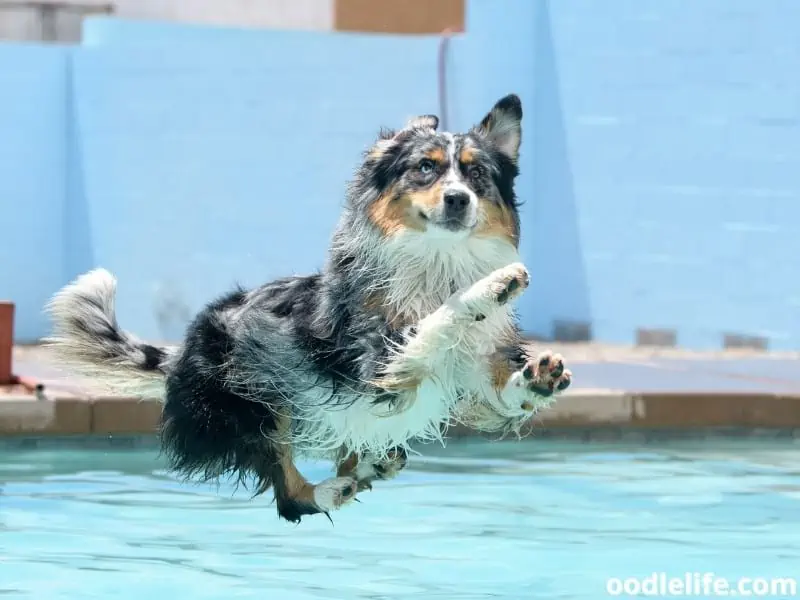 Best Budget – Wags & Wiggles
Wags & Wiggles proves you don't have to rob a bank to buy a dog shampoo that works. This Citronella Dog Shampoo is tailored for Aussie Shepherds that enjoy the outdoors.
Wags & Wiggles Outdoor Citronella Dog Shampoo in Lemon Drop Scent | Great Smelling Dog Shampoo, Cleansing Dog Grooming Supplies for Smelly Dogs, 16 Oz
CLEANSES AND SOFTENS — Wags & Wiggles Outdoor Citronella Dog Shampoo cleans, softens, and conditions your dog's skin and coat to leave them smelling fresh
MADE WITH CITRONELLA, LIME, AND MINT — Citronella, lime, and mint help remove dirt and odors collected from outdoors
EASY TO USE — Wet coat with lukewarm water. Apply shampoo from neck to base of tail and gently work into coat creating a lather, avoiding eyes, ears, and mouth
EASY TO USE — Wet coat with lukewarm water. Apply shampoo from neck to base of tail and gently work into coat creating a lather, avoiding eyes, ears, and mouth
100% SAFE — Wags & Wiggles pet grooming tools are SLS free, paraben free, and DEA free
We earn a commission if you make a purchase, at no additional cost to you.
It's easy to use and contains lime, mint, and citronella to soften the dog's coat and remove stubborn dirt and grime. Moreover, it works well with topical medication and is SLS, DEA, and paraben-free.
The shampoo is pH-balanced for sensitive skin. It comes in six scents: Warm Vanilla, Powder Fresh, Lemon Drop, Tropical Mango, Wild Watermelon, and Very Berry. It's a moisturizer, deodorizer, and everything you want in a dog shampoo.
Pros
Gentle on dog's skin.
Improves coat texture.
Has various scents.
Affordable price.
Cons
Poor bottle design.
It doesn't stop shedding.
Not excellent at removing stains.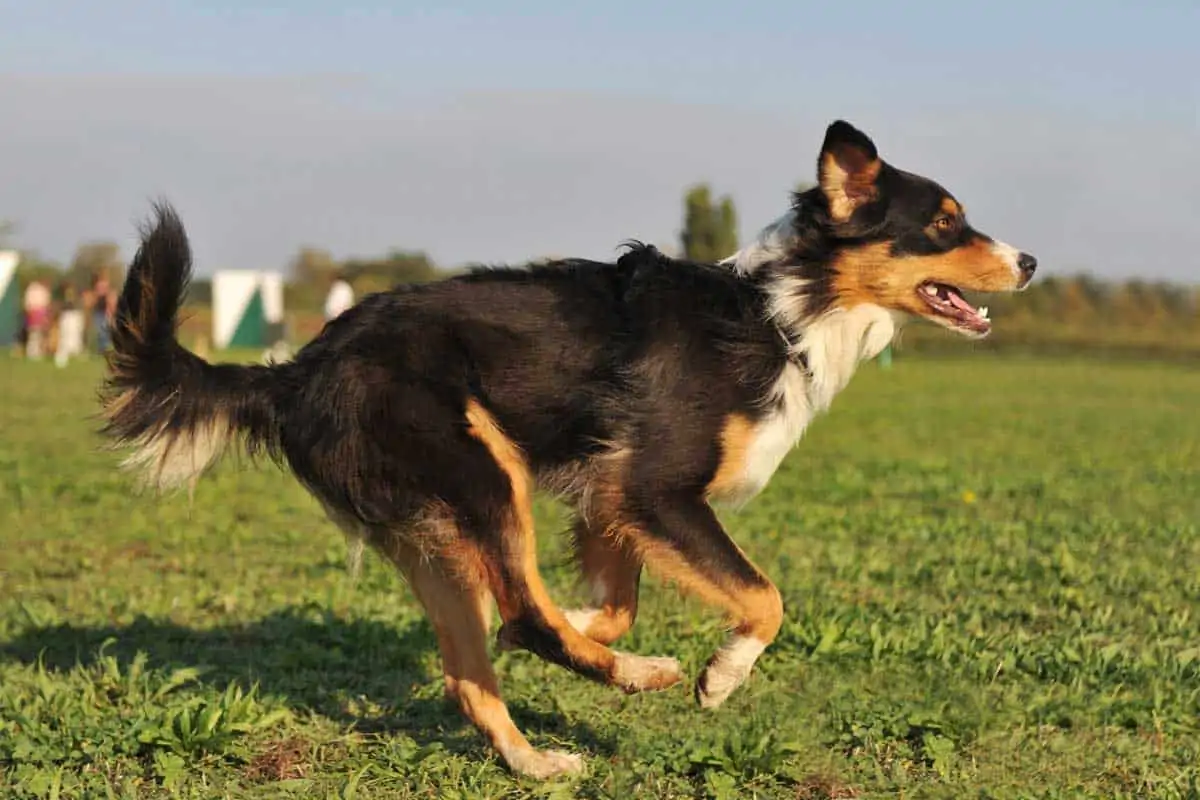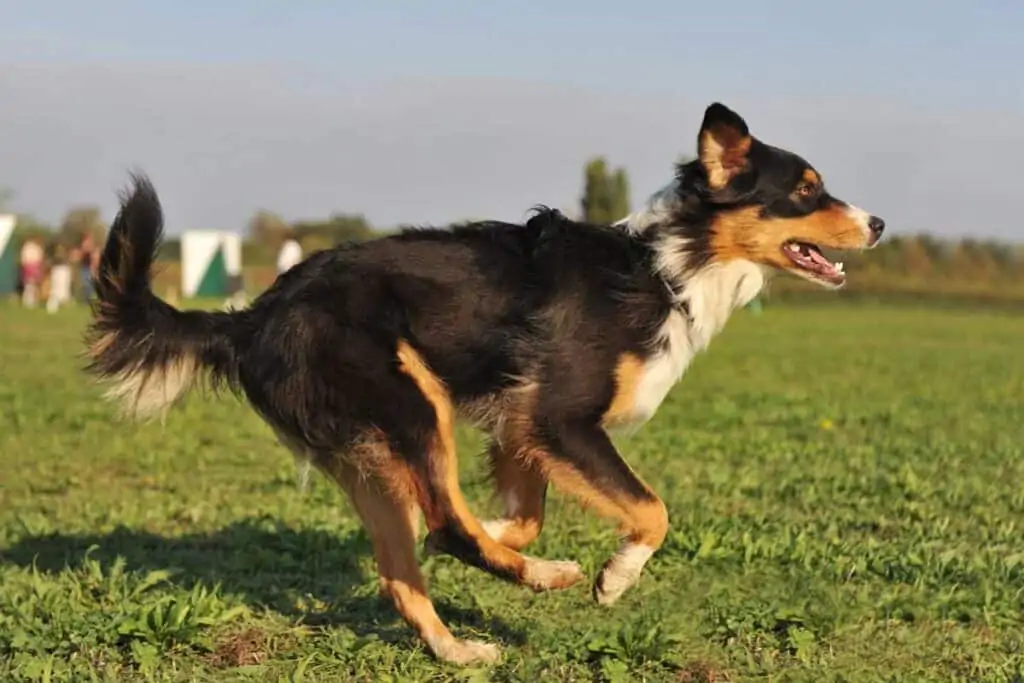 Best for Shedding – Shed-X Shed Control
Australian Shepherds are a dog breed that sheds often. These dogs shed all year, especially during spring, to dispose of their winter coats. However, excessive shedding can cause skin issues and damage the coat.
Shed-X Shed Control Shampoo for Dogs, 16 oz – Reduce Shedding – Shedding Shampoo Infuses Skin and Coat with Vitamins and Antioxidants to Clean, Release Excess Hair and Exfoliate
HELP CONTROL EXCESSIVE SHEDDING – Excessive shedding can result from unhealthy skin and coat. Shed-X Shed Control Shampoo for dogs gently cleans, releases excess hair and exfoliates to reduce...
NOURISHES THE SKIN – Shed Control Shampoo infuses your pet's skin and coat with essential amino acids, Omega 3 and 6 fatty acids, Vitamins A, D and E and antioxidants. This dog shampoo promotes...
LONG-LASTING FRAGRANCE – The pleasant pomelo fragrance of this shampoo for shedding will leave your dog clean, soft and smelling amazing long after bath time is over.
FOR BEST RESULTS – Wet coat thoroughly with warm water and massage dog shedding shampoo into coat and skin. Allow the lather to remain for several minutes and then rinse thoroughly. Suitable for...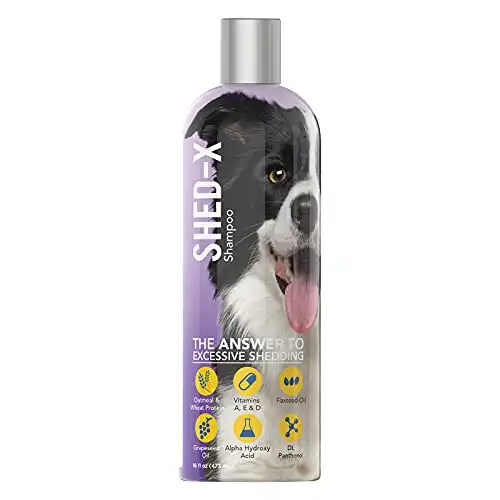 We earn a commission if you make a purchase, at no additional cost to you.
This shampoo takes care of your dog's shedding issues and helps to release the excess hair. It contains Omega 3 and 6 fatty acids, including Vitamins A, D, and E.
The oatmeal extract strengthens the hair, ensuring your dog isn't releasing furry nuggets all over the house. I also love the pomelo fragrance even though it doesn't last long after a bath.
Pros
Controls shedding.
Lasting fragrance.
Affordable.
Moisturizes dog skin.
Contains vitamins and antioxidants.
Cons
Fragrance is short-lived.
Not for epileptic dogs.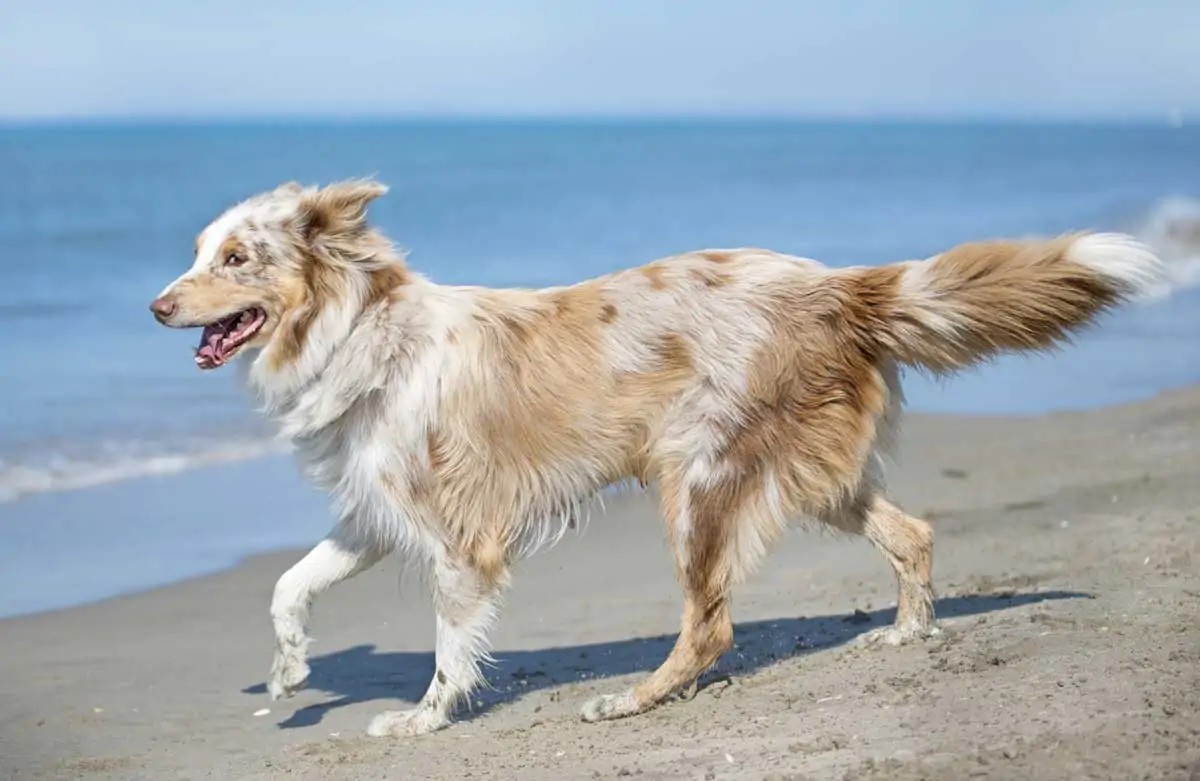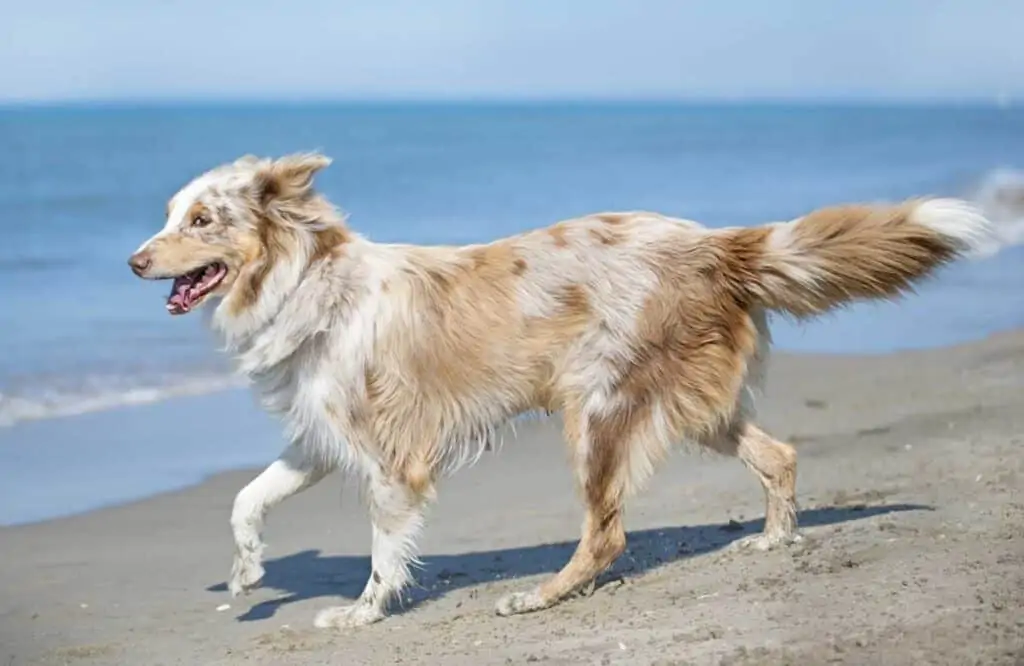 Best Organic – 4Legger Organic
Australian Shepherds allergic to artificial ingredients found in many dog shampoos will enjoy using this USDA Certified shampoo. The purpose of its components is to ensure the comfort of the dog through the use of organic nutrients like lemongrass, aloe vera, and coconut oil.
4-Legger Organic Dog Shampoo - All Natural and Hypoallergenic with Aloe and Lemongrass, Soothing for Normal, Dry, Itchy or Allergy Sensitive Skin - Biodegradable - Made in USA - 16 oz
NATURAL INGREDIENTS THAT MAKE SENSE: 4Legger USDA certified organic dog shampoo is a true, natural dog shampoo handcrafted in small batches using real plants, not synthetic chemicals. A concentrated...
GREAT FOR ITCH RELIEF AND SENSITIVE SKIN: The perfect itchy skin dog shampoo, 4Legger organic lemongrass & aloe dog shampoo with organic oils to help with flaky or dry skin and dandruff. A dog skin...
THE CHOICE FOR ECO-CONSCIOUS PET PARENTS: 4Legger dog shampoo is made from sustainably sourced, natural ingredients. Our goal is to help our furry family members live longer lives through natural...
MAKE THE SWITCH TO A TRUE ORGANIC DOG SHAMPOO: Only 2% of dog shampoos are certified organic. Synthetic shampoo can build up on a dog's fur, whereas a natural gentle dog shampoo like 4Legger leaves...
TRUSTED, AWARD WINNING PRODUCTS: Since 2015, pet parents, holistic vets, and natural groomers have trusted 4Legger dog shampoo. 4Legger products have won the EcoExcellence Award for Best Grooming...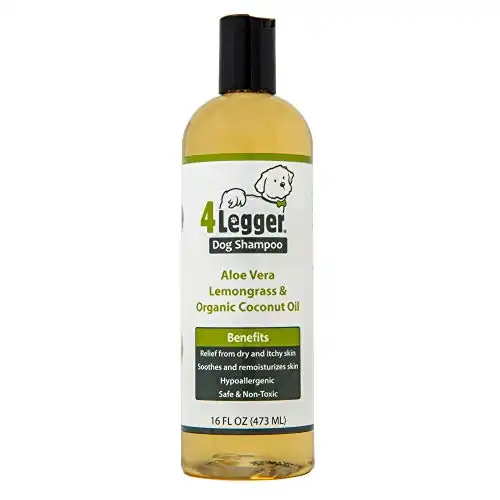 We earn a commission if you make a purchase, at no additional cost to you.
It's designed for sensitive, itchy skin and helps with dandruff and flakes. More importantly, this shampoo has no sulfates. It's an excellent choice for eco-conscious dog owners and leaves the dog's coat in fantastic condition.
Additionally, vets trust this shampoo because of its simple, effective ingredients that work. Many dog shampoos claim to be natural, but this product is the real deal. Besides, you don't need an advanced chemistry degree to know the bottle's contents!
Pros
Organic, natural ingredients.
Reliefs itching for sensitive skin.
USDA certification.
Recommended by vets.
Cons
The lemongrass scent isn't for everyone.
Not tear-free.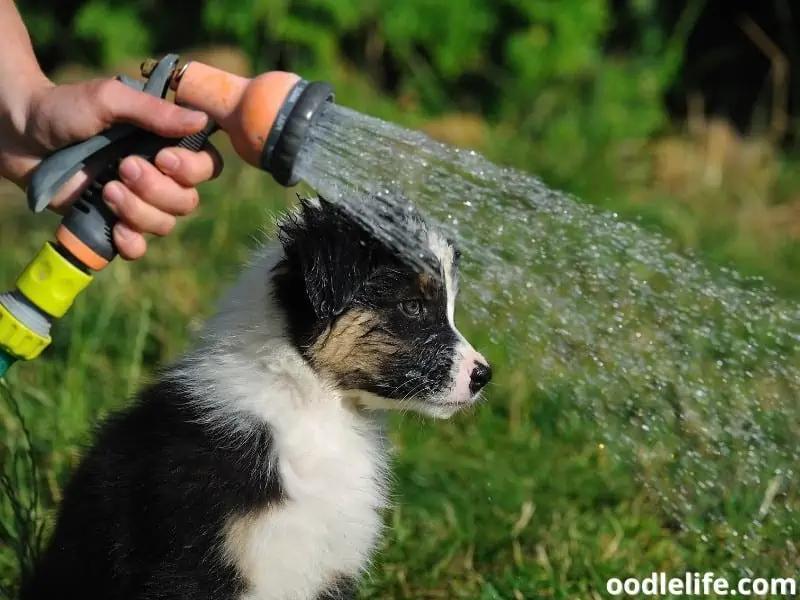 Best Everyday – Isle of Dogs
Not to be mistaken for the Isle of Dogs, the movie Isle of Dogs Pet Shampoo is a mild and gentle product designed to keep the dog's coat soft, silky, and shiny. The fragrance is mild, unlike other products that tend to overpower the nostrils.
Everyday Isle of Dogs Silky Coating Dog Shampoo for Yorkies,Beagles and Spaniels (16.9 oz/Jasmine and Vanilla)
SILKY COATING SHAMPOO: A gentle, cleansing shampoo formulated to create a soft and silky feel to the coat! Excellent for dry and damaged coats of any type, Everyday Elements' moisturizing dog shampoo...
SOFTER, SMOOTHER COAT: Designed for both short and long-coated breeds! This softening and detangling shampoo helps the coat lay flat, preventing tangling or matting after bathing. Everyday Elements...
FRESHENING FORMULA: Invites more cuddles and pets! A clean, shiny, and fresh coat is a good indicator of a healthy, well-loved pup and a necessity for extended cuddle time. Silky Coating shampoo...
PROFESSIONAL QUALITY: Achieve show-worthy results at home! Everyday Elements is a ready-to-use professional-quality grooming salon collection featuring performance-driven ingredients in high...
ISLE OF DOGS: We take beauty beyond fluff with premium dog grooming products that promote inner wellness and outer beauty. Rooted in our rich dog show heritage and search for excellence, our...
We earn a commission if you make a purchase, at no additional cost to you.
Moreover, it's an effective, deep cleanser, and I was surprised by the amount of dirt this shampoo was able to rinse. It doesn't cause flaking or itching, and the signature jasmine and vanilla smell fantastic.
It also features ExtenScent, a natural deodorizer that keeps the Aussie Shepherd coat smelling fresh days after bathing. All you need is a little amount in your hands and work it into the skin to remove the excess oils. It's a shampoo that removes the toughest stains in a heartbeat.
Pros
Smells fabulous.
Deep cleansing formula.
For sensitive irritable skin.
Cons
Not sulfate-free.
The liquid is slightly thin.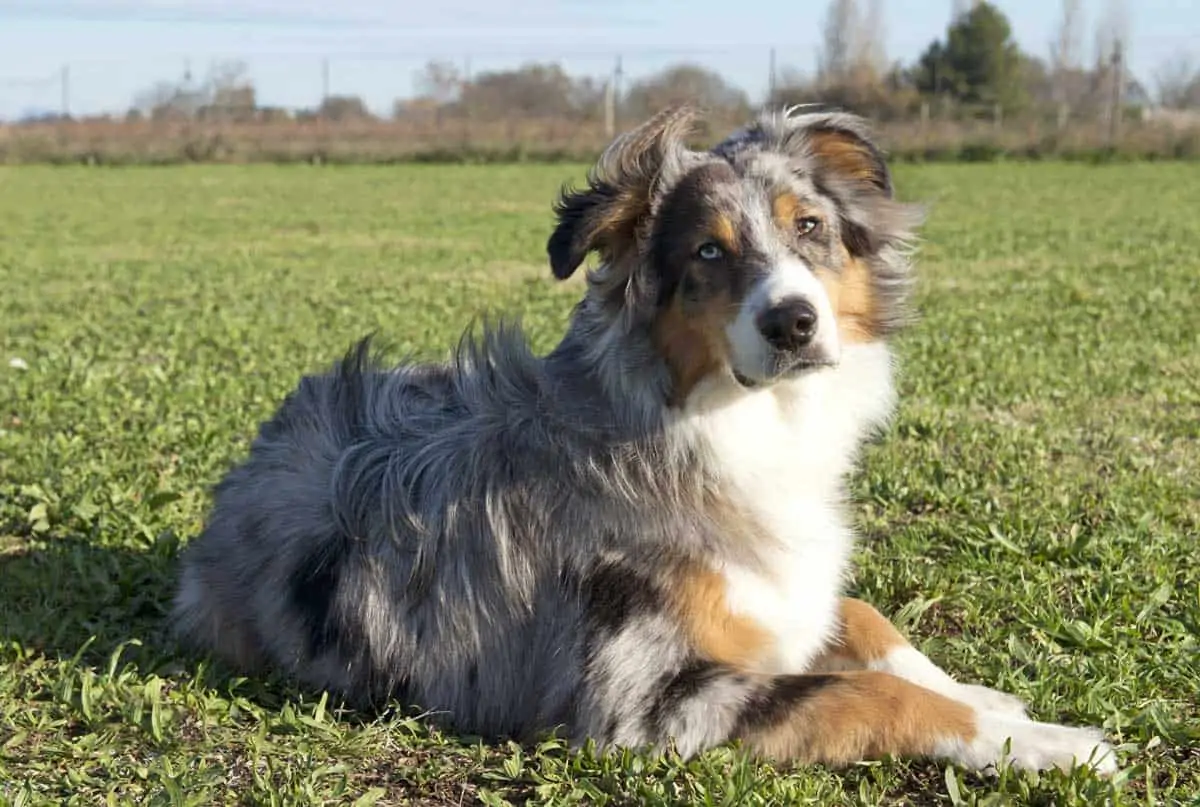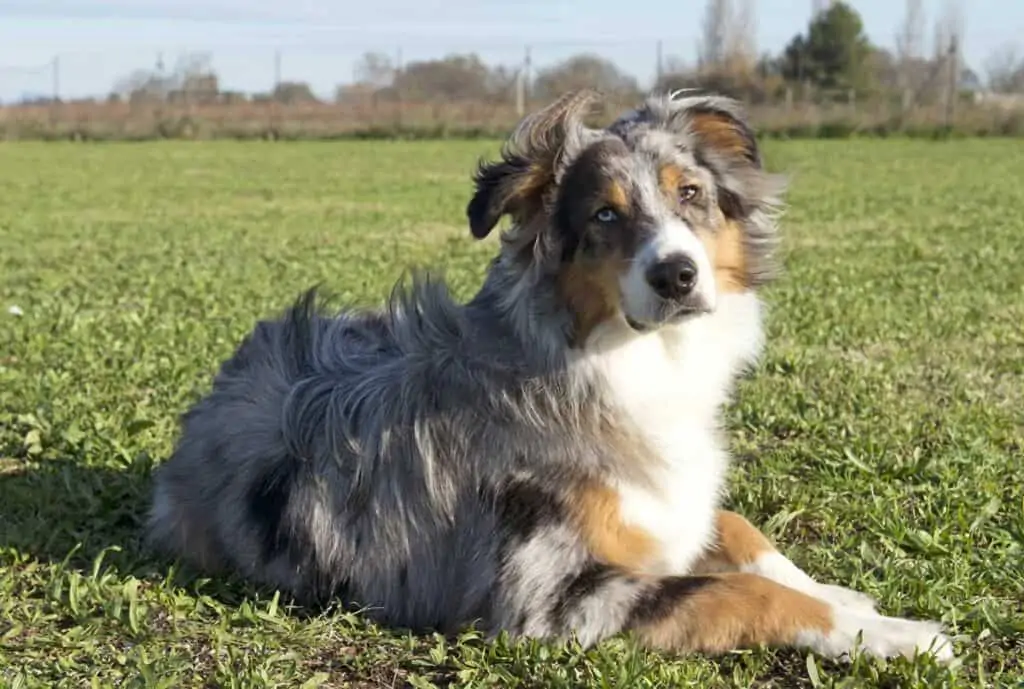 Australian Shepherds love the outdoors, and there's a high chance of contacting dirty surfaces that can cause skin issues like bacterial and skin infections. This shampoo combats all sorts of skin infections like crusty skin, skin rashes, inflamed scalp, and dandruff.
Active ingredients like coal tar relieve seborrheic dermatitis, while salicylic acid combats flaking and scaling. The shampoo has a balanced pH great for dogs and is paraben-free to improve pet health.
Besides, the shampoo will not wash off topical treatments for fleas or ticks, and the micronized sulfur is excellent for soothing inflammation. This shampoo may not smell like fresh roses, but it's a powerful formula that gets the job done.
Pros
Powerful shampoo for severe skin infections.
Relieves itchy skin.
It doesn't contain parabens.
It has oatmeal extract to enhance coat health.
Cons
Not for pups.
The smell is unpleasant.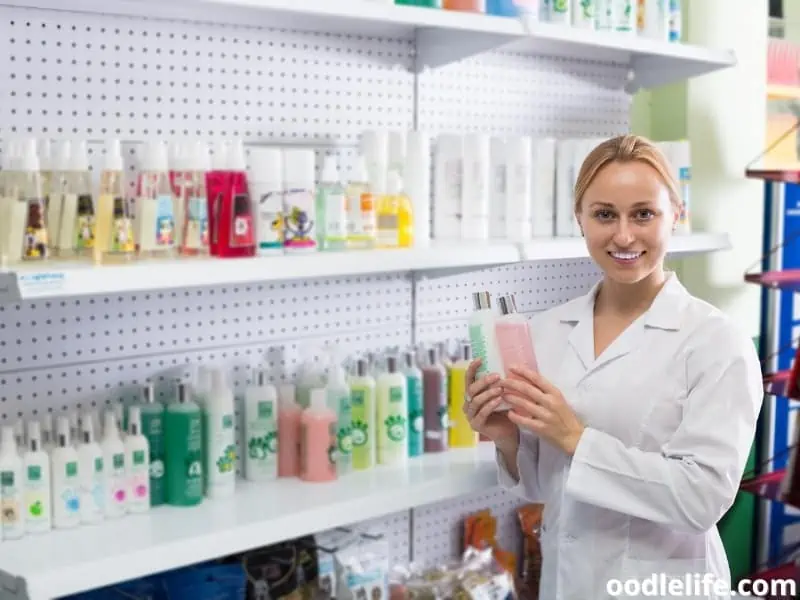 Best Shampoo for Australian Shepherd Buying Guide
There are many dog shampoos, but the type to opt for depends on your pet's needs. Before pulling the trigger, consider the factors below.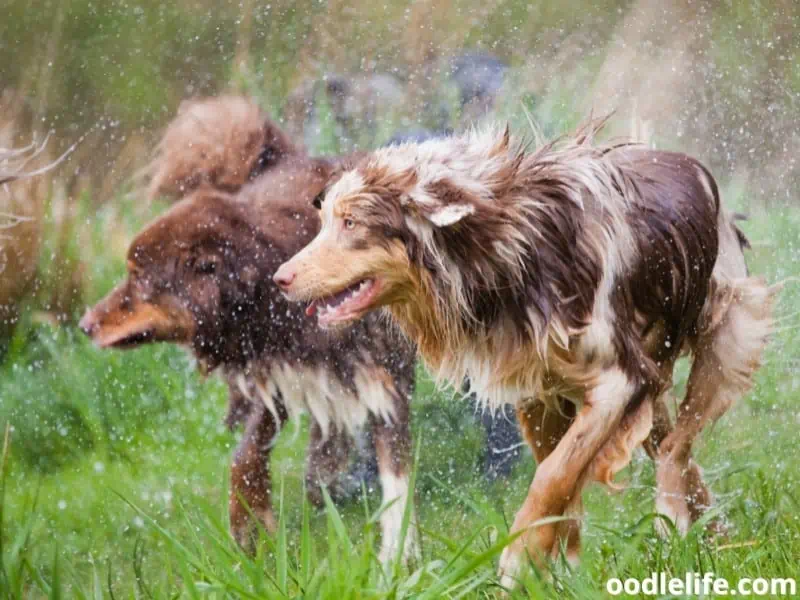 Alcohol-Free
Alcohol is commonly found in human and dog shampoo, and the ingredient can irritate your Australian Shepherd. Ensure you purchase a product that won't cause harm to your dog in the form of added chemicals.
Natural Ingredients
Organic ingredients like coconut oil, jojoba oil, aloe vera, and oatmeal promote dog health. More importantly, avoid artificial components like dyes and synthetic fragrances.
Look for shampoos with essential oils like tea tree oil, eucalyptus, and citrus because these oils smell nice and act as a natural insect repellent.
Dog Age
You can find a product that works for dogs of all ages but if your Aussie Shepherd is a puppy, go for a brand specially designed for puppies. These shampoos use a milder formula that doesn't irritate the eyes.
Odor
Australian Shepherds are adventurous and will nose their way into the garbage, dirt, and other yucky substances. A deodorizing shampoo is essential to eliminate these awful odors to ensure your dog looks clean and smells clean too!
Luster & Color
Factors like ill health can dull a dog's shine. Still, you can restore its coat by using a shampoo with Vitamin E, omega fatty acids, and other essential minerals packed with proteins. Moreover, some shampoos contain whiteners to prevent fading and yellowing while improving coat health.
Skin Sensitivity
Some Australian Shepherds have more sensitive skin than others. Buy an anti-bacterial, anti-fungal, or antiseptic shampoo if your dog suffers from skin conditions like rashes, bumps, or dandruff.
Conclusion
The best shampoo for the Australian Shepherd is PetAg Fresh 'n Clean. It reduces dog itch, moisturizes the skin, and repairs damaged coats. The only issue is the high price which is a small price to pay for your doggo.
The other shampoos on this list are the absolute top dogs in their respective categories. They are sure to keep your faithful furry friend happy and healthy! If you want to see a list of the best food for them, you can find that by clicking here!