The 6 Best Shampoos for Shih Tzus (2023 Update)
With their small form and graceful long coats, Shih Tzus are one of the most popular breeds of companion dogs. But any Shih Tzu parent will know that while their long, flowy coats are beautiful, they require some TLC so that they can stay that way.
Shih Tzus have moderate grooming needs and one of the most important parts is the bath. It's important to bathe your Shih Tzu regularly. Not only does it reduce doggy odor and keep them looking fresh and clean, but it can be beneficial for their health.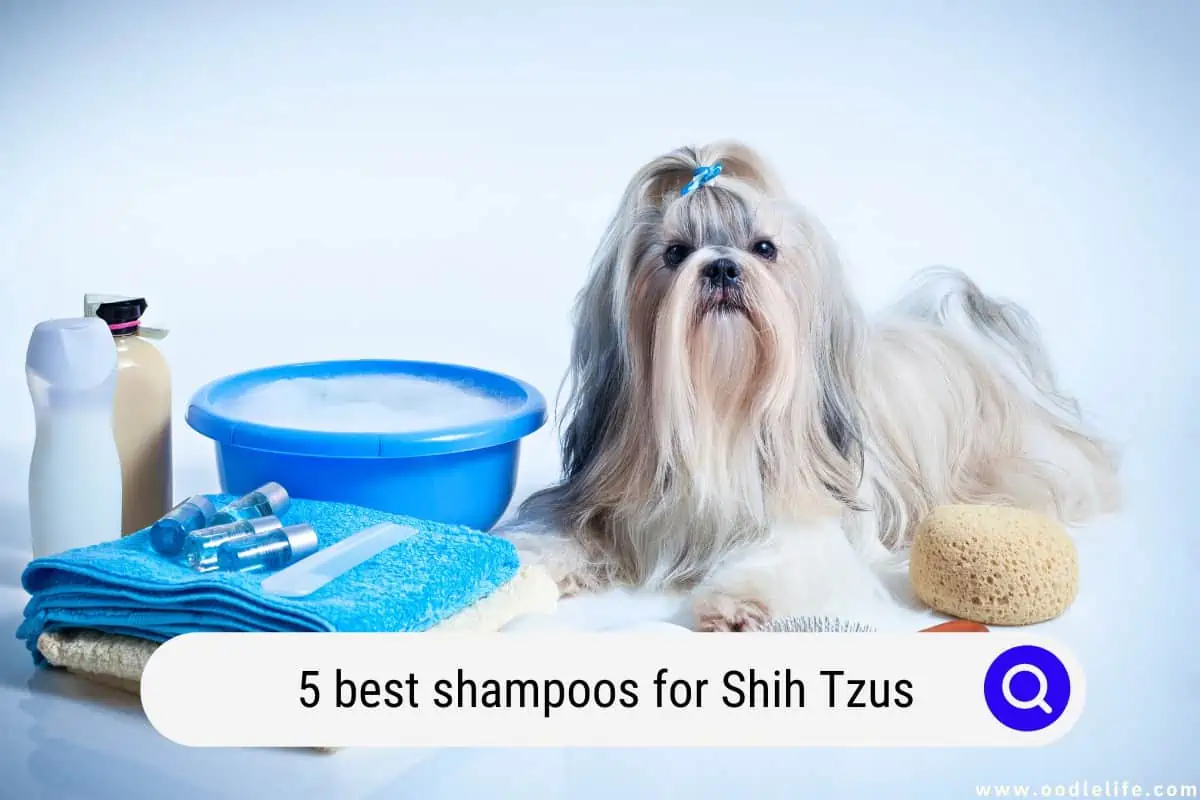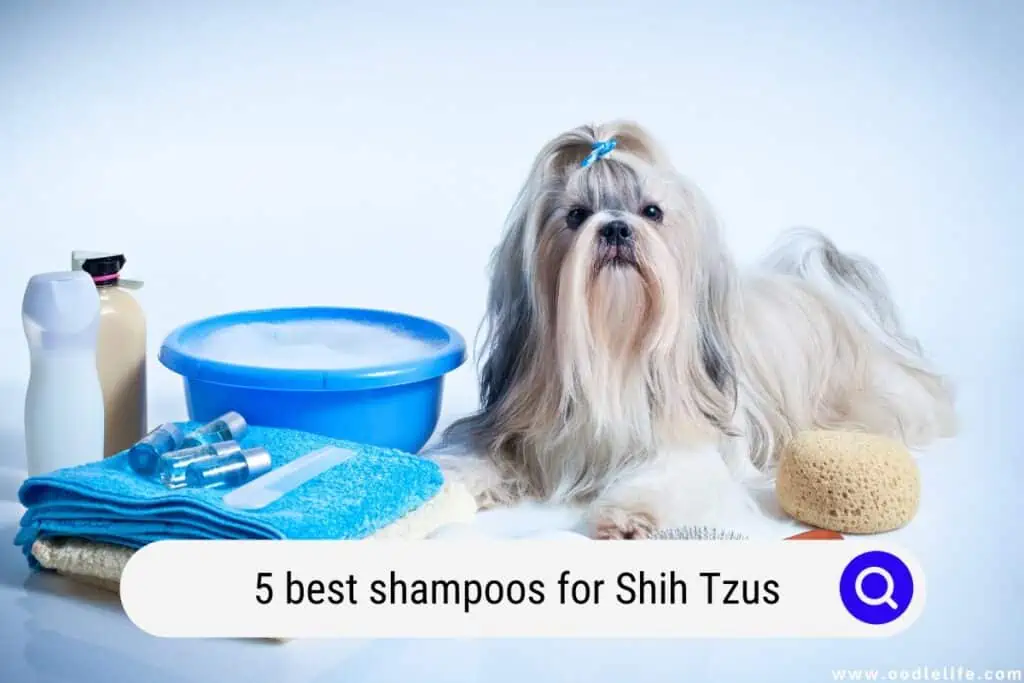 Shih Tzus have long hair that is prone to matting if not groomed properly, and bathing helps prevent this. It is also a great way of detecting minor skin conditions or parasites present on their skin, fur, or ears that can cause discomfort or itching if left untreated.
Most importantly, taking the time to give your pooch a good scrub down every few weeks will help create a strong bond between you and your pup as well as show them how much you care about their wellbeing.
Here's how to pick the perfect shampoo for your Shih Tzu bestie, and our top five favorite brands! 
Things to Consider When Choosing A Shampoo
A key part of grooming is their shampoo. You need to find a shampoo that moisturizes the skin and prevents irritation, while also nourishing, moisturizing, and cleansing your Shih Tzu's coat to keep it shiny, healthy, and smooth.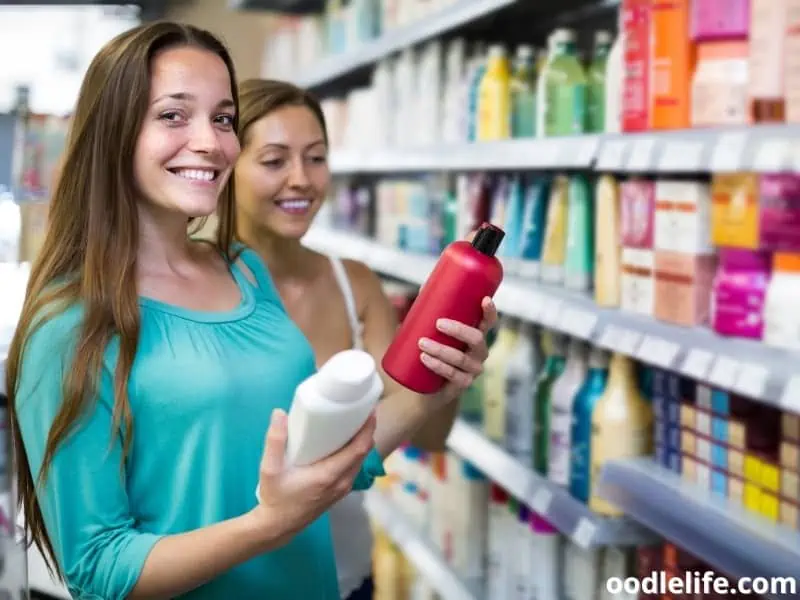 But beyond that also take into consideration potential allergies or sensitivities, such as if your dog has dry or easily irritable skin, as well as personal preferences including whether you and your pooch prefer shampoos with or without scents.
There's bound to be some trial and error when it comes to choosing a shampoo. It's important to remember that no dog is the same and what works for one may not work for the other.
Even the most popular shampoos may have features that don't make them a perfect fit. However, to save you some time, we've selected some of the best shampoos for Shih Tzus to make it easier to figure it out! 
1. Gentle Aloe and Coconut Oatmeal Shampoo for Scellent Coats (by OodleLife)
f you want to give your dog a refreshing and soothing bath experience, then OODLELIFE Dog Shampoo and Conditioner Aloe Oatmeal + Coconut 16 fl oz is the perfect product for you.
OODLELIFE Soothing Shampoo and Conditioner Aloe Oatmeal + Coconut
Refreshes & Soothes: Like a comforting belly rub, it cleanses, conditions, detangles, and moisturizes - dog itching skin relief
USA-Made: A top-quality, homegrown product for your furry friend.
Soft coats - Safe, non-irritating, natural ingredients that nourish your dog's coat. Dog bathing made easy with our oatmeal dog shampoo for allergies and itching.
Eco-Friendly, Pure Formula: Only the good stuff, none of the bad.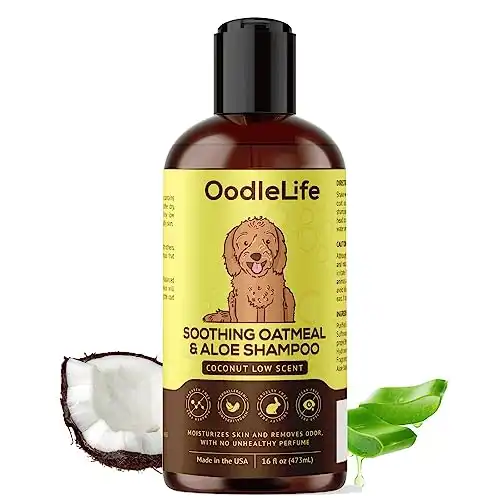 We earn a commission if you make a purchase, at no additional cost to you.
Pros
This shampoo cleanses, conditions, detangles, and moisturizes your dog's coat, providing relief from itching and skin irritation.
Made with safe, non-irritating, natural ingredients, it nourishes your dog's coat and leaves it soft and shiny.
The shampoo is eco-friendly and free from harmful perfumes, dyes, drying alcohols, or parabens, making it safe for your dog and the environment.
Cons
The scent of coconut may not be appealing to all dogs.
Some users have reported that the shampoo is not effective in treating severe skin conditions.
If you are looking for a natural and safe dog shampoo to pamper your chihuahua, then OODLELIFE Dog Shampoo and Conditioner Aloe Oatmeal + Coconut 16 fl oz is a great choice. The shampoo is made with natural ingredients that soothe and nourish your dog's coat, leaving it soft and shiny. It also provides relief from itching and skin irritation, making it ideal for dogs with sensitive skin.
The shampoo is eco-friendly and free from harmful chemicals, making it safe for your dog and the environment. However, some dogs may not like the scent of coconut, and the shampoo may not be effective in treating severe skin conditions.
Overall, OODLELIFE Dog Shampoo and Conditioner Aloe Oatmeal + Coconut 16 fl oz is a great product for chihuahua owners who want to give their furry friends a luxurious and soothing bath experience
2. Healthy Breeds Chamomile Oatmeal & Aloe Soothing Shampoo
This shampoo is a favorite among Shih Tzu owners, and for good reason. It's a gentle and natural shampoo that's plant-based, biodegradable, and cruelty-free and has your Shih Tzu feeling silky soft, and fluffy.
Healthy Breeds Shih Tzu Chamomile Soothing Dog Shampoo 8 oz
Healthy Breeds Chamomile Dog Shampoo with Oatmeal contains the natural botanical extracts of chamomile, cactus, calendula, fir needle oil, colloidal oatmeal and aloe vera.
Our luxurious shampoo gently conditions the coat while moisturizing and nourishing the skin with naturally produced oils
It is a natural cleaner, perfect for sensitive, dry and/or itchy skin. Will clean and condition the coat, leaving it fresh, smooth and manageable without the use of harsh, irritating chemicals.
Safe for use with topical flea control products and can be used as often as necessary as it will not strip the coat of natural oils.
MADE IN THE USA! Buy with confidence! All Healthy Breeds products are made in federally regulated manufacturing facilities. Excellent customer service and return policy. 100% satisfaction guaranteed....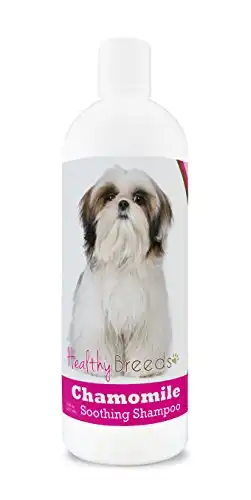 We earn a commission if you make a purchase, at no additional cost to you.
Made with chamomile, oatmeal, and aloe vera, this shampoo not only cleans and conditions your Shih Tzu but will have them smell extraordinary. It's also hydrating and cleanses your dog without any risk of drying the skin.
The ingredients have calming properties and moisturize your Shih Tzu to help reduce itching, irritation, and dandruff. The chamomile also provides a nice lather despite being a soap-free formula with absolutely no chemicals or artificial substances.
The downside of this shampoo is that it is a little on the expensive side. It's seen as more of a deluxe or premium shampoo option and costs almost twice the amount of an average shampoo.
The benefits are undeniable and there are also cheaper options that feel just as good, but the benefits themselves mean that this Healthy Breeds shampoo deserves a spot on the list.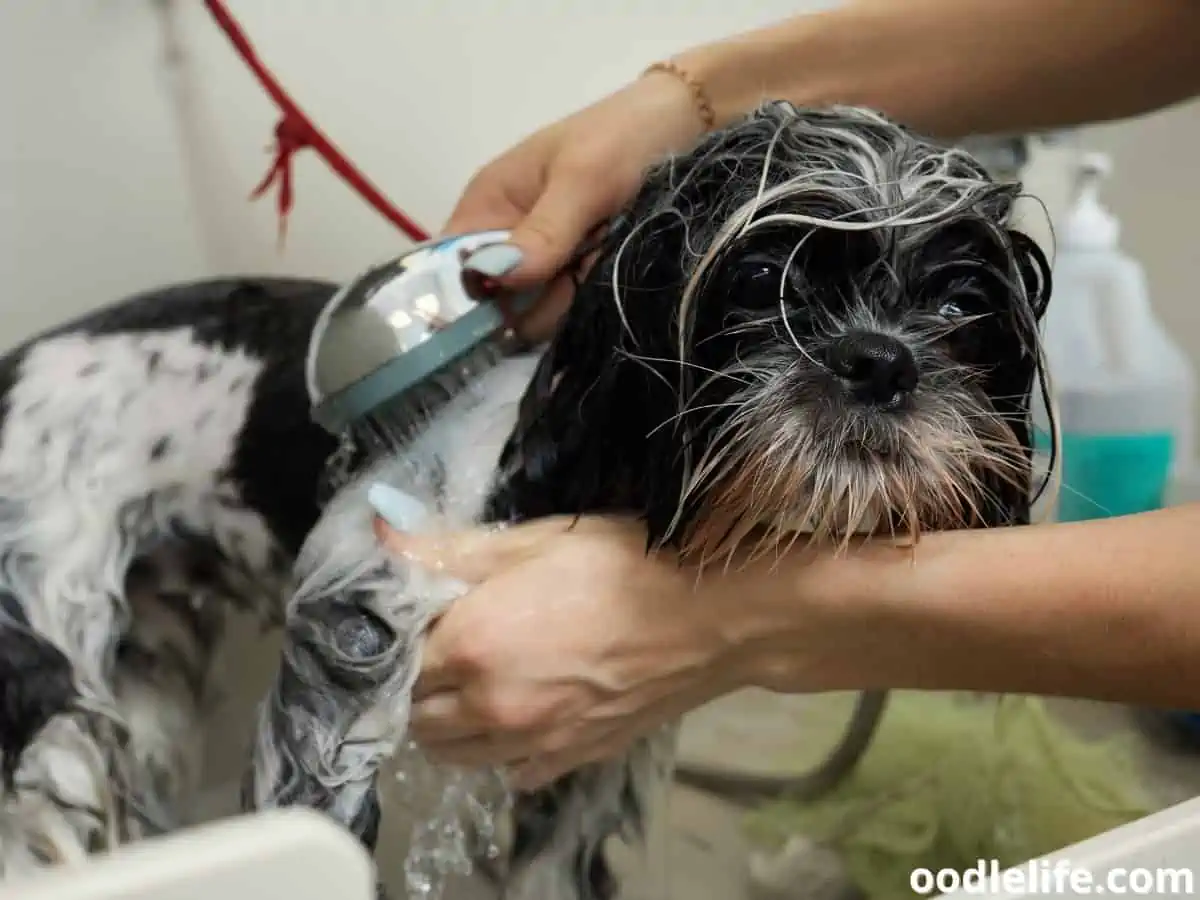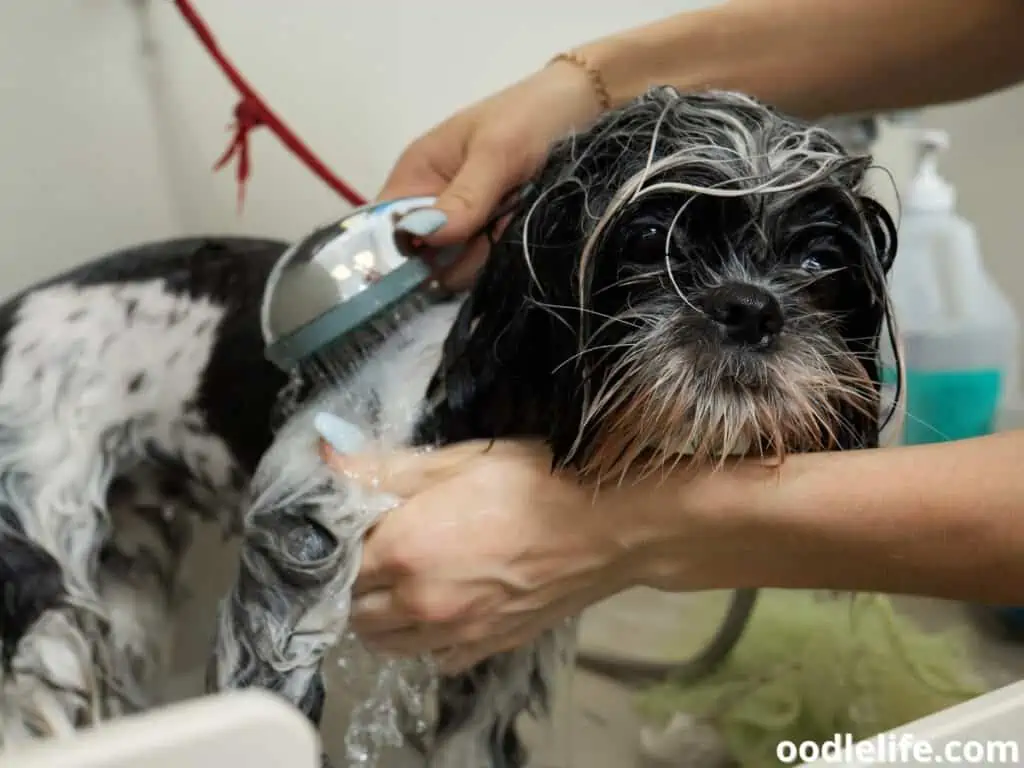 3. TropiClean Hypo-Allergenic Gentle Coconut Puppy & Kitten Shampoo 
TropiClean is a popular brand for shampoos for dogs. It uses plant-based ingredients and no soap at all for a mild shampoo and gentle clean. It's hypoallergenic and pH balanced so it's an especially good choice for owners with Shih Tzus that are particularly prone to allergies, but it's also a great choice all around.
We earn a commission if you make a purchase, at no additional cost to you.
Avoiding the use of harmful chemicals, artificial fragrances, and dyes, TropiClean is all-natural and coconut-based, so it doesn't irritate the skin and naturally leaves a fresh and tropical smell after washing. The use of coconut detangles and conditions the fur and moisturizes dry or flaky skin.
Given all these advantages and the quality of TropiClean, the shampoo remains at a decent price point and customers of the brand seem to enjoy the more refined packaging which sets it apart from other options.
However, some customers have found the fragrance a bit too strong, so whether or not you like the smell of coconut should be a point to consider. Additionally, other customers have reported that their dogs don't react to well to some ingredients in the shampoo, but this tends to come down to your dog.
For the most part, pet owners love the benefits TropiClean shampoos bring to their pets, so it still deserves a mention.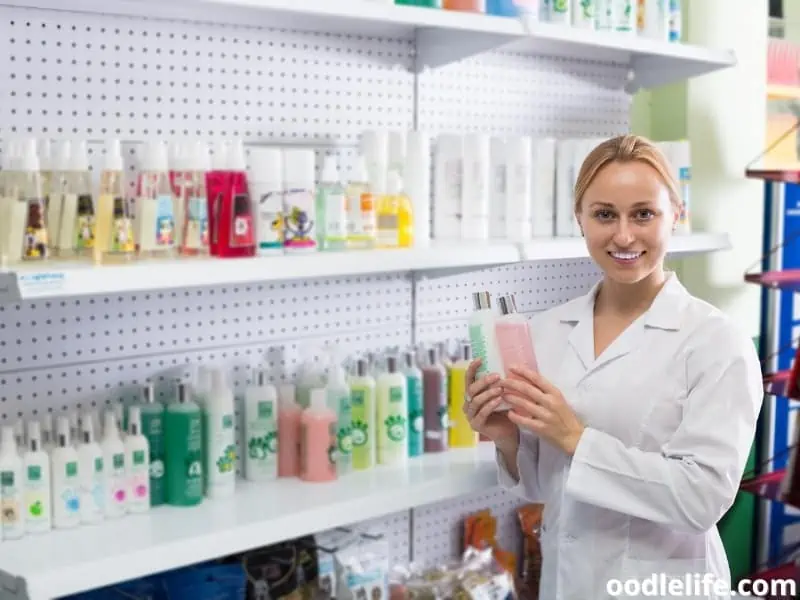 4. 4-Legger Organic, Hypo-Allergenic, Lemongrass & Aloe Dog Shampoo
4-Legger Dog Shampoo is another hypoallergenic, all-natural option for your Shih Tzu. It's USDA-certified and uses only organic, cruelty-free, and eco-friendly oils and other natural ingredients.
4-Legger Organic Dog Shampoo - All Natural and Hypoallergenic with Aloe and Lemongrass, Soothing for Normal, Dry, Itchy or Allergy Sensitive Skin - Biodegradable - Made in USA - 16 oz
NATURAL INGREDIENTS THAT MAKE SENSE: 4Legger USDA certified organic dog shampoo is a true, natural dog shampoo handcrafted in small batches using real plants, not synthetic chemicals. A concentrated...
GREAT FOR ITCH RELIEF AND SENSITIVE SKIN: The perfect itchy skin dog shampoo, 4Legger organic lemongrass & aloe dog shampoo with organic oils to help with flaky or dry skin and dandruff. A dog skin...
THE CHOICE FOR ECO-CONSCIOUS PET PARENTS: 4Legger dog shampoo is made from sustainably sourced, natural ingredients. Our goal is to help our furry family members live longer lives through natural...
MAKE THE SWITCH TO A TRUE ORGANIC DOG SHAMPOO: Only 2% of dog shampoos are certified organic. Synthetic shampoo can build up on a dog's fur, whereas a natural gentle dog shampoo like 4Legger leaves...
TRUSTED, AWARD WINNING PRODUCTS: Since 2015, pet parents, holistic vets, and natural groomers have trusted 4Legger dog shampoo. 4Legger products have won the EcoExcellence Award for Best Grooming...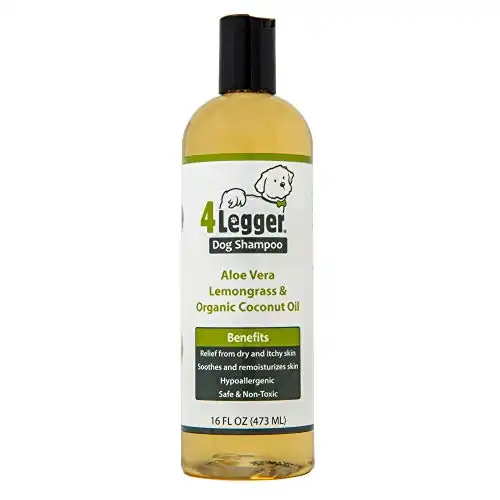 We earn a commission if you make a purchase, at no additional cost to you.
The base of the shampoo is a lemongrass and aloe vera mix, which are two great ingredients for dealing with dry or sensitive skin. Aloe vera has antimicrobial and antiviral properties, so it kills bacteria and prevents irritation or inflammation.
Similarly, lemongrass contains oils with similar benefits, as well as being good at fighting off fungus and providing loads of nutrients. Both also have a calming and deodorizing effect.
The lemongrass and aloe vera are complemented by other essential oils including jojoba oil and coconut oil. The jojoba oil nourishes the skin, while the coconut oil cleanses it.
The 4-Legger Dog Shampoo has no artificial fragrances, coloring, or chemicals. All ingredients are natural for a perfect bath to soothe and pamper your Shih Tzu.
However, the use of more concentrated oils means that this shampoo is harder to rinse out. If you inadequately rinse out your dog's coat, it can leave it feeling sticky because of the oil-based nature of this shampoo.
In addition, all the natural ingredients in the formula have caused some users to find the scent to be quite strong, but considering all the benefits these oils and ingredients contain, we think the tradeoff is worth consideration.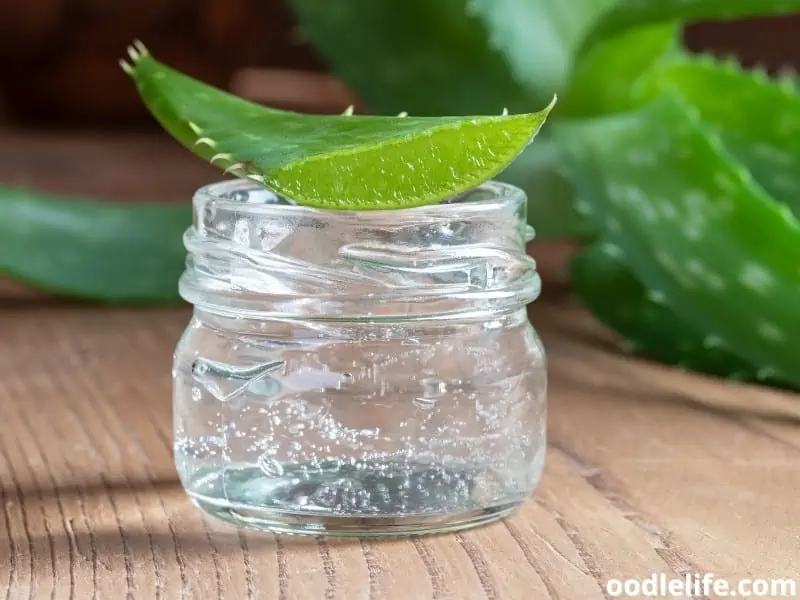 5. Earthbath Oatmeal & Aloe Shampoo
Earthbath Oatmeal & Aloe Shampoo is one of the best shampoos for Shih Tzus with dry skin. It's made of all-natural, organic, and non-toxic ingredients so it's good for dogs with sensitive skin or who are prone to allergies.
earthbath Oatmeal & Aloe Pet Shampoo - Vanilla & Almond, Itchy & Dry Skin Relief, Soap-Free, for Dogs & Cats, 100% Biodegradable & Cruelty Free, Give Your Pet That Heavenly Scent -...
ADDRESS DRY, ITCHY, AND FLAKY SKIN - Colloidal Oatmeal and Organic Aloe Vera help combat skin irritation, promote healing, and re-moisturize sensitive, dry skin
BRILLIANTLY CLEAN & SOFT - This luxurious shampoo is soap free and pH-balanced to clean and deodorize safely and thoroughly, leaving your pet's coat and skin plush and smelling better than ever before
SAFETY FIRST - Our Oatmeal & Aloe, Vanilla & Almond Shampoo will not wash off topical flea applications. Safe for all animals over 6 weeks old
KNOW WHAT YOU'RE GETTING - What goes into our products is just as important as what doesn't. This product contains no soap, gluten, DEA, parabens, synthetic dyes, sulfates, or phthalates, and is...
100% MONEY BACK GUARANTEE - We are so sure you will love this product that we will refund your money if you are not satisfied for any reason. You have nothing to lose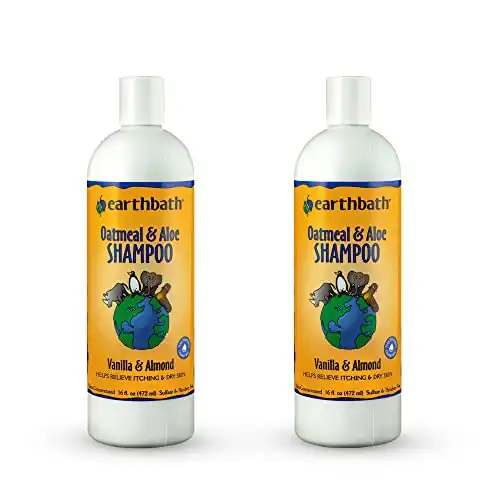 We earn a commission if you make a purchase, at no additional cost to you.
The oatmeal and the aloe vera in the formula soothe and moisturize the skin, which counters any dryness or flakiness. Soap-free and pH-balanced, this shampoo cleanses and deodorizes your dog gently.
Once rinsed off, your Shih Tzu's fur will be as fresh and plush as ever. It also avoids any gluten, parabens, dyes, sulfates, and any other toxic chemicals, and is cruelty-free. However, some customers have also reported having to use a lot of liquid to properly lather their dogs.
The scent isn't too overpowering compared to other dog shampoos. The flip side of this is that some customers find that while the scent smells good, it's not strong enough nor lasts long enough, making it easier for dogs to return to their natural smell.
But if you don't mind the doggy smell or if your Shih Tzu doesn't smell particularly strong, this would be less of a concern.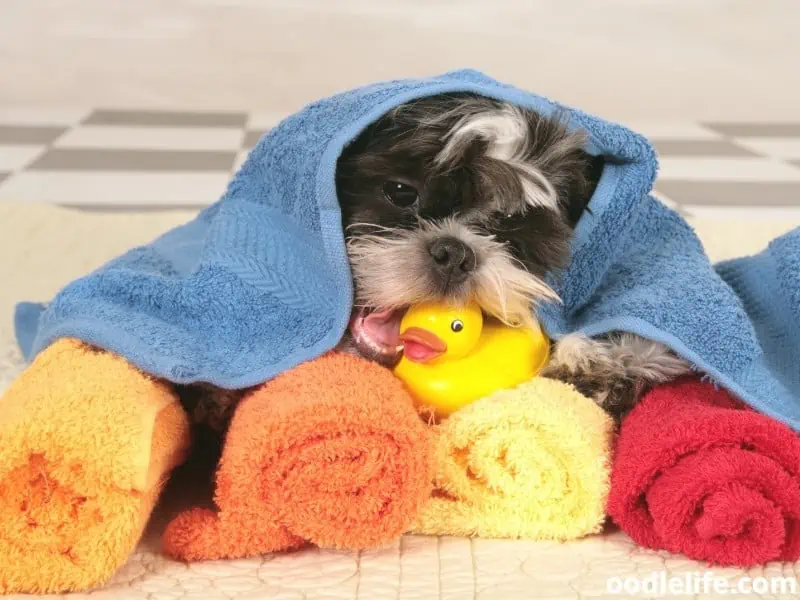 6. Burt's Bees for Dogs Tearless Shampoo with Buttermilk
Burt's Bees is a household name beyond dog shampoos. This is a great budget-friendly option that'll give you a bang for your buck. A favorite choice parents use for kids and dogs for a reason, Burt's Bees products are the best for sensitive skin and allergies.
Burt's Bees Dog Shampoo for Puppies, 2 in 1 Shampoo and Conditioner, Buttermilk and Linseed Oil, 16 Oz
DID YOU KNOW DOG SKIN DIFFERS FROM HUMAN'S - Dogs' skin is less acidic than human skin, so human shampoos destroy a dog's skin protective barrier, leaving your pet vulnerable to itchy flaking
NO. 1 PET GROOMING BRAND IN THE USA*-See why millions of pet parents entrust their pet's health and hygiene to Burt's Bees for Pets.  This natural puppy shampoo for dogs is no exception
TEARLESS FORMULA WITH BUTTERMILK FOR PUPPIES -  All natural ingredients include buttermilk, which soothes skin and softens hair and linseed oil, which deeply conditions your puppy's coat
NO SULFATES, COLORANTS, ADDED FRAGRANCE OR HARSH CHEMICALS - This formula is free of fragrances, sulfates, colorants, and harsh chemicals. That's what makes Burt's Bees for Pets a natural dog company...
SAFE FOR ALL DOGS AND PUPPIES - This shampoo is pH balanced for dogs and puppies of all ages, so it's perfect to add to your puppy supplies kit or dog grooming supplies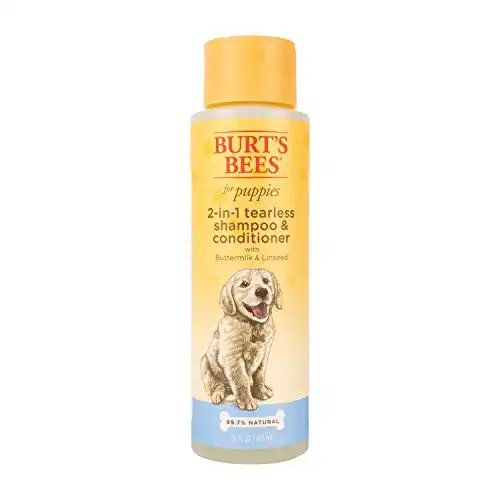 We earn a commission if you make a purchase, at no additional cost to you.
Burt's Bees dog shampoo is pH balanced and can suit both dogs and puppies. It uses buttermilk as a base which soothes the skin and softens the hair. It also has an array of natural ingredients such as honey which strengthens, rejuvenates, and regulates the moisture in the hair and keeps it shiny.
Burt's Bees uses a natural formula that avoids any harmful chemicals including parabens and artificial fragrances. It lacks a strong smell completely, which is perfect for dog parents or Shih Tzus who don't enjoy strong scents.
Though packed with nourishing benefits, a potential downside of a shampoo with no smell is that it doesn't conceal the doggy smell that people often try to get rid of.
But most Shih Tzu parents would know that their dogs aren't particularly prone to smelling bad. This Burt's Bees shampoo is also on the more watery side and it'll take a decent amount of liquid to create a lather.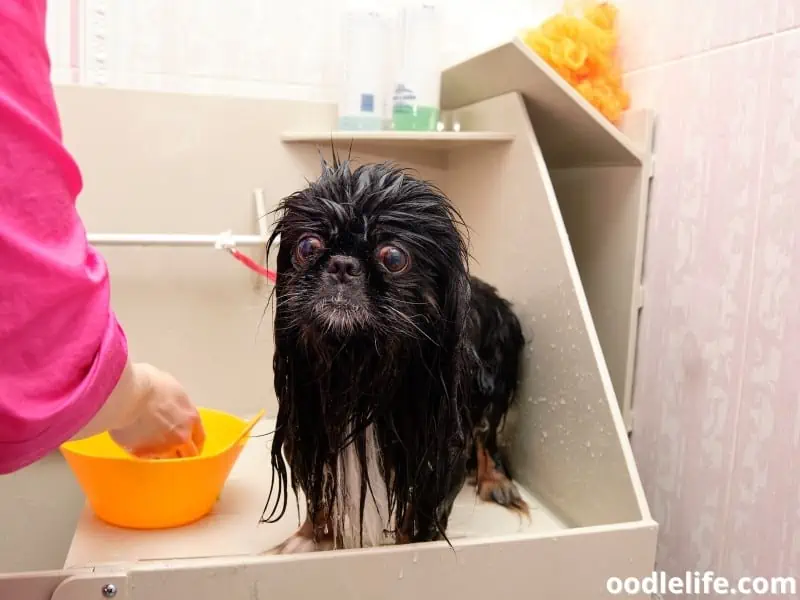 Final Thoughts
There we go! Bathing your dog doesn't have to be a chore – it can actually be good fun! Before you get started, make sure you choose the right shampoo for your pup.
Different breeds of dogs have different needs, so picking one that works with your pup's coat is important.
Start by getting your dog in the tub or basin and use warm water to gently wet them down. Slowly lather in the shampoo from head to toe, then rinse thoroughly.
When all the suds are gone make sure to run another round of warm water through their fur for an extra clean finish. Now just towel dry and give plenty of belly scratches before letting them loose for the zoomies!