Best Cavapoo Breeders In Colorado (2023 Update)
The adorable Cavapoo is a small dog breed that rocketed in popularity with the demand for Poodle crosses exhibiting low-shed coats and wonderful personalities. The Cavapoo is a cross between a Cavalier King Charles Spaniel and a Toy or Miniature Poodle.
The Cavalier King Charles is small, 12-13 inches tall at the shoulders, and weighing 13-18 pounds. Their silky, feathery hair has unique colors such as ruby (a deep, rich red), Blenheim (a chestnut and white), black & white, black & tan, and tri-color. These friendly, tolerant companions are wonderful, intelligent pets.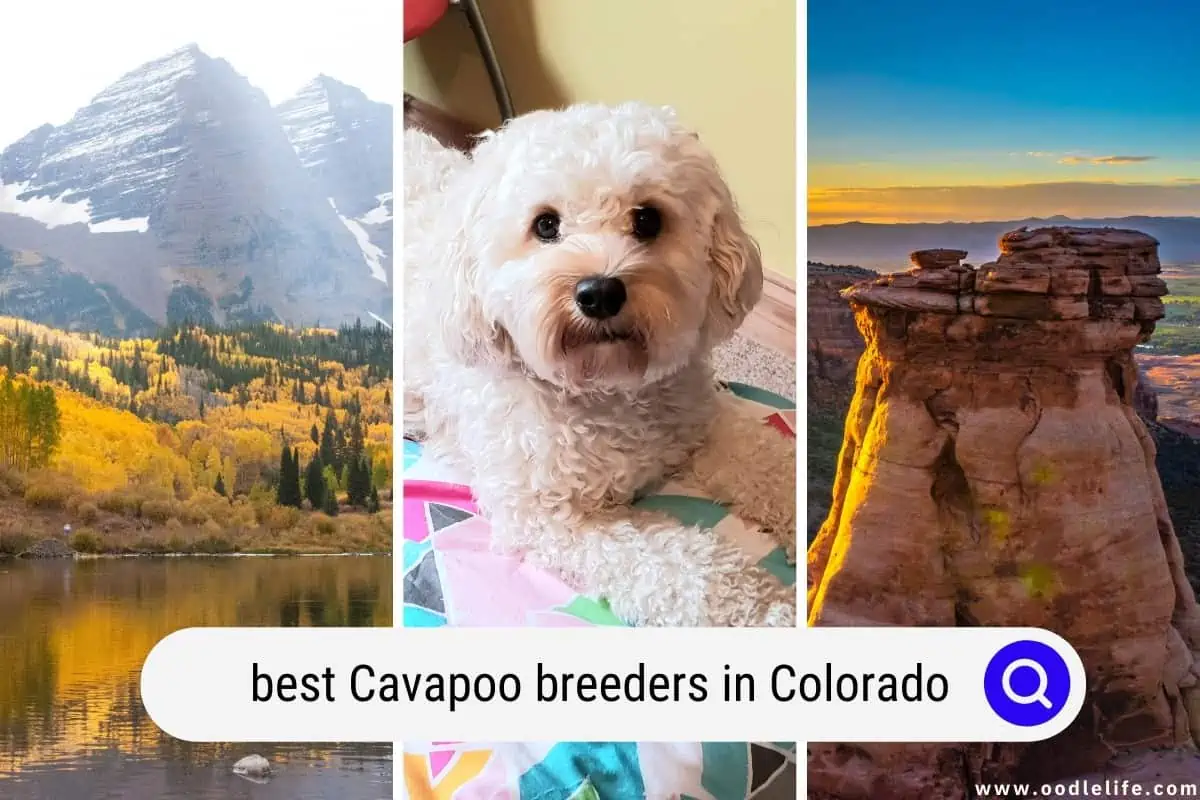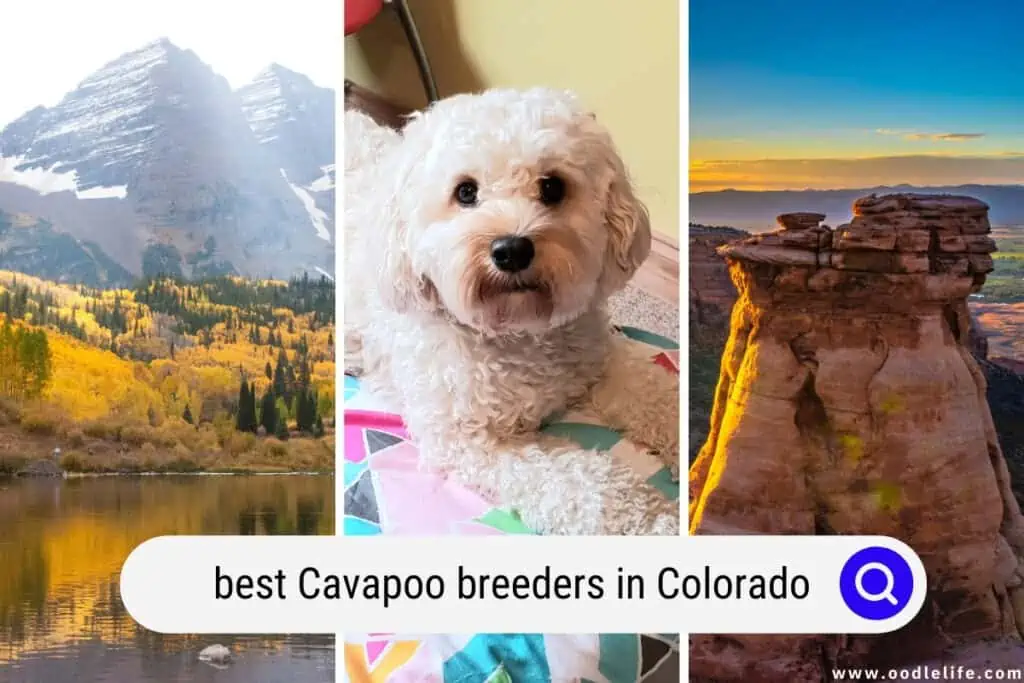 $300 2023 Discount!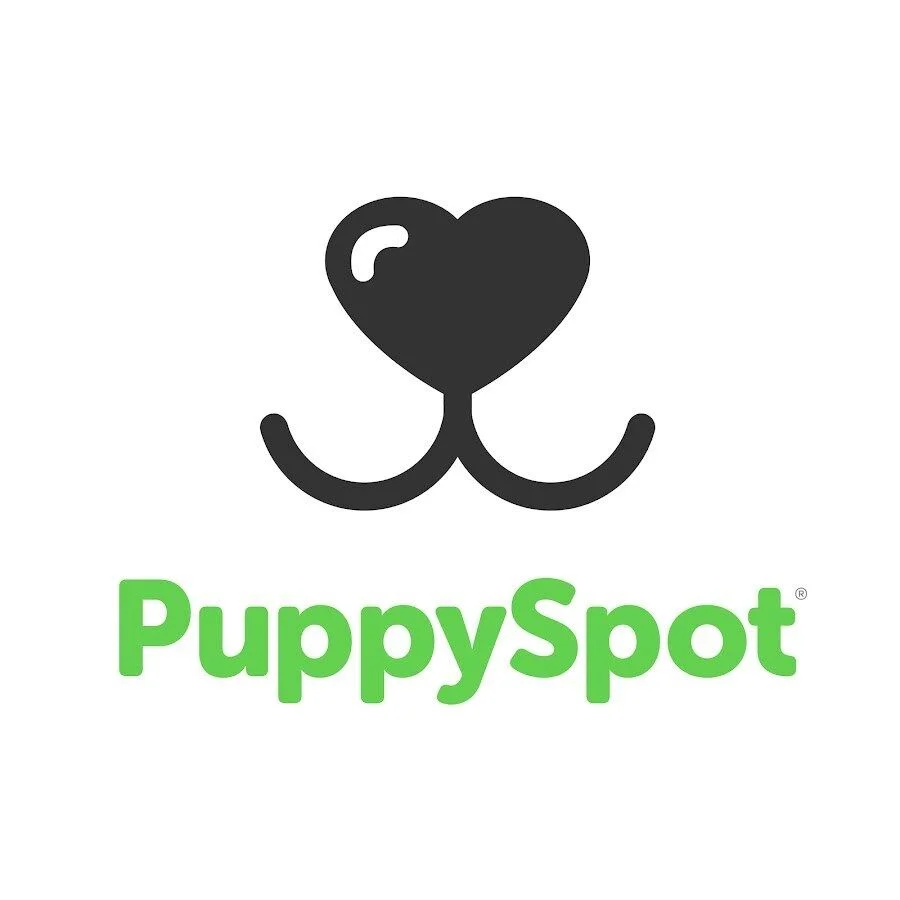 PuppySpot Adoption
PuppySpot is a reputable dog marketplace where you can browse and find compatible puppies right from the comfort of your home. They have placed over 200,000 puppies into homes in the US!
Click through and use the code PUPPY300 for $300 off any puppy adoption.
See Puppies and Save $300
Poodles are one of the most easily recognized dogs. Miniature Poodles are affectionate, happy dogs that display loyalty and intelligence. With their curly coats that shed very little, the average height of an adult is 10-15 inches, and they weigh 10-15 pounds.
Cavapoo Size and Characteristics
The Cavapoo takes the best traits from the Cavalier King Charles and the Miniature Poodle. The coat will be wiry – straighter, with coarser hair and a little wave, fleece – loose wave and curl, or wool – very tight curled coats much like a Poodle.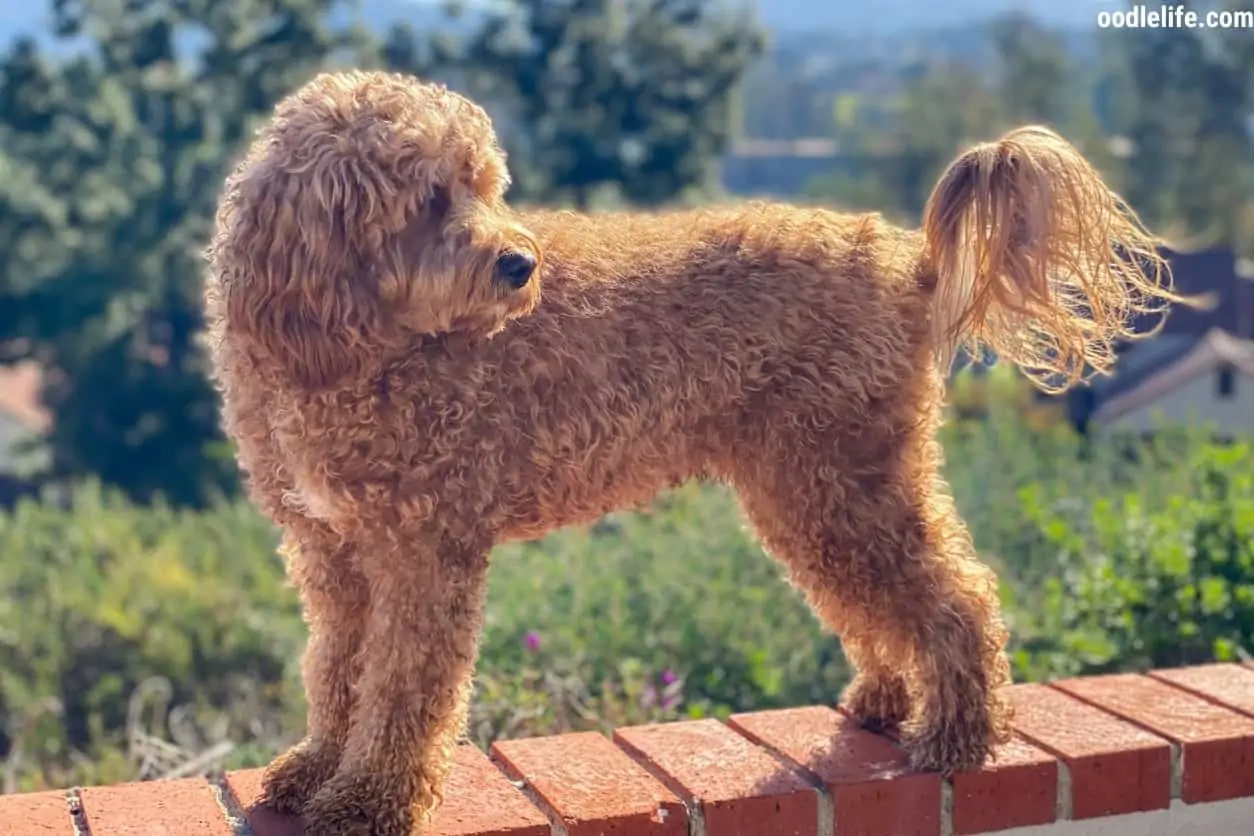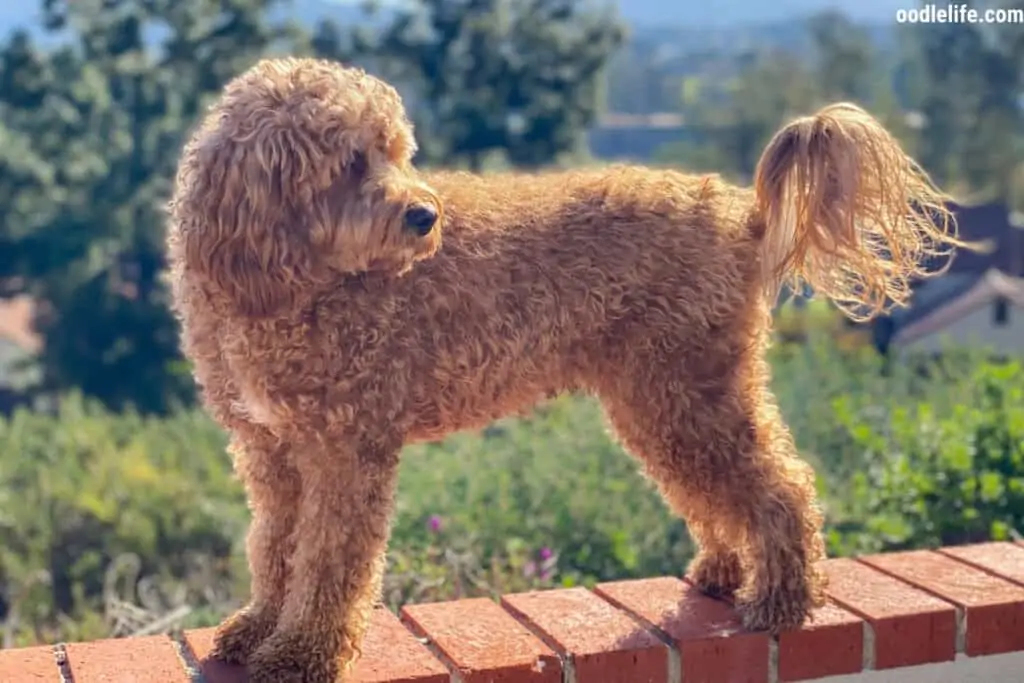 The Cavapoo has many coat colors. Depending on the parents, it could be ruby, tri-color, grey, tan, or any mixture. Two Cavapoos could be walking side by side and look like two different breeds with many variations in coat color and type.
The adult size of a Cavapoo will depend on if the Poodle parent is a miniature or toy. A Toy Poodle parent results in a smaller adult dog, while a Miniature Poodle parent results in a slightly larger adult dog. Regardless, the adult weight can vary between 8-25 pounds, with the average being 15 pounds.
Cavapoo Temperament, Trainability & Care
The Cavapoo quickly becomes the darling of any family with its lively personality, loyalty, and large doe eyes. They are intelligent, agile dogs that aim to please, learning commands and tricks with a bit of patience and repetition.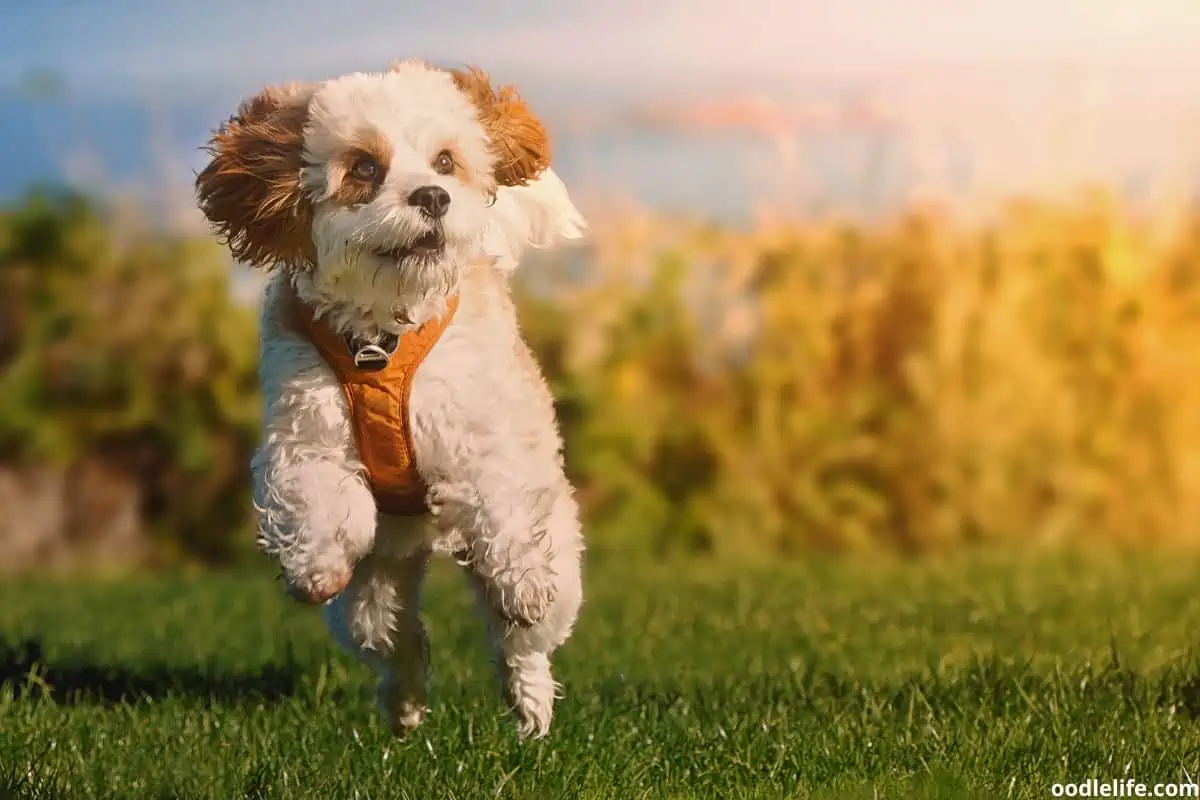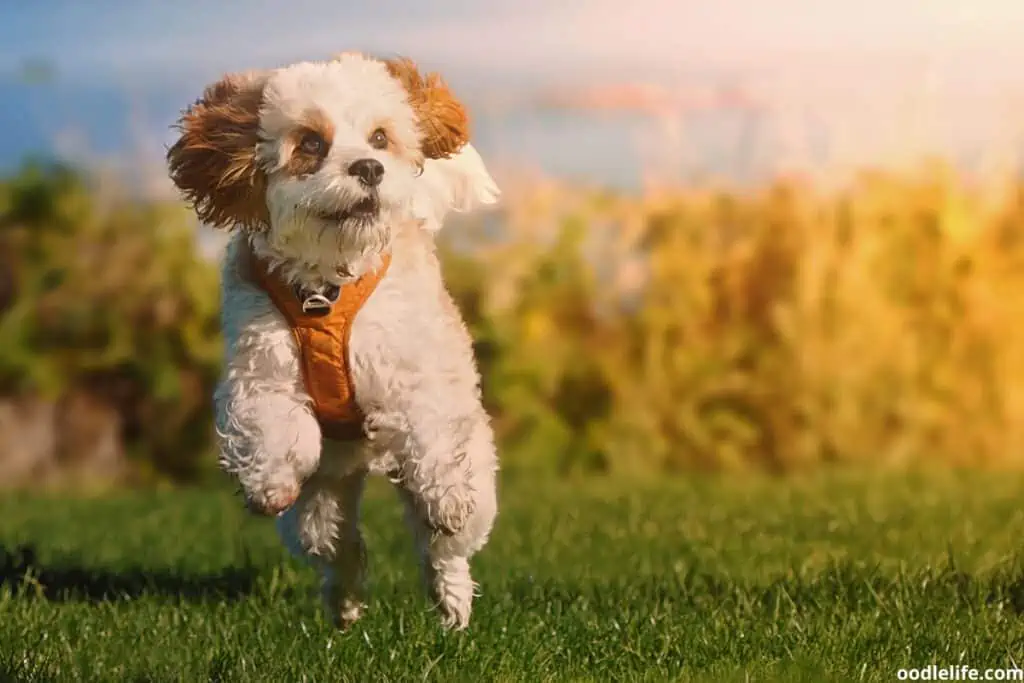 Grooming depends on the coat of your Cavapoo, but most can visit a groomer every four to six weeks for a bath and clip. Brushing your dog daily increases the bond and keeps your pup looking spiffy.
Are you ready to start researching your new addition? We've gathered a list of some of the best Cavapoo breeders in Colorado to help you search. Any of these breeders are easy to contact and would gladly provide information on this wonderful breed.
Puppy Paws Colorado
With an average 5-star rating on Google Business, Puppy Paws Colorado is just 24 miles outside of Denver. Situated on three acres of land, the puppies experience unlimited fresh air and space.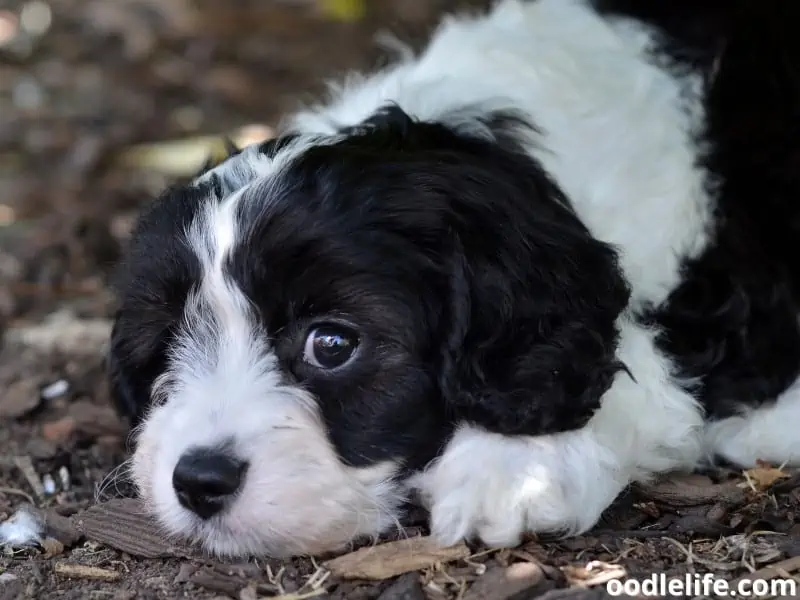 Puppy Paws specializes in litters raised in a family environment with plenty of socializing and love from day one. Each puppy experiences early neurological stimulation (ENS), early scent introduction (ESI), and Bad Ass Breeder training.
The parents in the breeding program are thoroughly health tested, including heart, eyes, hips, DNA, and any other breed-specific OFA testing. They are so confident in their program that puppies have a full two-year health guarantee.
To be placed on a waiting list, you must have an approved application and a non-refundable $250 deposit. Puppy Paws carefully screens interested potential parents to ensure the best fit and a lifelong home for their litters. Once the litter is born, another $250 is required to hold your place in line for picking a puppy.
To allow temperament and coat to develop, new owners cannot pick a puppy until the litter reaches seven weeks. Still, prospective parents can visit any time after the litter reaches four weeks.
Your new puppy receives veterinary care from birth and has the first set of age-appropriate vaccinations and a deworming, and the health is guaranteed for two years. Puppies are also introduced to crate and potty training to ease the transition into their new home.
Contact Details:
Website: https://www.puppypawsco.com/
Phone: (303) 818-5344 or (720) 743-6180
Email: [email protected]
Location: Fort Lupton, Colorado
Cavapoo Puppy Home
In the business of raising healthy, happy Cavapoo puppies for over eight years, Cavapoo Puppy Home is located in Greeley, Colorado, roughly 45 miles from Denver.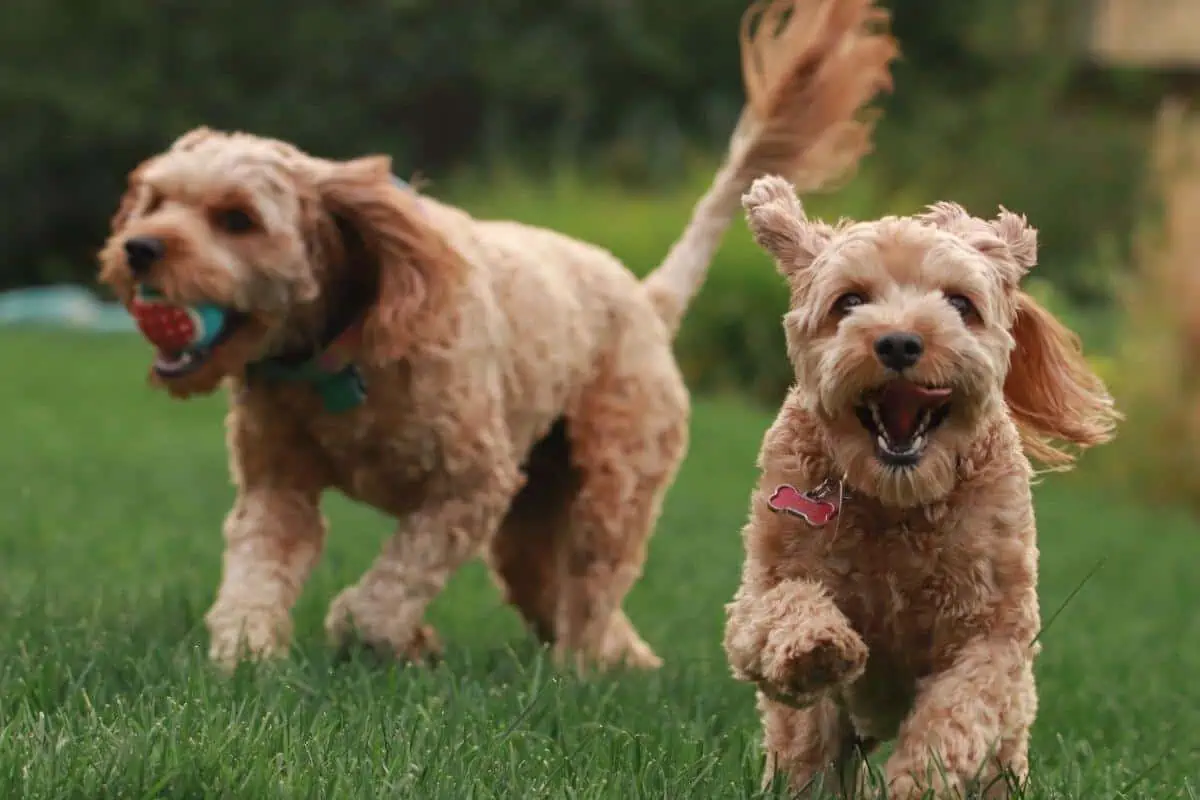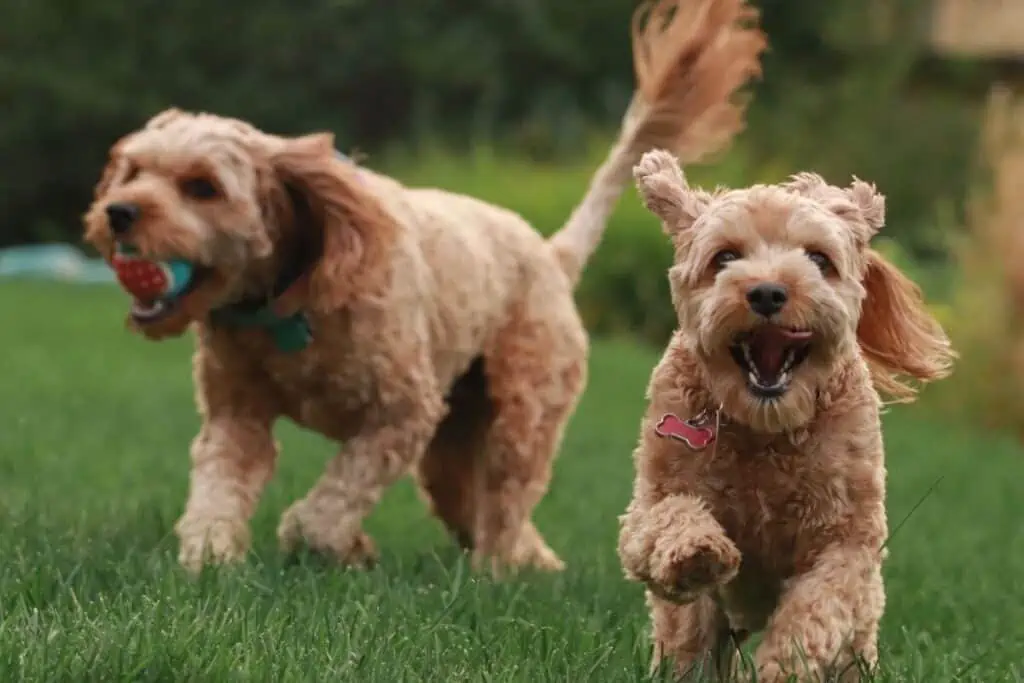 Cavapoo Puppy Home provides puppies raised in a family home environment with plenty of socialization and experiences that involve small children, everyday household noises, and other pets. Dogs in their breeding program undergo extensive health tests and screening for hereditary diseases, including hypertrophic cardiomyopathy (HCM).
Puppies begin litter box training at 3-4 weeks of age. This method uses a litter box with pine pellets, much like a cat litter box. Almost wholly trained to the box by 5-8 weeks, the puppies have minimal accidents.
This training makes the housebreaking process a snap for new owners.
Prospective new homes are carefully screened to ensure the perfect match for activity levels and an environment conducive to a lifelong commitment. Once approved, a non-refundable deposit is required to hold your puppy. The remaining balance is due upon pick up or before a puppy is shipped.
You may travel to Greeley in eight weeks to pick up your new family member. Cavapoo Puppy Home will assist with arrangements. An airline-approved carrier, a vet health certificate, a bag of puppy food, and a puppy care pack will travel with your puppy.
Specialized ground transport service can also be arranged if you do not wish to fly your puppy home.
Contact Details:
Website: https://cavapoopuppieshome.com/
Phone: (970) 458-5711
Email: [email protected]
Location: Greeley, Colorado
Cavapoo Club of Colorado
Finding a reputable Cavapoo breeder in Colorado can be frustrating to say the least. With the number of breeding sites posing as local breeders of Cavapoo puppies, the decision was made to start the Cavapoo Club of Colorado as a Facebook page.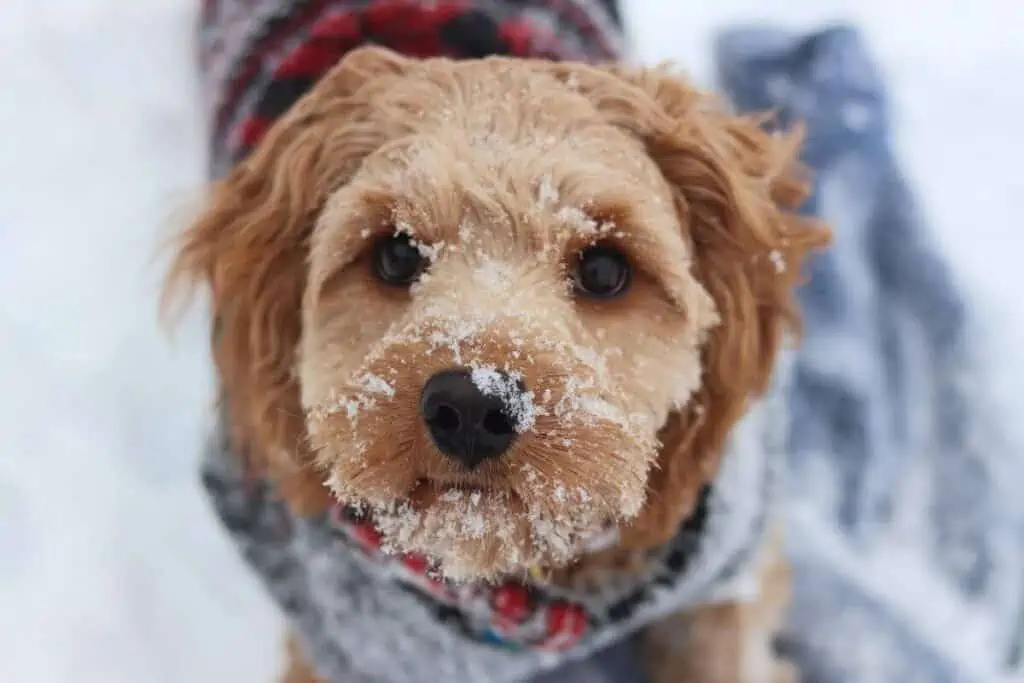 Composed of small breeders, the Cavapoo Club of Colorado provides families with healthy, quality puppies. To start your search, contact them via Facebook messenger to obtain details about their program, application requirements, and physical contact information for breeders in their program. They carefully screen all prospective homes to match temperament and activity levels and want to place puppies in the best home possible.
With over 3,000 likes and countless photo posts of families with their new Cavapoo puppies, the Cavapoo Club of Colorado might be the perfect place to find your new family member. They offer Flight Nanny accommodations to fly your puppy to you with care or will assist in arranging ground transport.
Puppies are vet checked, immunized, and come with a health guarantee.
Contact Details:
Website: https://www.facebook.com/CoCavapoo/
Email: Contact via Facebook
Location: Colorado
Conclusion
Cavapoos are wonderful family pets and companions exhibiting wonderful traits from the Cavalier King Charles Spaniel and the Miniature Poodle.
The smaller size of a Cavapoo makes them perfect for apartments, senior pet parents, or families with small children. They are intelligent animals with a massive capacity for affection and loyalty. Cavapoos have coats with minimal shedding, adding to the popularity of this little breed.
Whether you are just looking to gather information or discuss up-and-coming litters, breeders will be happy to speak with you and provide information on their breeding program and how a Cavapoo might be the perfect fit.
A Cavapoo might be your future best friend!