71 Best Dog Christmas Puns for Social Media! (2023)
It's the most pun-derful time of the year. Whether you're a dad (or dad in spirit) looking for a groan-inducing joke to bring any party to a screeching halt or a pun enthusiast searching for some puppy-related material, you're in luck!
Use these 71 best dog puns as a way to brighten up your holidays or delight your followers on social media. (You can't hold us responsible for any pun-related unfollows.)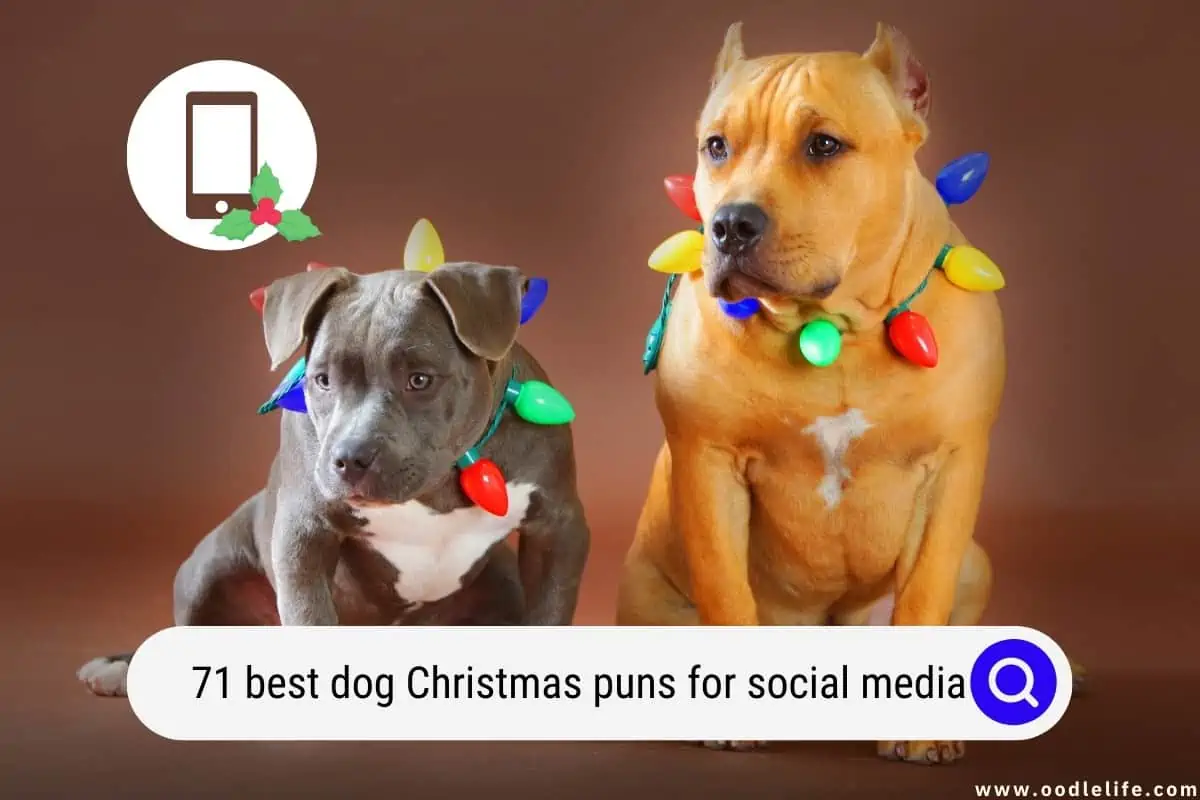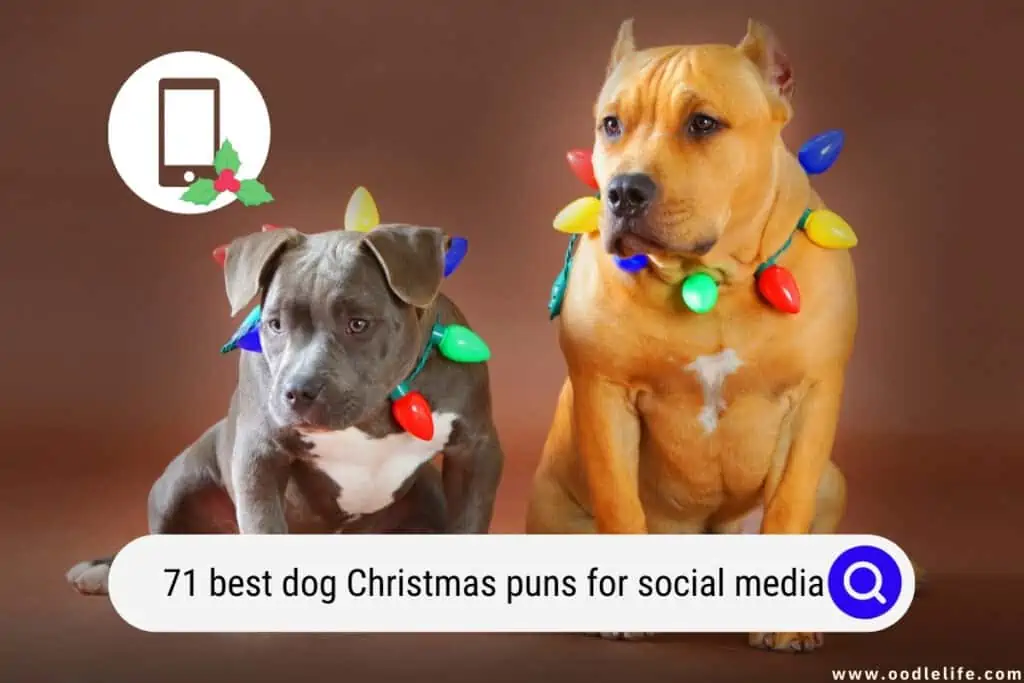 Christmas Greetings
Your Christmas greeting is the perfect way to set the mood. Pair one of these Christmas greetings with a picture of your dog on a social media post. Bonus points if your pooch is wearing a Christmas sweater.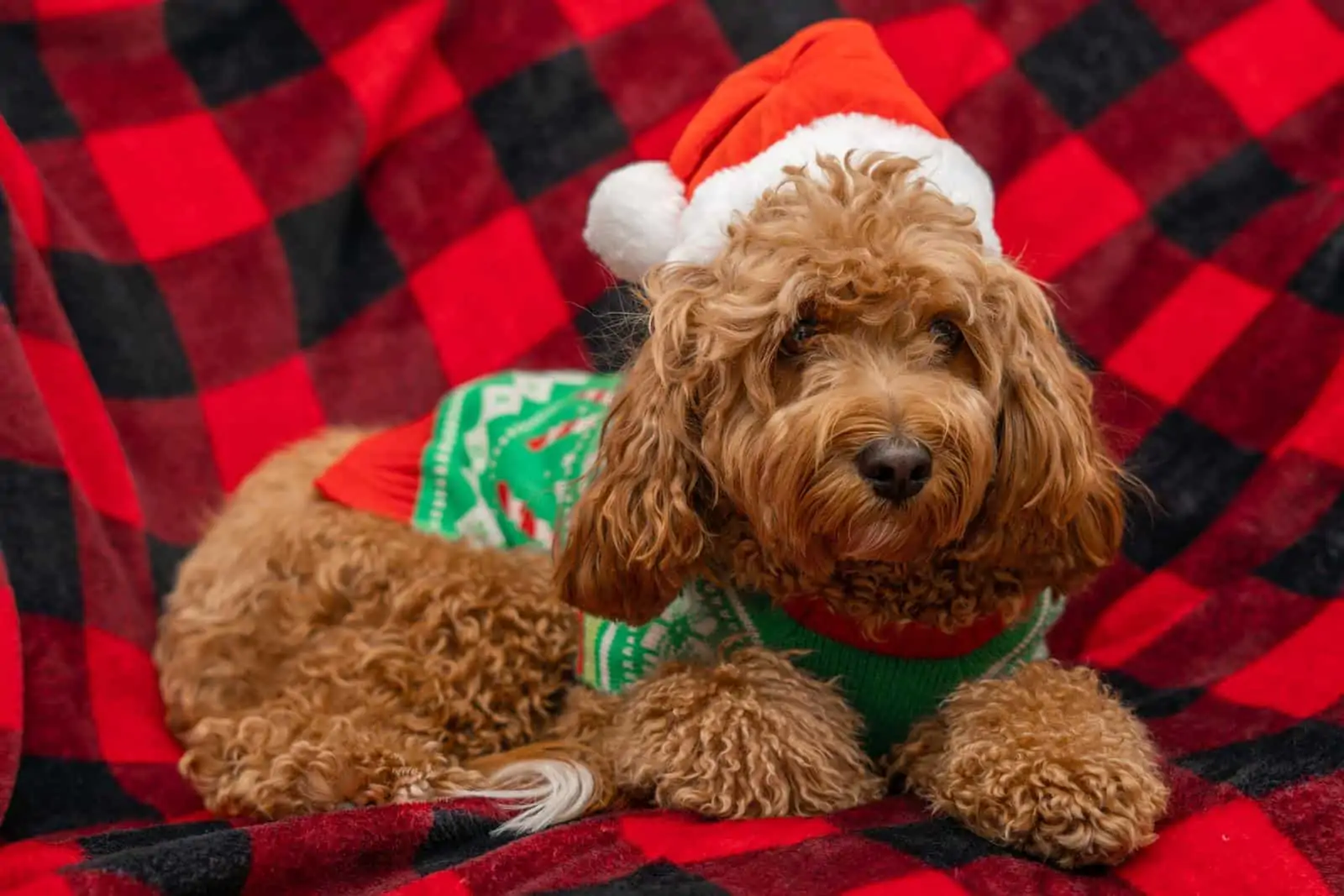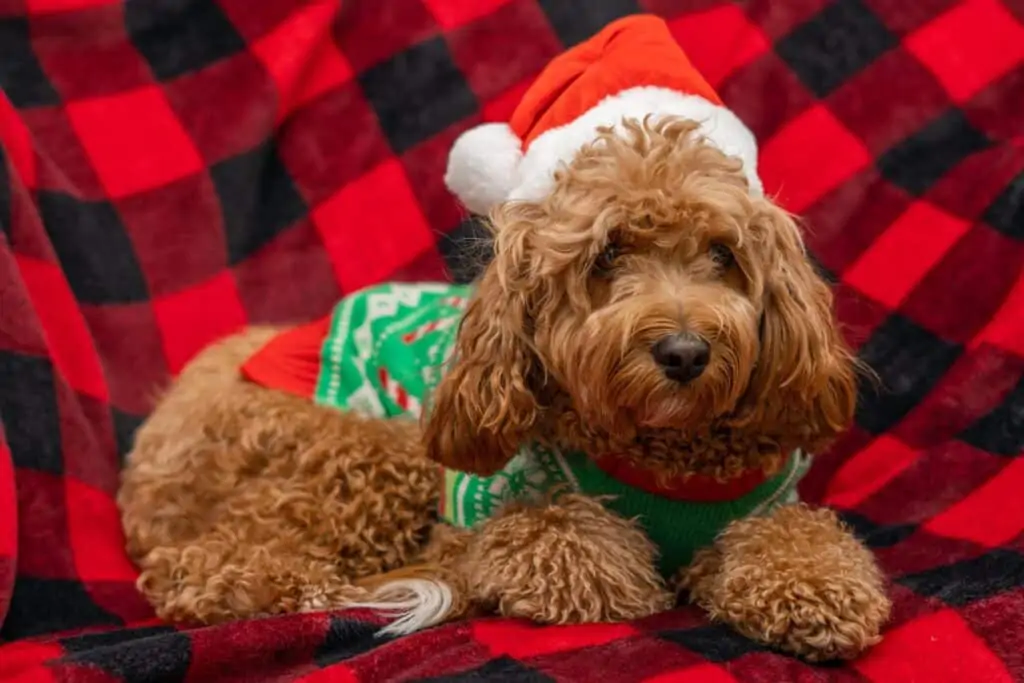 1. Wishing You All a Collar-ful Christmas!
We love this pun because it relates to fashion. Try a red and green collar on your dog, or consider adding a little sparkle.
2. After Another Ruff Year, We Wish You a Won-dog-ful Christmas!
Your best friend has been with you through another year. He deserves a shout-out.
3. We Hope You Unleash All Kinds of Joy This Season!
Take a selfie while on a walk with your pup or consider a collage of pure, unadulterated dog-park joy.
4. Happy Paw-lidays! Season's Treatings!
Always a classic. Show your followers those precious little feet as a treat.
5. Happy Chihuaolidays!
Is this greeting a mouthful? You bet. It's perfect for the Chihuahua in your life. Suggested caption: Yo quiero outta this Christmas sweater.
Traditional Christmas Idioms, Images, and Phrases
Spice up your Christmas card this year or have a little festive fun on your social feeds by using one of these punny takes on Christmas classics: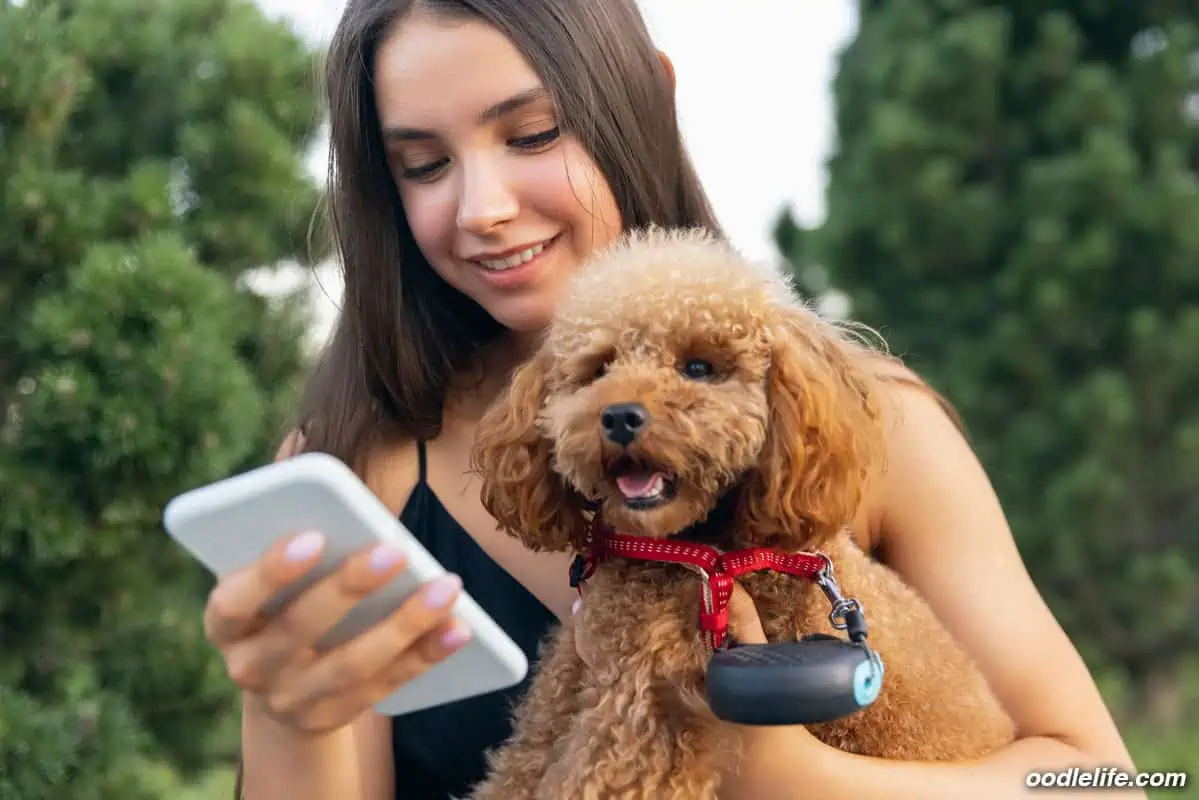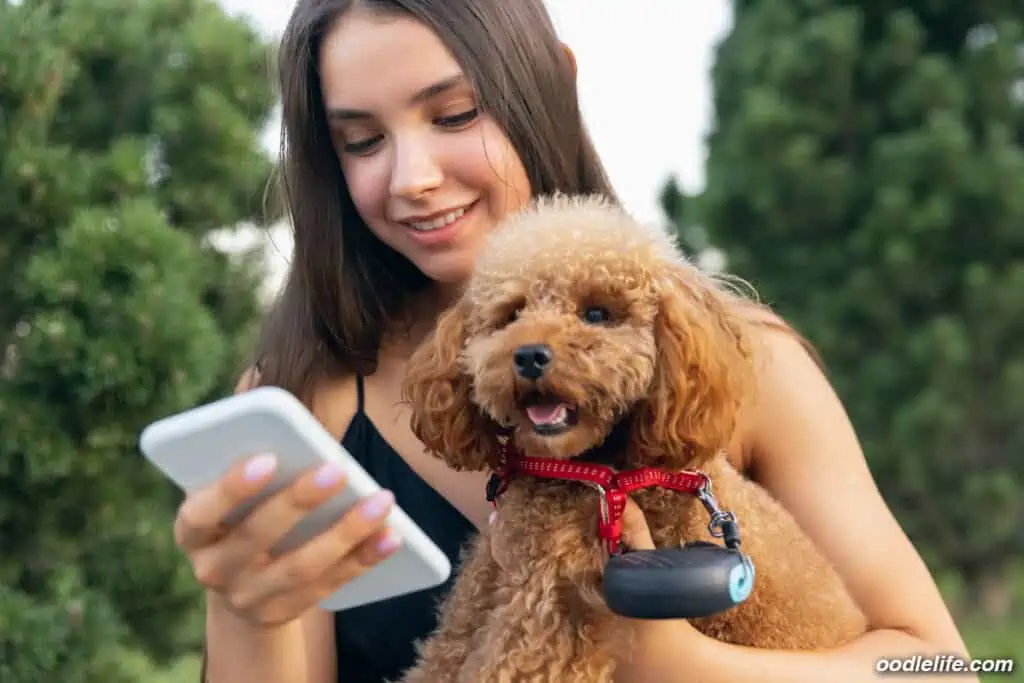 6. We Shih Tzu a Merry Christmas
A classic, perfect saying for Shih Tzu owners and enthusiasts.
7. We Three King Charles Spaniels
Picture this: Three King Charles Spaniels in little crowns, holding out gifts like tiny Wise Men. Adorable.
8. All I Want for Christmas Is Cockapoo
Cockapoos are crossbreeds bred from a Cocker Spaniel and a Poodle. Tiny and mighty, these hypoallergenic pups are (rightfully) popular worldwide.
9. Fa-la-la-la-Labradoodle
We've written before about our love of Labradoodles. Their non-shedding coat and friendly nature give us all a reason to sing.
10. Bah, humPug!
We love this phrase because Pugs really do seem to encapsulate this expression.
11. All I Want for Christmas Inu!
Mariah Carey's classic Christmas song is featured on this list a few times, and with good reason. The energy of Shiba Inus definitely matches the hype.
12. Eat, Drink, and Be Hairy!
Here's hoping you don't find any dog hair in your mulled wine.
13. Who Needs the 12 Days of Christmas When You Can Embrace Canine?
We're talking about quality, not quantity.
14. Five Goldendoodles
And while you're at it, check out our complete Goldendoodle color guide (with photos) to discover that perfect golden hue.
15. Four Calling Bird-dogs
Look out, calling birds.
16. Three French Bulldogs
One Frenchie is cute enough, but three? You might just break the internet.
17. Two Pups in Love
Puppy love is the sweetest love there is.
18. And a Stray Cat Stuck in a Tree
This is a list of Christmas-themed dog puns, but we couldn't help but sneak one cat in.
19. All I Want for Christmas Is To Chew
And if your puppy won't stop chewing you, consider this training guide.
20. Hit the slopes and Huski!
You won't regret it.
21. Better yet? Saluski!
This beloved mascot of Southern Illinois University might not enjoy the slopes as much as your Husky pals.
22. It's a Dog-gift-dog World
We think this is a better take on the dog-eat-dog world. Unless we're talking about treats.
23. Shar Pei It Forward
Paying it forward is everywhere during the holidays. Why not add Shar Peis into the mix?
24. Deck the Halls in Gray and Gray
Your dog might be colorblind, but the halls will still look amazing in all gray.
Christmas Characters and Places
These doggy takes on classic Christmas characters and places are a great way to incorporate your pet into your social media game. Whether you've got a pooch with a resting mad-face or you're making an elaborate, pet-themed nativity scene, consider these ideas to get you started: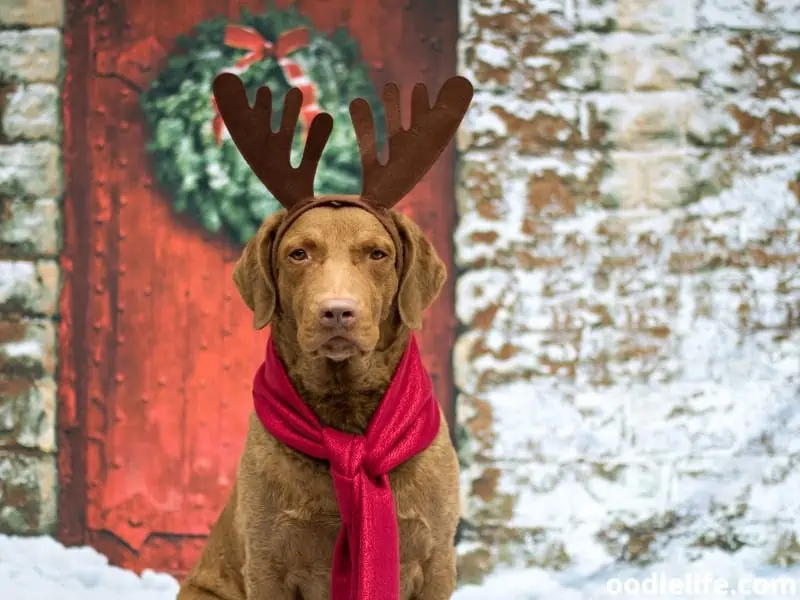 25. Ghost of Christmas Fur-ture
What's definitely in the future? Belly rubs.
26. Oh Little Town of Bethlehound
Follow that star to cuteness.
27. Stockings Were Hung by the Chimney With Cairn
Cairn Terriers might not reach the mantle, though.
28. Island of Misfit Toy Poodles
"A pack full of toys means a sack full of joys, for millions of girls and for millions of boys, when Christmas Day is here!"
29. EbeSchnauzer Scrooge
Mostly, we just want to see a Schnauzer dressed up in a Scrooge outfit.
Christmas-Themed Tribute to Beloved Pooches
Many dogs have worked their way into the core of our culture. Create a tribute to one of your favorite furry heroes or sidekicks with one of these puns.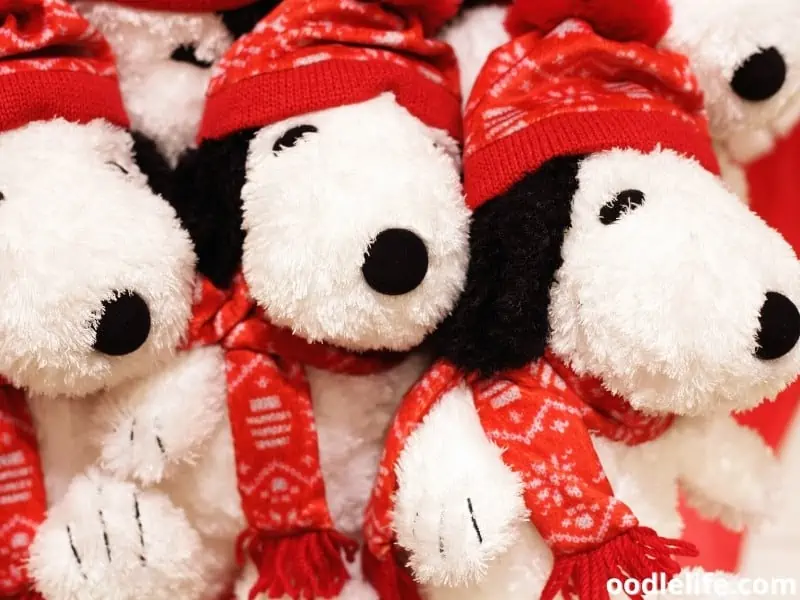 30. What's a Dog's Favorite Christmas Decoration?
Rin-Tin-Tinsel
31. What's the Best Thing To Do in Winter Weather?
Build Snow Ball-tos!
32. MistleToto
Although we know Mistletoe is a Mistleno-no when it comes to your dog.
33. We Know You're Excited for Presents…
… but no Snoopy-ing!
Punny Christmas Songs
It simply isn't the holidays without music, and belting out the tune to your Christmas favorites is one of the best traditions, although some enjoy it more than others. Still, whether you're singing off-key or howling along to the lyrics, these punny Christmas songs are sure to get a smile.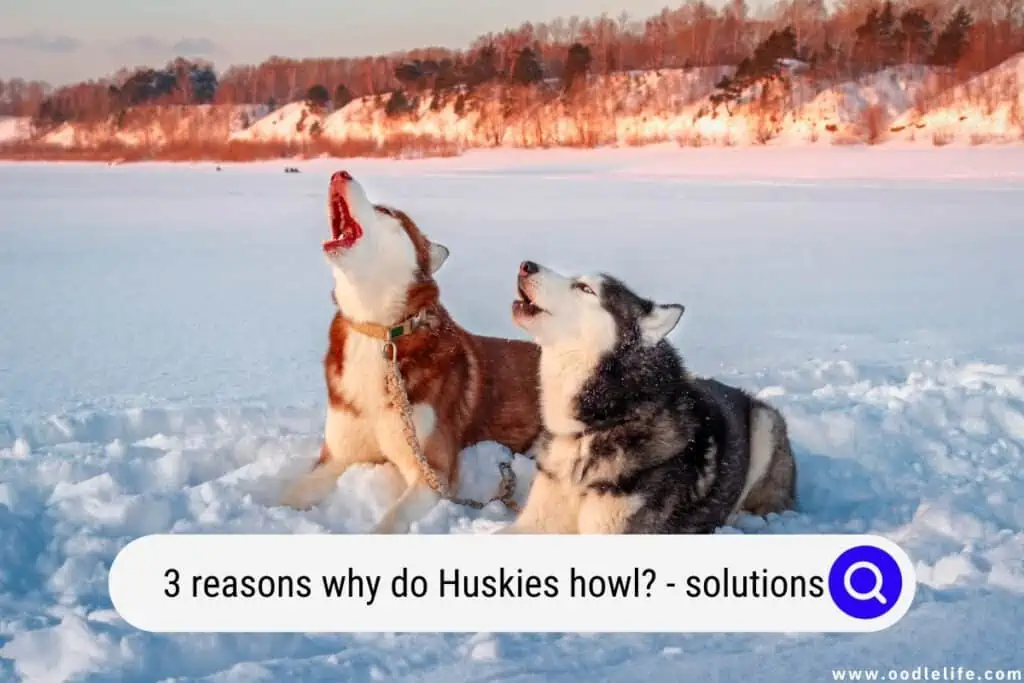 34. Da-poo Doris (Welcome Christmas)
This is the song the Whos in Whoville sing to the Grinch. We like this version better.
35. O Christmas Treat, O Christmas Treat
How lovely are thy branches, especially if they involve a game of fetch.
36. I'll Have a Blue Christmas Without Maltipoo
Maltipoos are so cute you'll want more than one around.
37. Bark! The Herald Angels Sing!
And the dogs keep on barking.
38. Feliz Navi-DOG
No fleas allowed.
39. Have a Holly Collie Christmas
Say hello to dog-friends you know and everyone you meet.
40. Dachshund Through the Snow
They might not be the best at pulling sleighs, though.
41. Basenkingle Bells
Basenjis are a cat-like canine known as Africa's "barkless dog."
42. Rockin-a-Hound the Christmas Tree
Everyone dancin' merrily in the new old-fur-shioned way!
43. Let it Throw, Let it Throw, Let it Throw
No take, only throw.
44. I Saw Mommy Kissing Santa Paws
We can't blame her.
45. Jingle-Ball Rock
What a bright time; it's the right time to throw the ball away.
46. There's No Place Like Bone for the Holidays
Be sure to add a tasty and safe bone to your dog's Christmas list.
47. Mele KalikiMaltese
This is the Hawaiian way to say Merry Christmas to dogs.
48. Jolly Ol' St. NichoLhasa Apso
Lhasa Apsos are famous for their floor-length hair and jolly demeanor. 
Christmas Food-Related Puns
It's the perfect time of year to embrace becoming festively plump.
Impress your guests (and your pooch) by offering a delicious (and punny) holiday spread: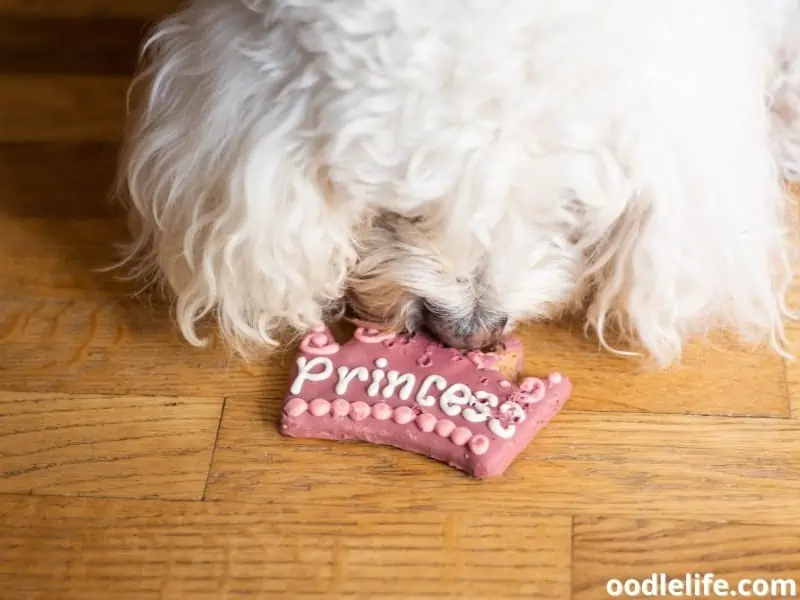 49. Puppermint Bark
This bark is just as good as its bite.
50. Christmas Pugel
Antique Christmas ornaments (kugel), but make it pugs.
51. From Spritz Cookies to Spitz Cookies!
Delicate and white, not unlike the Japanese Spitz. 
52. Yorkshire Pudding
Your Yorkie will approve of this ancient holiday treat.
53. Mala-mulled Wine
Malamutes might not enjoy mulled wine, but we sure do.
54. Charchewterie Board
Crackers, cheese, and chew toys.
55. Greater Swiss Miss Mountain Dog
Warm up with a bit of hot chocolate while you cuddle this majestic pooch.
56. English Shepherd's Pie
Hearty and filling, this treat is an excellent dish that'll stick to your ribs like an English Shepherd sticks to your side.
57. Puppy Chow
This one goes without saying. Chocolate, peanut butter, and sugar.
58. Bone Appetit!
French Bulldogs and Poodles will practically say "oui!"
59. And Be Sure To Leave Santa Paws Milk(Bones) and Cookies
You'll guarantee some excellent presents in your stocking.
Christmas Movies
When the weather starts to turn and the days get colder and darker, it's the perfect time to snuggle up with your pooch and enjoy a Christmas movie.
Of course, nothing can top the greatest Christmas dog pun of all time, "Olive the Other Reindeer," but here are some classic Christmas movies with a doggy spin on the title.
60. Jingle All the Wag
Plot: Arnold Schwarzenegger must get the perfect (albeit sold-out) chew toy for his dog, Jaime.
61. How the Corgrinch Stole Christmas
Adorably, that's how.
62. The Howliday
Plot: A gorgeous city Poodle trades places with a fun-loving country Sheepdog. Romance ensues.
63. The Night Before ChrisMastiff
Coming to a Christmas Town near you!
64. National Lampoodle's Christmas Vacation
Plot: A Labradoodle's human navigates travel over the holiday season.
65. Holiday Inn-u
It's got romance and singing. A Shiba Inu version of Fred Astaire dances across the stage.
66. Mountain Cur on 34th Street
Santa is real.
67. Pet Shop Around the Corner
Plot: Two competing pet store owners fall in love.
Groan-Worthy Christmas Quotables
Looking to make a truly groan-worthy statement at your holiday party? Keep these quotes in your back pocket in case the perfect moment arises.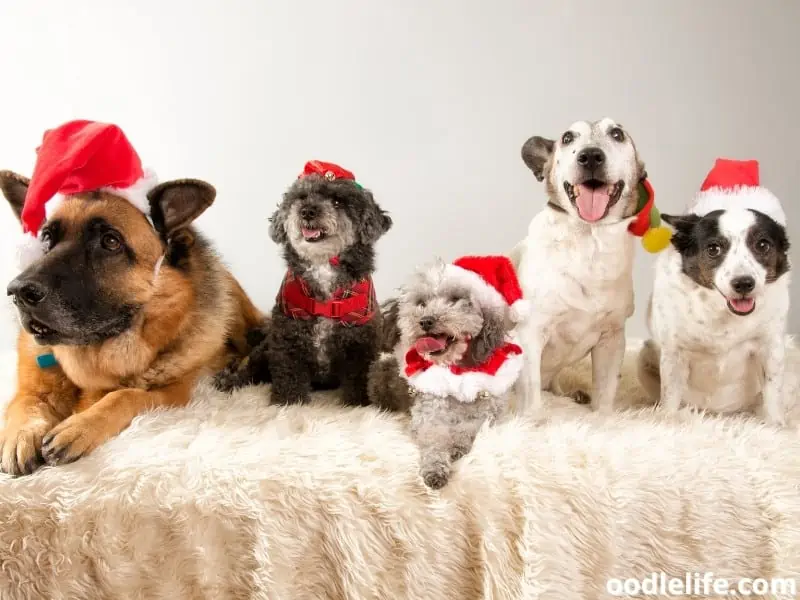 68. "What's That, Lassie? Tiny Timmy's Stuck in a Well?"
69. "Merry Christmas to All, and to All, a Good BITE!"
70. "May All Your Days Be Merry and Bright, and May All Your Dogs Be Purse-sized and Light"
71. "Remember – No Peking-ese Your Gifts!"