5 Best Fanny Packs for Dog Treats (Training)
Training your new puppy or adult dog is a time-consuming process no matter where you go, so it's essential to have tasty treats on hand to reward them whenever they perform a command correctly.
Fanny packs are an essential accessory to bring during any training session to help you save pocket space whenever you need to store treats and other basic dog supplies for your convenience.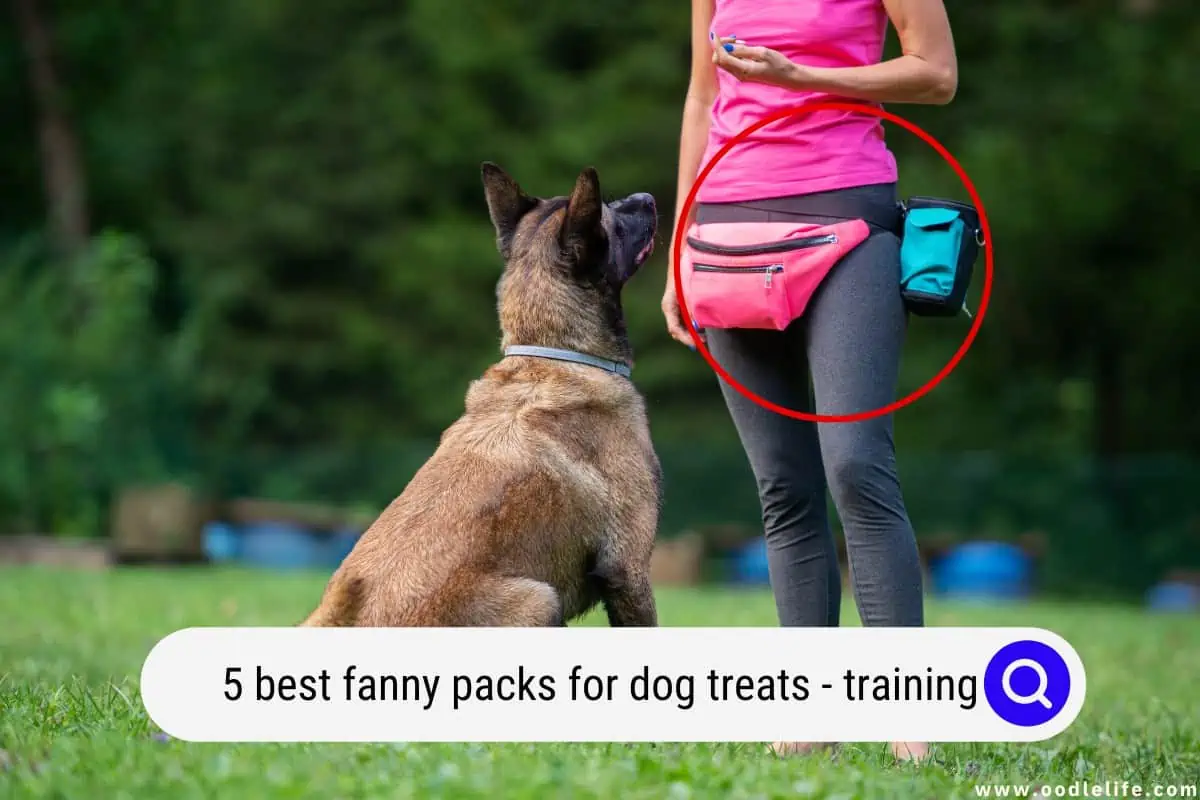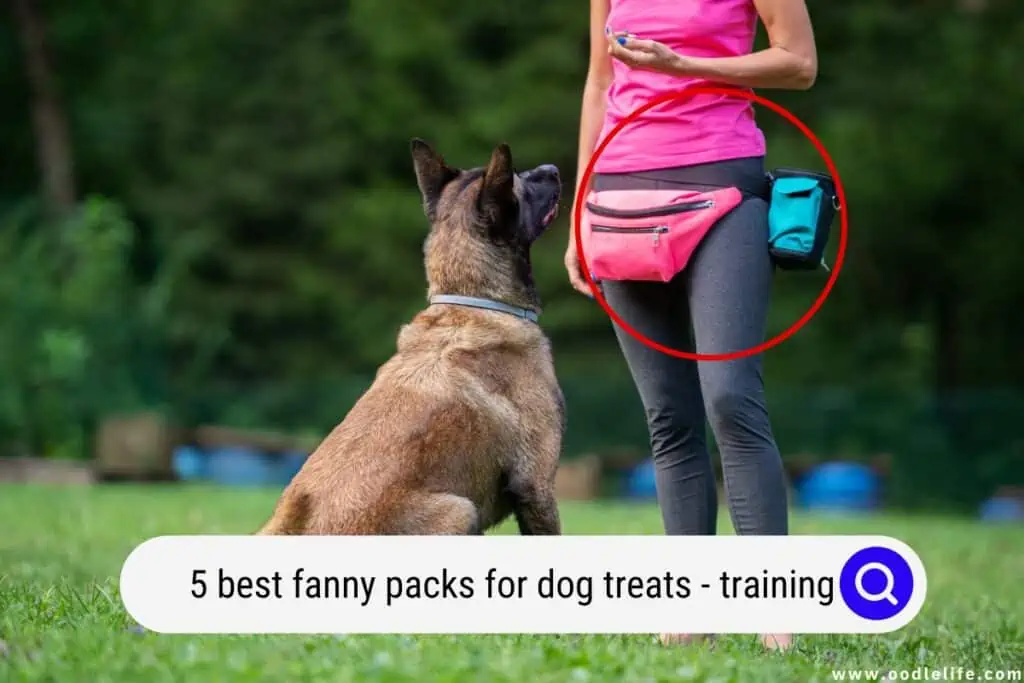 Check out this list of the top options for the best fanny pack for dog treats if you're having trouble finding one that suits your needs.
Best Overall – MalsiPree Dog Treat Pouch for Training
First up on this list is the MalsiPree Dog Treat Pouch, this list's top pick for the best fanny pack for dog treats. Despite its simple design, the seven-inch center pouch is the perfect place to keep small treats for your puppy.
MalsiPree Dog Treat Pouch for Training – Built in Poop Bag Dispenser with Hidden Water Bottle Holder, Hands Free Waist Belt Fanny Pack Great for Puppy Class, Travel, Running, Walking, Hiking
$20.99
$18.99 ($18.99 / Count)
【Enough Space for Treats & Pet Toys】Main compartment of the treat bag is big enough to hold most essentials like dog treats, clicker, toys and more. Adjustable belt of the dog training fanny pack...
【Hidden Bottle Holder】Open zipper pocket on left to release the bottle holder (bottle NOT included), the holder can fit bottles up to 750ml/25oz. When the bottle hold is not needed, just zip up...
【Convenient to Deal with Dog Poo】A small but very useful improvement is made on the MalsiPree dog treat bag, a little metal hook was added to carry used waste bag for 100% handsfree. There is also...
【Safe Pocket for Personal Stuff】Inside the main compartment, there is a 7" wide zipper pocket, it is big enough to hold most phones, ID/credit cards and cash.
【More Features】Extra D-ring for hands free dog leash or other accessories. Reflective strip on front for safe dog walking at night or early morning. Inside main pocket there is a buckle for key or...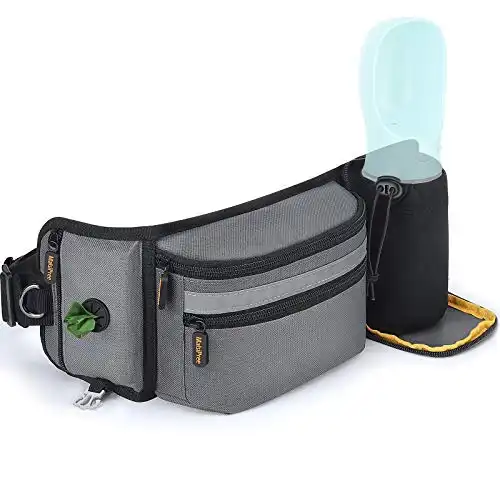 We earn a commission if you make a purchase, at no additional cost to you.
Its adjustable waist strap accommodates waists measuring 23 to 49 inches, making it ideal for various body types. The MalsiPree has breathable, sweat-absorbent mesh padding for enhanced comfort, perfect for long training sessions or walks. Design-wise, it's lightweight and isn't too bulky.
The MalsiPree's pocket for canine water bottles isn't durable. Its adjustable waist strap can be hard to tighten, so it might be prone to slipping off regardless of your waist measurement.
Pros:
Seven-inch-wide zipper pocket.
Fits waists measuring 23 to 49 inches.
Lightweight.
Breathable, sweat-absorbent mesh padding.
Built-in poop bag disposal and hook.
Cons:
Waist strap is hard to tighten.
Subpar water bottle holder.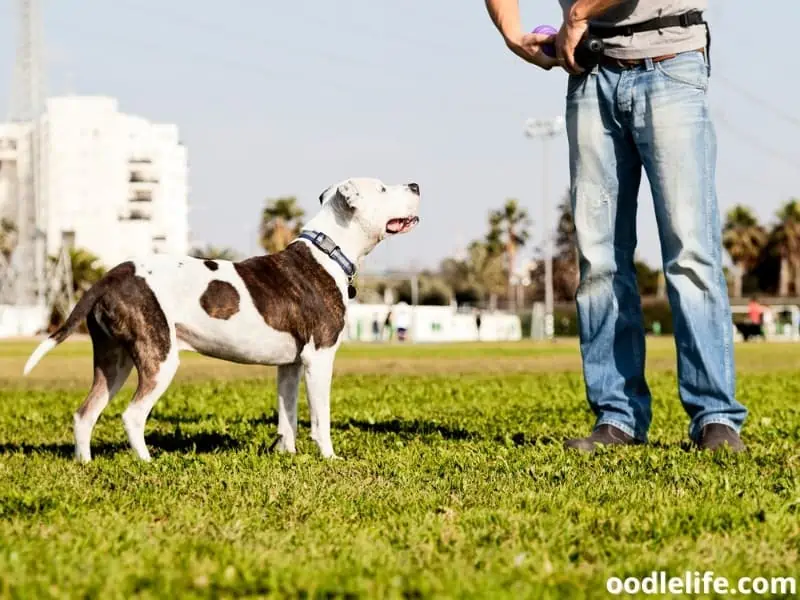 Best Option for Storage – DoggyDobby Dog Training Treat Pouch
The DoggyDobby is the perfect fanny pack for dog treats for owners looking for a model that frees up space for their hands and pockets. This model has four large storage compartments: two zipper pockets, a mesh pocket, and a magnetic closure pocket. These pockets are ideal for storing treats, toys, and clickers for convenient training sessions.
Its adjustable waist strap allows it to fit most wearers' waists. It's extra long, so you might need to wrap it around your waist more than once to keep it secure.
The DoggyDobby has a durable exterior with water-resistant fabric. Its nylon interior is stain-resistant, making it easy to clean if the bag is full of crumbs.
Its reflective white stripes enhance your visibility once it gets dark and give it a stylish touch, despite its lack of color options.
The DoggyDobby's magnetic closure pouch might not stay in place, making it more likely for your dog's treats to spill out if the pack tips over. It can hang a bit low on some wearers' waists.
Pros:
Four storage compartments.
Adjustable waist strap.
Reflective stripes.
Water-resistant fabric.
Stain-resistant nylon lining.
Cons:
Magnetic closure's strength varies.
It hangs a bit low on the waist.
Only available in one color.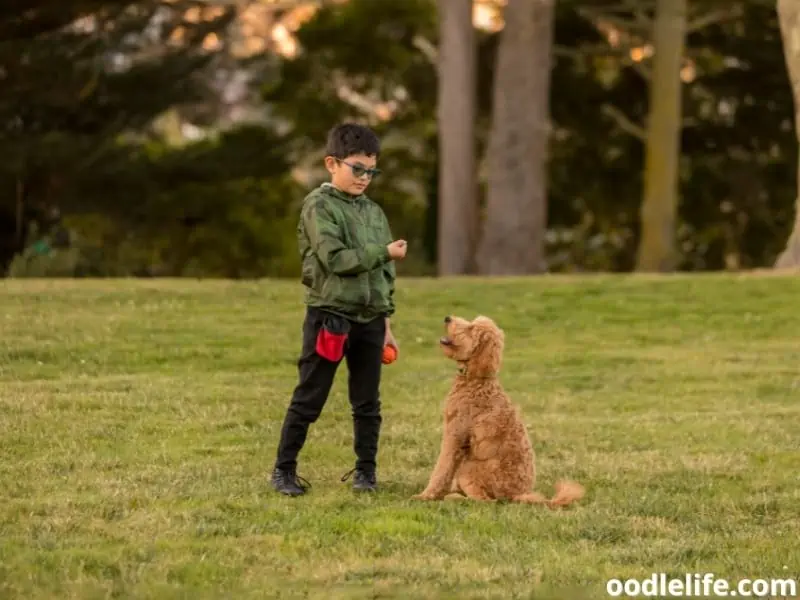 Best Option With Stylish Colors – PetAmi Dog Treat Fanny Pack
If you're looking for a stylish yet functional fanny pack for storing your dog's training treats, consider wearing the colorful PetAmi. It's available in several colors, including charcoal, pink, and purple.
PetAmi Dog Fanny Pack, Treat Pouch for Dog Walking, Training, Built in Poop Bag Dispenser, Water Bottle Holder, Collapsible Bowl, Pet Treat Waist Belt for Hiking, Running, Kibbles (Grey)
THE ESSENTIAL TRAINING FANNY PACK: Comes with a collapsible pet bowl, large front pocket, this is the perfect training pouch for large and small dogs alike. This bag's ability to store many pet...
DESIGNED FOR PET WALKS, TRAINING: Ideal for training or walking puppies, dog, cat, this fanny pack treat pouch holds ample of treats, kibbles, and all your essentials during walks or at the park. Wear...
LARGE CAPACITY and FUNCTIONAL: This dog training pouch has a large inner compartment to store pet treats, toys, and more! You can also securely store your personal belongings, such as phone, keys, or...
SAFE AND TRUSTED: Reflective stitching on the front of the fanny pack increases visibility in low light, enhancing safety when walking your pet in the early morning and evening.
DURABLE AND CONVENIENT: Made with 600D durable oxford polyester, this fanny pack is built to last and designed to support your active life style. Measures 14 x 5.3 x 5.5 (L x W x H).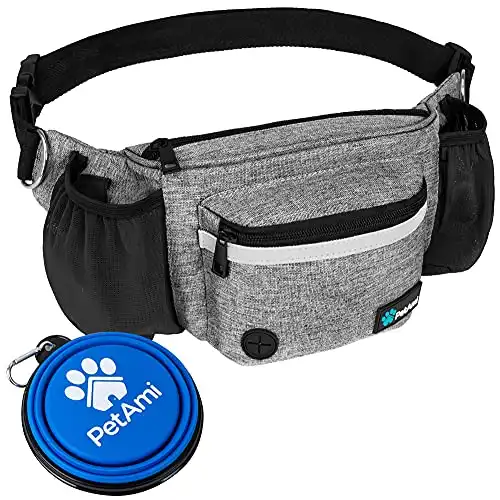 We earn a commission if you make a purchase, at no additional cost to you.
The fanny pack has excellent water-resistant properties provided by its durable 600D Oxford cloth exterior, ensuring long-lasting use for its users.
Like many dog treat fanny packs, the PetAmi has several storage compartments, including one with a mesh pocket and an adjustable waist strap. Dog owners can wear it on their waist or use it as a shoulder bag.
Although the PetAmi has an adjustable strap, it might be too short for some wearers. The front outer compartment's zipper is hard to undo because of its lack of space.
Pros:
Available in several colors.
Comes with a collapsible pet bowl.
Durable 600D Oxford polyester fabric exterior.
Doubles as a shoulder bag.
Inner compartment with a mesh pocket.
Cons:
The waist strap can be short for some wearers.
Hard to unzip the front outer compartment.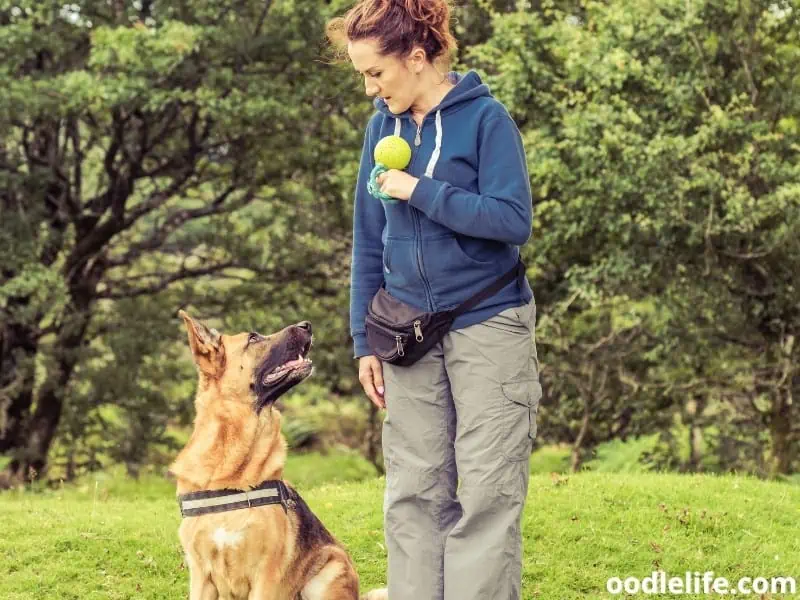 Best Option With Magnetic Closure – LOYEE Multi-Purpose Dog Treat Pouch
The LOYEE Multi-Purpose Dog Treat Pouch is the perfect solution for dog owners looking for a fanny pack with double magnetic closure. Its spacious top storage compartment incorporates magnetic technology to ensure it stays shut and won't spill your dog treats, toys, and training tools.
Large Dog Treat Pouch for Training with Magnetic Closure, Portable Dog Walking Fanny Pack Built-in Poop Bag Dispenser and Multiple Pockets, Includes Waist Belt Clip, Adjustable Shoulder Strap (Grey)
$15.99
$8.99 ($8.99 / Count)
【Excellent Design】LOYEE Lightweight & Portable dog training treat pouch is designed with a magnetic closure, which makes it easier for you to take out the treat quickly during training, and can be...
【Essential Training Bag】The dog training kit has 4 storage solutions for different functions, and the main compartment can store plenty of treats, snacks or kibbles, so you don't have to worry...
【Different Ways of Wearing】The dog training bag comes with convenient adjustable straps that measure 30-50 inches and metal belt clips. The strap can be used as a shoulder strap or waist belt....
【Premium Material】This dog treat bag is made of high-quality nylon fabric for excellent abrasion resistance, and the double stitching makes the dog fanny pack more durable. The inner lining can be...
【Satisfied After Sale】The dog treat pouch ​is perfect for daily dog ​​training or going out, we are sure you will be satisfied! If you have any questions, please feel free to contact us, we...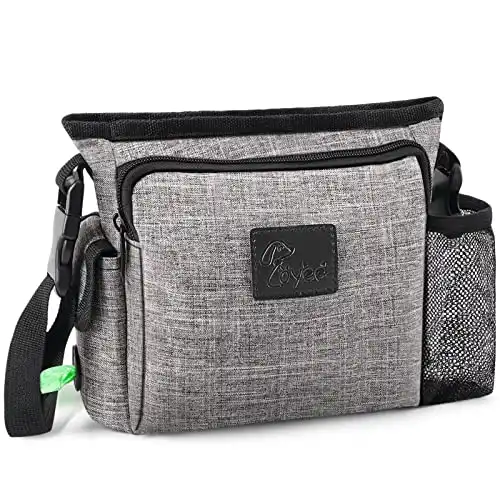 We earn a commission if you make a purchase, at no additional cost to you.
Its mesh side compartment is ideal for water bottles, while its front zipper storage compartment can hold your phone and other belongings.
The LOYEE has a scratch-resistant nylon fabric surface offering quality durability. You can turn its inner lining inside out to clean it more conveniently. It has a built-in belt clip and adjustable 32.5 to 52.5-inch waist strap to keep it secure no matter how you prefer wearing it.
Its strap might feel uncomfortable to some users since it doesn't have quality padding like the other options on this rundown. It might feel bulky on some users. Despite its spaciousness, the double magnetic closure storage compartment doesn't have internal pockets for separating different treats.
Pros:
Scratch-resistant nylon surface.
Double magnetic closure.
Easy-to-clean pull-out lining.
Spacious pouches.
Built-in belt clip.
Cons:
It can feel bulky for some users.
The adjustable strap doesn't have comfy padding.
No separate storage pockets in the magnetic closure compartment.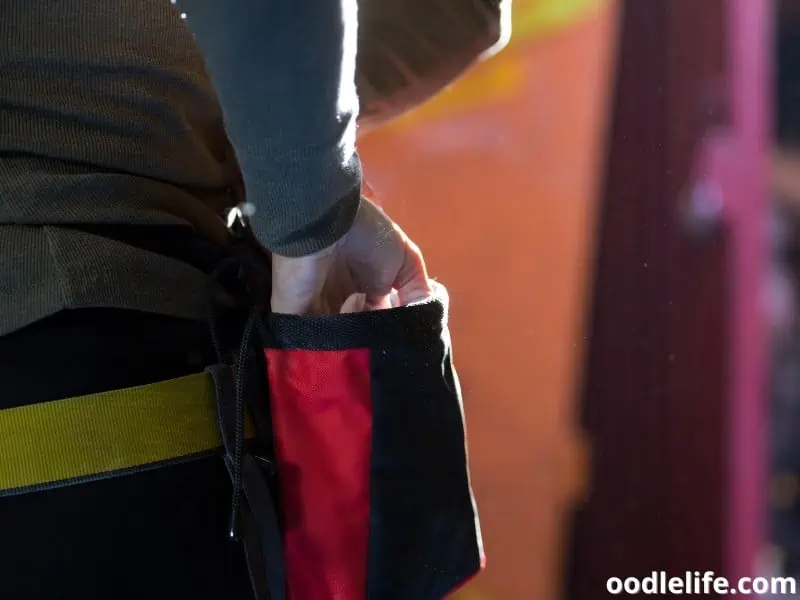 Best Lightweight Option – Petmolico Neoprene Dog Treat Pouch Fanny Pack
The Petmolico Pouch's neoprene fabric makes it the best lightweight dog treat fanny pack for owners looking for alternatives to bulkier models. It's soft yet durable, ensuring long-lasting use.
Petmolico Neoprene Dog Treat Pouch, Auto Closed Dog Training Pouch Fanny Pack Wasit Bag with Dog Poop Bag Dispenser for Hands-Free Dog Walking, Black
[ Easy Access to Treats with Hand ] Petmolico Dog Treat Pouch Features a special elastic hinge that stays open when needed. It is easy to slide hand in and out to retrieve treats during training. The...
[ Lightweight Neoprene Material ] Benefit from the neoprene, which is lightweight and durable, this dog treat pouch can protect the training gear and your carry-on items very well. It is soft to...
[ Large Capacity Treat Pouch ] The dog treat pouch has plenty of storage space to hold a large dogs full meal, great for daily walks in the park or on training classes. The main compartment has two...
[ Adjustable Waist Strap ] Dog training pouch size is 8.3"L*7"H*2.5"W, it has an adjustable strap ( be adjusted from 16" to 32"), so you can decide to use it fanny pack style or should strap style:...
[ Various Occasions ] This pouch is perfect for walking with your pup and training them, just buckle it around your waist for quick-draw treat extraction. And its large capacity and hands-free feature...
We earn a commission if you make a purchase, at no additional cost to you.
It has a spacious compartment incorporating an auto-close design that lets owners access treats with one hand and prevents treats from spilling when they bend. This compartment has two separate internal pockets for storing different treats if you prefer keeping things organized.
It has an adjustable waist strap, a poop bag dispenser, and a front zipper, like most of this list's top picks for the best fanny pack for dog treats. Its quick-release buckle helps you save time when equipping and removing it.
This model doesn't have a D-ring leash attachment or a water bottle holder, and its waist strap might be too short for some users.
Pros:
Auto-close design.
Storage compartment with separate pockets.
Quick-release belt buckle.
Made with durable neoprene material.
Cons:
It can't attach to a leash.
It can't hold dog water bottles.
The waist strap can be too short for some users.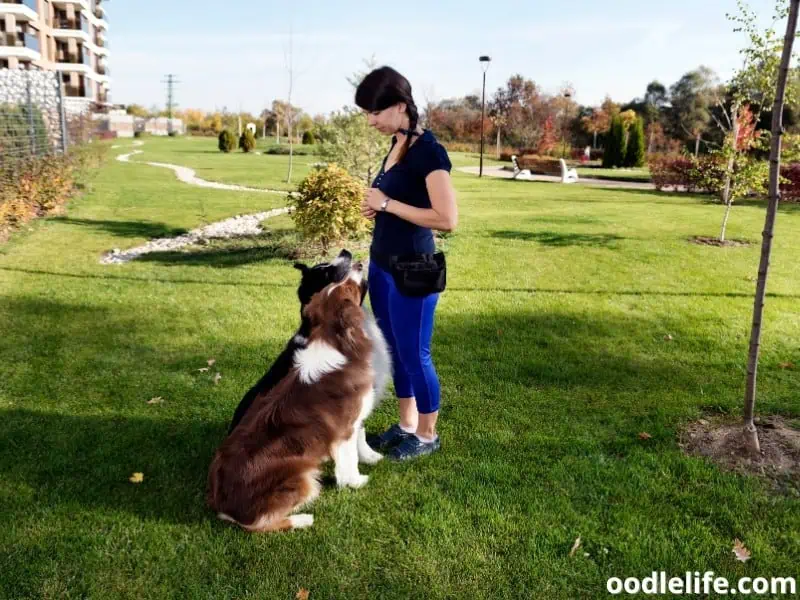 Things To Consider When Choosing a Fanny Pack for Dog Treats
Before narrowing down your top options for a quality fanny pack for dog treats, there are several factors you'll need to consider to ensure they match your needs.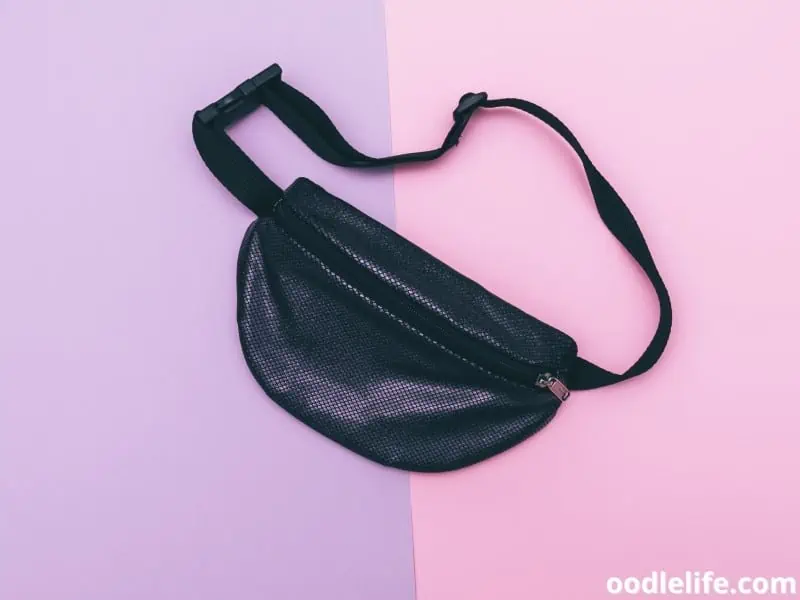 Here are a few examples of what to find.
Storage Capacity
The perfect fanny pack for dog treats should have plenty of room to store your belongings wherever you go. Consider looking for models with extra pouches on the side to hold water bottles that won't fit in smaller pockets with zippers.
Fabric Materials
A functional fanny pack must be made with durable, quality materials to ensure long-lasting use. Consider looking for ones made with nylon or polyester.
Waist Strap Length and Adjustability
Most fanny packs have an adjustable waist strap to accommodate their wearers' proportions. Consider measuring your waist before choosing your top fanny pack options to ensure it's a perfect fit.
A fanny pack's maximum and minimum waist strap length can differ from brand to brand, so it's essential to read their product descriptions.
Cleaning Requirements
The best fanny pack for dog treats should be easy to maintain for extended use, usually requiring a damp wipe-down. Consider looking for one with a stain-free inner lining to simplify the cleaning process.
Comfort
Fanny packs with mesh padding incorporated into their waist straps are an essential feature for many dog owners interested in wearing one for extended periods. It shouldn't run too low when wrapped around your waist, reducing any inconveniences while walking.
Closure System
Many fanny packs have zippered compartments, but some incorporate more than one closure system style, such as sturdy buckles, drawstrings, or magnets, to ensure nothing falls out of the bag, but their quality can vary between models.
Final Thoughts
The best fanny packs for dog treats should be durable, have plenty of storage space, and be comfortable. Once you find a model that suits your needs, you can provide tasty treats for rewarding and training your dog wherever you go.