How Do You Play with a Maltipoo Dog? (Best Games)
Maltipoo Dogs are considered very socially savvy dogs. Therefore, they will likely interact and socialize among men, women, children, and other animals. If you want them to be sociable, then it is essential to teach them without stressing them out, and what better way to do this then by training them through how they play?
But then the question becomes, how do you play with a Maltipoo dog?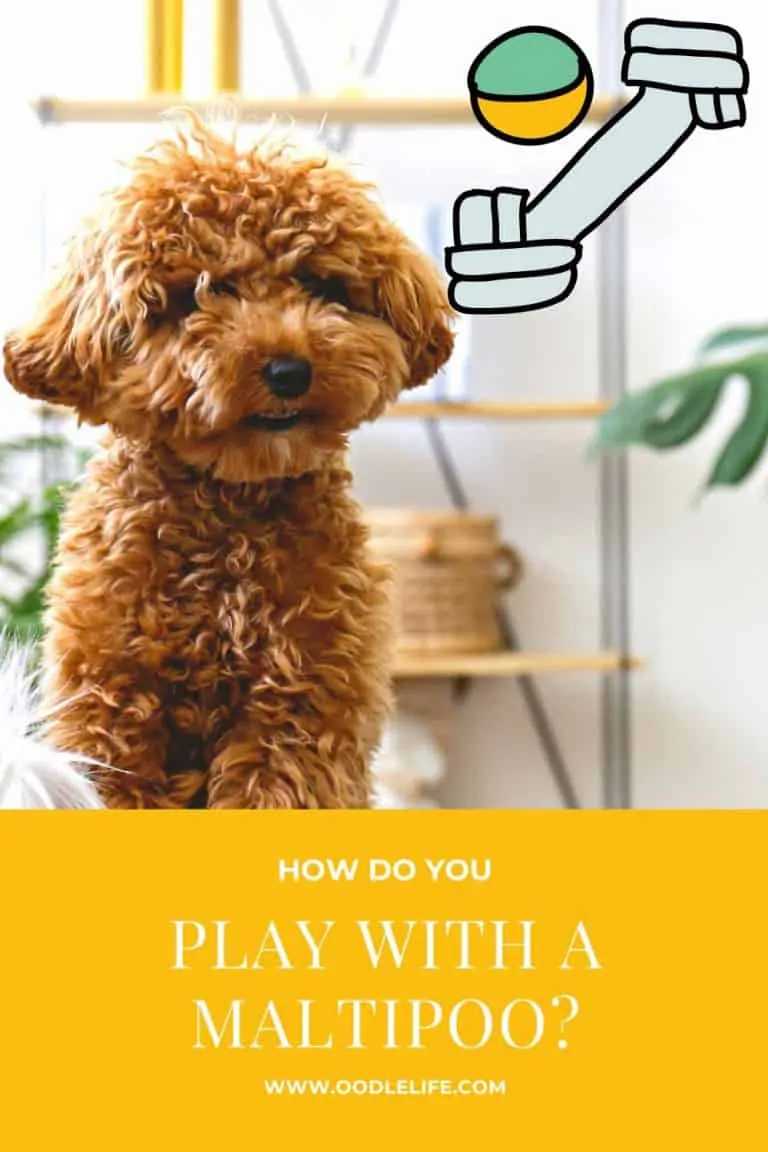 Well, keep reading below, and we will give you all the possible options you have. This will allow you to pick and choose what best suits you!
Go fetch
Most dogs love to chase after anything that flies away. They love the feeling of bringing you back an object. If your dog does not pick up on this game right away, then you should not "cave in" and get the item yourself because dogs generally just do what works. Therefore, if it "works" to just leave the ball and the game still continues, then your dog will actually have you "trained" in no time to go fetch objects!
Frisbee
Frisbees fly in the air and usually go very far. In a sense, it "activates" a dog's innate desire to catch. Moreover, it requires less effort on your end because a frisbee can usually go quite far even with a weaker throw, while a ball, for example, would need a whole lot of strength and shoulder mobility to get you the same results!
Although it should be noted that some dogs would not really catch it. It would usually take a fair amount of effort to teach them that. However, this could definitely be an enjoyable experience for both you and your Maltipoo dog.
Want to play Frisbee at night? We reviewed the four best glow in the dark dog Frisbee options. And they don't bust the budget!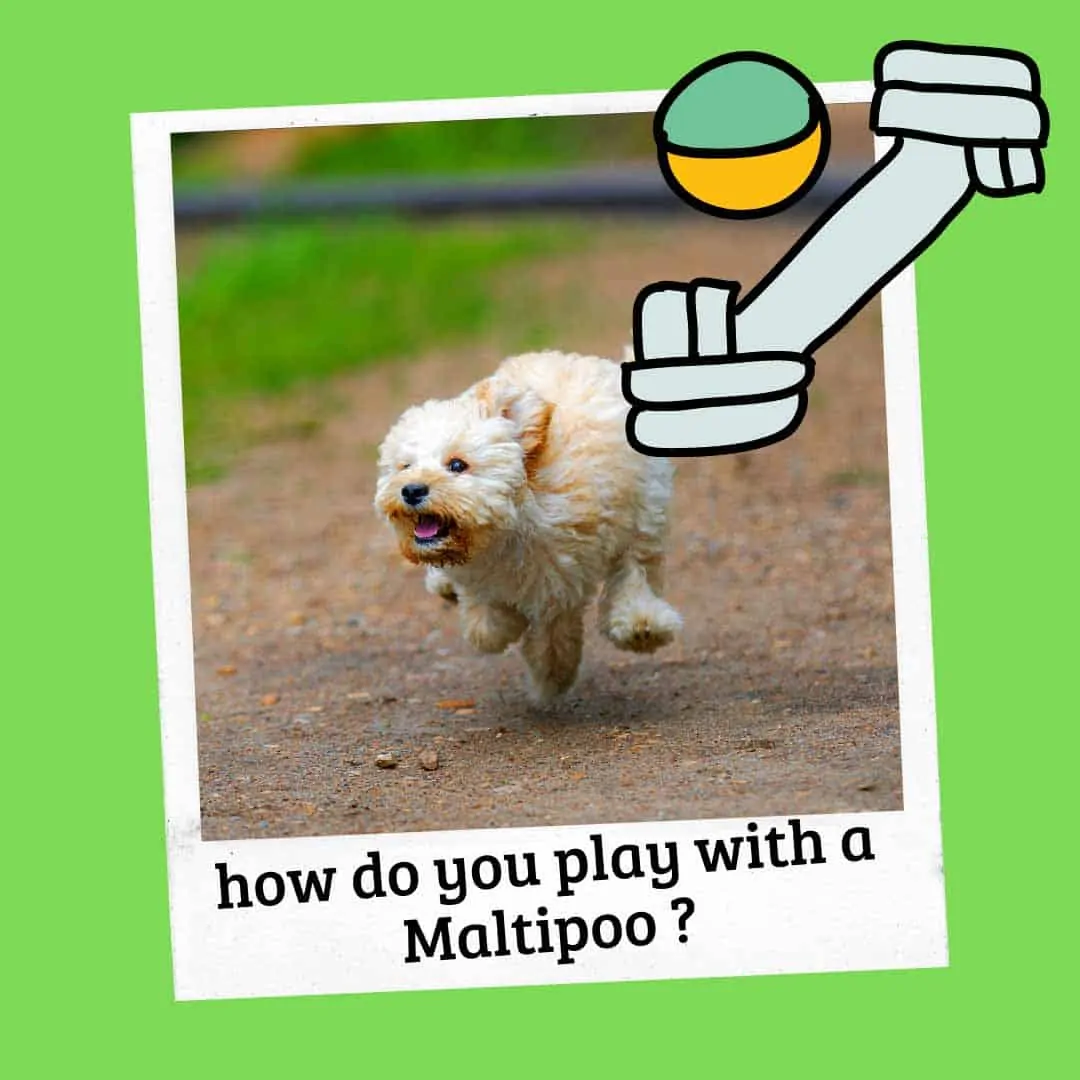 Walking
If you are a walker yourself, this is the perfect opportunity for you to get your daily cardio while you also entertain your dog. Just like you would do for yourself, you want to gradually increase the distance to not exert too much sudden pressure on them.
However, make sure to consult with a veterinarian if you plan to walk long distances to ensure that your dog can handle that. Be mindful after each walk of how your dogs' joints are managing it. Also, make sure you are feeding them an optimal diet to help fuel those rigorous activities.
When can you start walking a Maltipoo? How often should you walk a Maltipoo? We asked the experts and found out how often your Maltipoo should be walking.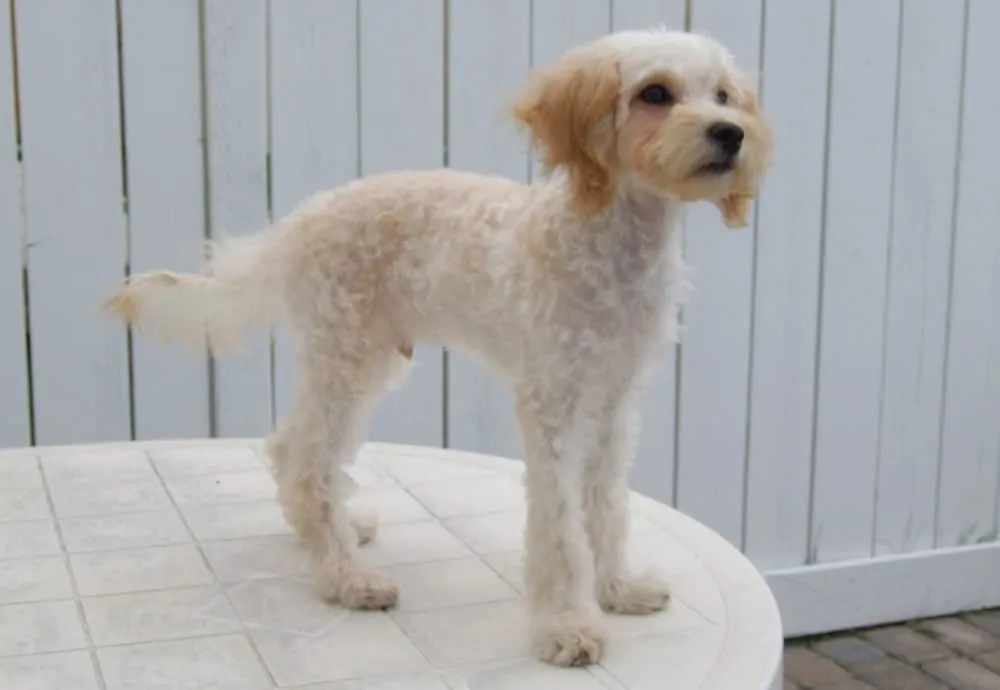 Chase games
Try this. Get a small stuffed animal, connect it to a fishing tackle, and then move it around like a ventriloquist, and the dog will start chasing!
PRO TIP: keep that stuffed animal hidden away in your closet so that the dog doesn't always have it readily available. This will ensure that they are more excited to start "chasing" after it comes out. It will be a very long while before they get bored with it. Trust us on that one!
There is also the option to have the dog just chase you! After exercise outdoors take the opportunity to get your Maltipoo to poop. They actually poop an average of twice per day! Frequent toilet breaks will also stop your Maltipoo from peeing everywhere in the house.
All of the games mentioned above actually require relatively large spaces outdoors. But what would do you do if it's too hot, too cold, or too rainy? Here are a few tips on playing indoors, mostly that a lot of Maltipoo dogs might prefer indoor activities.
Tug of War
Your dog loves pulling and will therefore keep tugging and shaking their head during tug of war. A game like this will ensure that they use every muscle in their body. Some people say that playing Tug of War could make the dog aggressive, especially if you let your dog win! That is actually not true. Just try to teach them some basic rules like when to stop and drop the rope.
We have seen many dogs play Tug of War, and none of them have suddenly turned violent due to that game. For many dogs, this is actually their favorite game! Of course, it should go without saying that you should not be exerting great force when pulling the rope from the dog. It should be gentle, but just strong enough to keep the game going for a bit.
Don't be alarmed if your Maltipoo does growl or snarl occasionally while playing. Maltipoos will sometimes growl! If the growling happens too frequently – check our article explaining why Maltipoo's growl and when to be worried.
Guess which hand game.
Get a piece of their food and put it in one of your hands. Then put your hands behind your back and fidget with them a bit. Afterward, show your dog your two folded palms. They will then point with their nose on which palm they think has their food, and they will be delighted if they get it right and eat it right off your palm. It is the cutest thing ever!
You can see my puppy Max playing the WHICH HAND game in this video from the Oodle Life YouTube channel.
Find it
Dogs are natural scavengers. Giving your dog a permissible outlet for scavenging will undoubtedly bring them great joy and keep them busy. Scatter snacks out in the yard or throughout some spots in the house. Make sure they don't see where you have hidden the snacks.
Now lead them into the room or area where you have hidden the goodies and watch them use their powerful noses to get each and every one of them. This is easily one of the best games that can be played indoors with your dog! 
Puzzle Toys
Put them to work for their treats!Puzzle toys actually come in many forms and shapes. But one of the best ways to use them is for your dog to solve them to get their food. This adds an insane level of excitement to a rather mundane daily task for the dog to eat off the same bowl every day.
With these toys, you can add some mental challenges to consuming their meals. It is great fun for your dog and helps burn energy with less effort and life from your end. Honestly, you do not even have to buy specific puzzles or toys for this purpose.
You can get quite creative and make them yourself. For example, get the treats, put them in a blanket, fold it, or put them even under a dozen or so plastic cups. The options are truly endless.
Training games (for brain and nose)
Speaking of mental energy, training games will keep your Maltipoo dog razor sharp. The games require focus, problem-solving, and impulse control.
Many people overlook the amount of energy that can be burnt by playing such games with your dog. Building your pup's focus and impulse control will teach them alternative ways to burn energy and be entertained.
A common way to train your dog to have focus and attention is to engage with nose work. Nose work (or scent training) is merely hiding treats (known as hides) and then letting your dog sniff out where they are. Sounds simple?
Well, it is simple. But you will be shocked at the amount of mental and physical energy that such sniff training burns. You can get started at home without any fancy equipment. Check out this video of my puppy Max putting into practice the extreme basics of scent work.
Wobble feeder or slow feeder
Outward Hound Fun Feeder Slo Bowl, Slow Feeder Dog Bowl, Large/Regular, Purple
SLOWS DOWN EATING UP TO 10X: Outward Hound uniquely designed Fun Feeder dog bowls feature meal-lengthening ridges to help slow down your dog's eating time by 10X!
AIDS IN PROPER DIGESTION: Common issues that arise in fasting eating dogs include bloating, regurgitation and canine obesity. Our Fun Feeder Slo Bowls both challenge and engage your dog during...
MADE WITH NON-SLIP BASE AND FOOD SAFE MATERIALS: Outward Hound's Fun Feeder Slo Bowl, slow feeder dog bowls are made to hold in both fun and food as your dog forages through the fun patterns with its...
DIET DIVERSITY: With 3 different sizes and 5 styles you can mix and match your dog bowls to fit your pup's personality! Fun Feeder Slo Bowls are great for dry, wet, or raw food diets.
Age range description: All Life Stages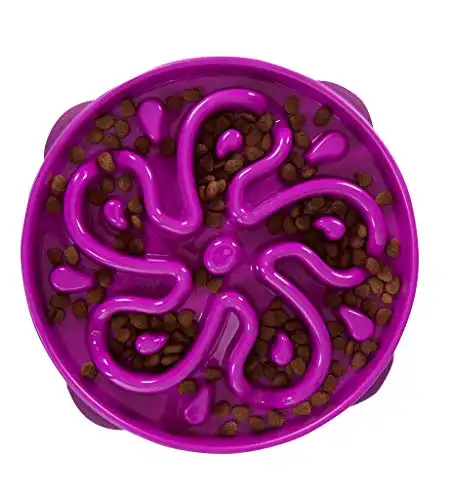 We earn a commission if you make a purchase, at no additional cost to you.
Get them a wobble feeder for their meals (search it up if you are not familiar with it). A wobble feeder is a toy that can be filled with food. In most cases, it would have a small hole on its side.
Therefore, every time a dog moves it around or plays with it, some food will fall from that hole. This also adds a lot of excitement to a meal.
Another option is a slow feeder like a frozen Kong treat or a slow feeder matt. One of the most popular brain training mats is the Nina Ottoson dog puzzle range. With a simple bit of kibble, you can distract and play with your Maltipoo for a long time.
See the 5 best dry foods for Maltipoos.
Hide and seek
Use the "stay command" and then hide it someplace in the house. Afterward, call your Maltipoo's name and see if they can find you!
If you are looking for more indoor dog games to play with your Maltipoo – check out our extensive list of 35 indoor dog games and activities.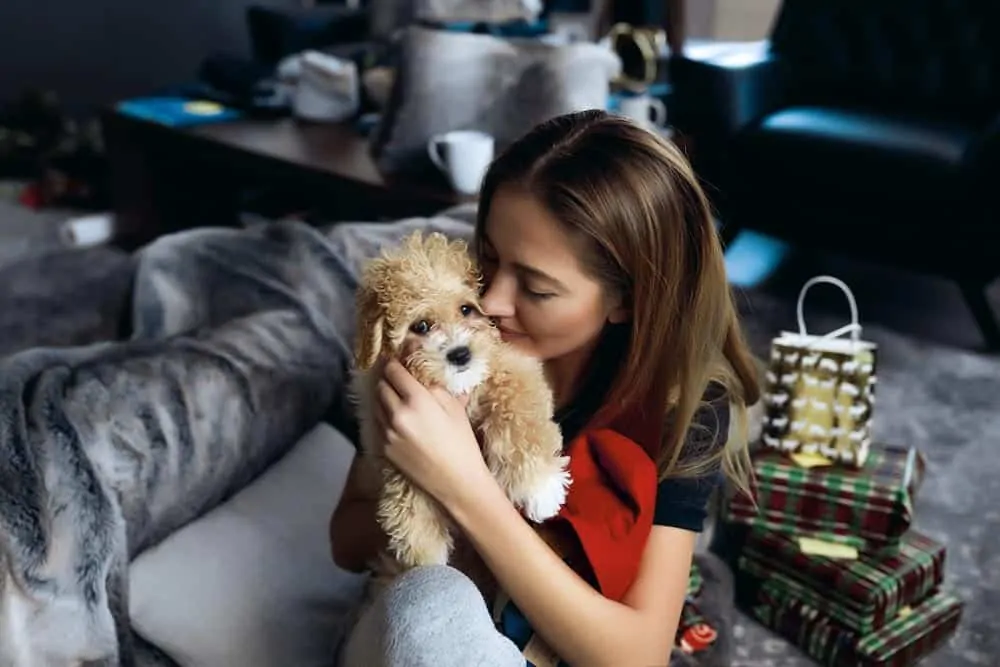 Doggy massage
Wouldn't you love it if you come back home after a long day at work and find yourself being massaged? Of course, you would! The same thing happens with your dog too!
That is why we recommend that you incorporate some nice and relaxing massage for your dog. They will absolutely love you for it!
Humans are not the only animals who appreciate and benefit health-wise from a relaxing massage.
Take them to a dog daycare.
Dog daycares are easily one of the best ways to entertain your Maltipoo Dog. There is nothing more enjoyable for them at the end of the day than to play with other dogs, nothing is comparable! Not to mention that you will also get to socialize with other dog lovers.
This could result in an enjoyable social outing for both you and your dog! However, make sure to first visit the different daycares in your local area and select the best suit you and your dog!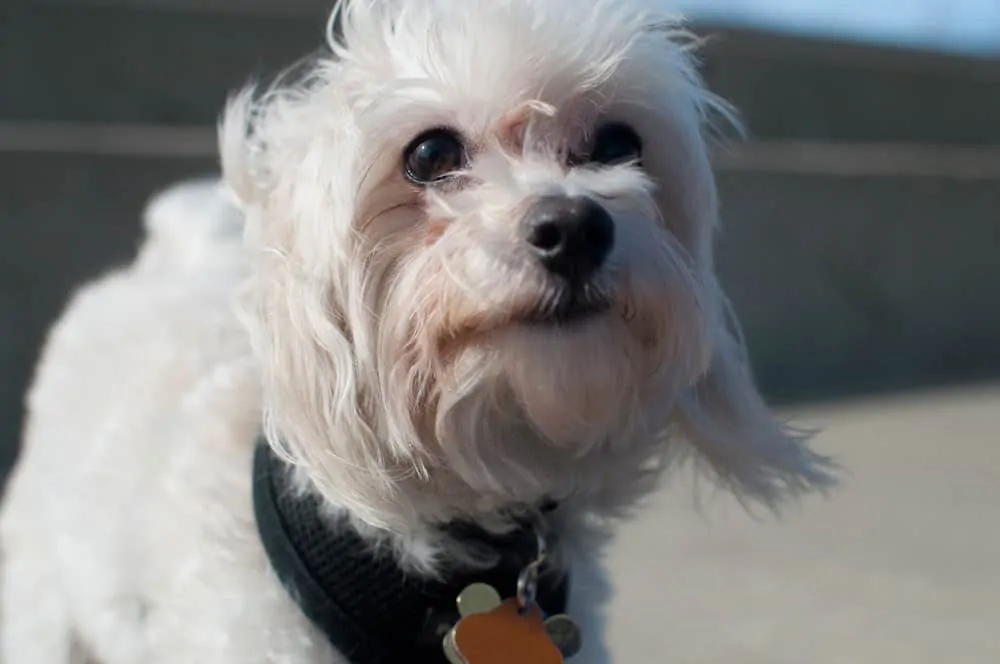 Dog parks
They essentially achieve the same objective as a daycare, but you will have to put some more time and effort on your front. This is because if your Maltipoo dog has been at home all day, they may need to burn a bit of energy before they can be taken there.
There are also other options such as dog-friendly shops and restaurants, parks, and even festivals, all of which will help you get over the guilt associated with leaving your dog alone.
How Do You Play With A Maltipoo Dog Conclusions
Every Maltipoo is different, so early on, you will want to experiment with many games and toys. Over time, you will discover what really makes your pup tick and gives them the most enjoyment.
Some of our Maltipoo's will just want to chill on the couch; others will be mad keen for walks.
Some Maltipoo's even get their kicks from being brushed and groomed (yep!).
Find what works for your specific dog and roll with it.
At the end of the day, if someone asks you, "how do you play with a Maltipoo dog?" Just tell them that they need to give them little exercises (around 30 minutes of active play per day) and to experiment with as many of the tips we have outlined above as they wish!