7 Best Toys for Bernedoodle Puppy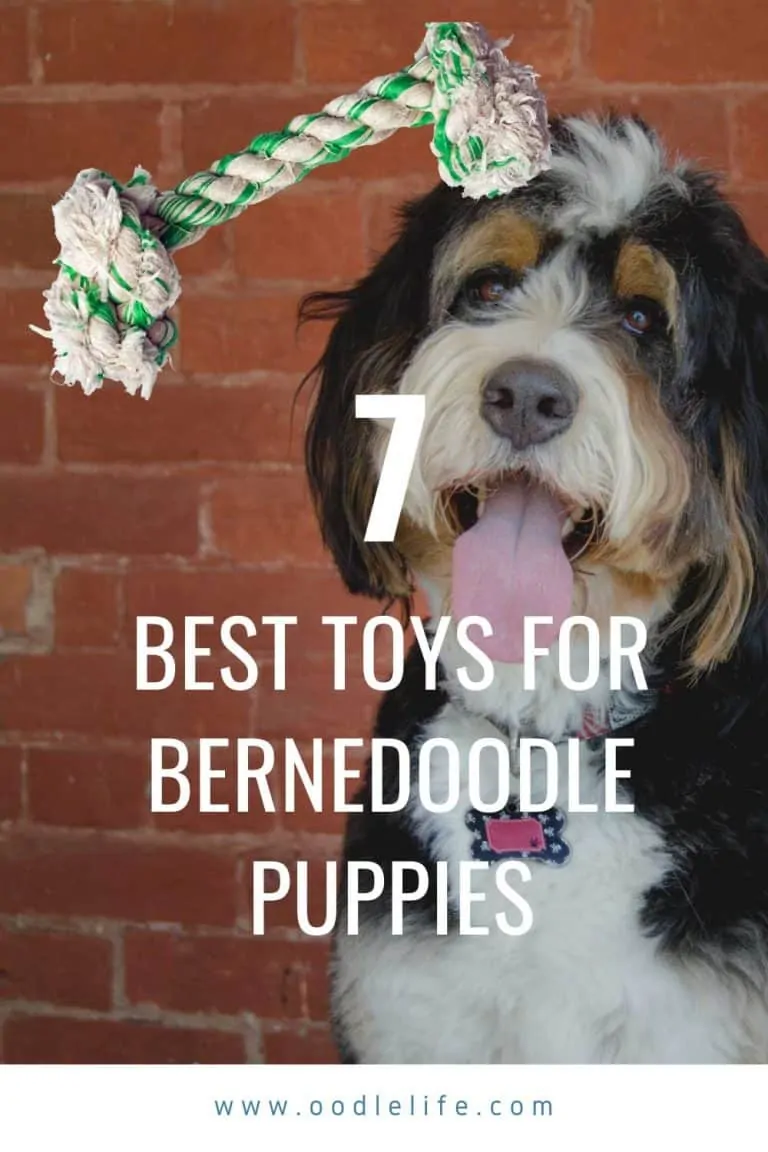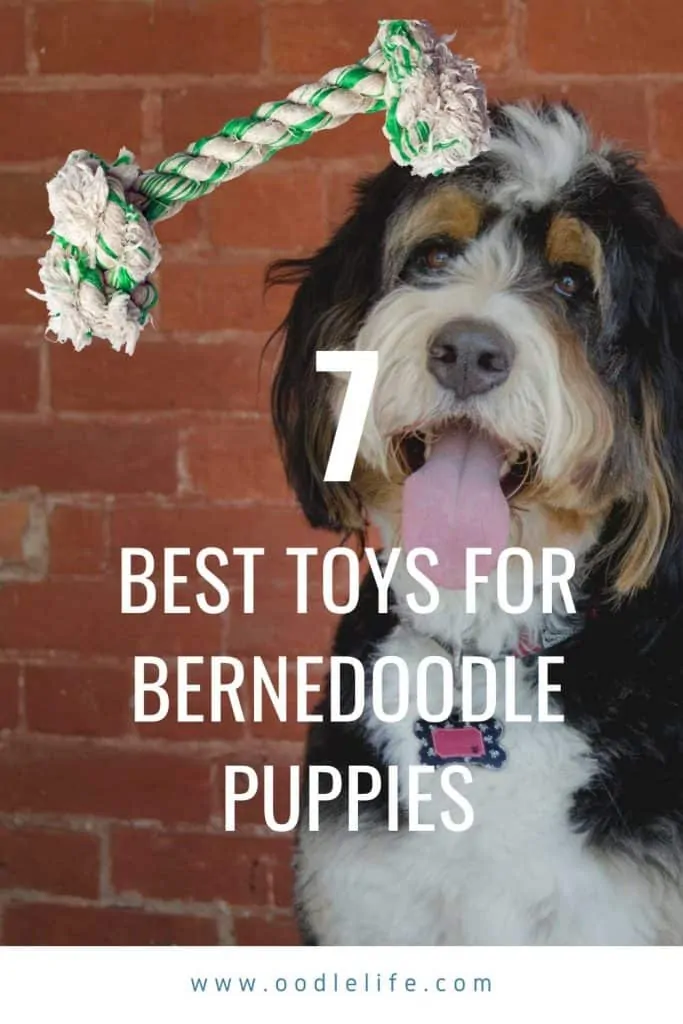 What are the best toys for a Bernedoodle Puppy?
Bernedoodle puppies have HEAPS of energy and are fun-loving. Keeping their mind and body active is an essential part of puppy training.
Selecting the best toys for Bernedoodle puppy traits is essential. Here are the best seven toys a Bernedoodle owner should acquire.
Some are chew toys, some are for comfort, some are for supervised play – others are brain games! Keeping things safe, high quality, but also budget-friendly, is essential. A hardy well-reviewed toy can last an entire puppyhood.
The Best Toys for Bernedoodle Puppies
Nylabone Classic Power Chew Flavored
Benebone Maplestick Real Wood Durable
KONG Extreme Dog Pet Toy Dental Chew (2 Pack)
Outward Hound Fun Feeder Slo-Bowl
Nylabone Classic Power Chew Flavored
Benebone Maplestick Real Wood Durable
KONG Extreme Dog Pet Toy Dental Chew (2 Pack)
Outward Hound Fun Feeder Slo-Bowl
Ultra Durable Flavored Super Tough Chew Toy for Bernedoodle Puppies
All dogs chew, it is a part of being a dog. Some Bernedoodle puppies are world-class chewers from a very young age. They will chew through everything!
If you have a gold medallist chewer – then the Nylabone ultra-tough chews might be a lifesaver. Power chew bones are made from super-tough nylon.
Nylabone Dura Chew Giant Original Flavored Bone Dog Chew Toy, Large/Giant - Up to 50 lbs. (NG104P)
FUN & OCCUPYING - Multi textured chew toy keeps dogs busy while satisfying their natural urge to chew
MADE OF DURABLE NYLON - Long lasting dog chew toy challenges even the most aggressive chewers and discourages destructive chewing
SUPPORTS DOG DENTAL HEALTH - Helps clean teeth and freshen breath as dogs chew
MADE IN THE USA - Dog chew toy is proudly made in the United States
FOR LARGE DOGS - Size Large chew toy is intended for dogs up to 50 pounds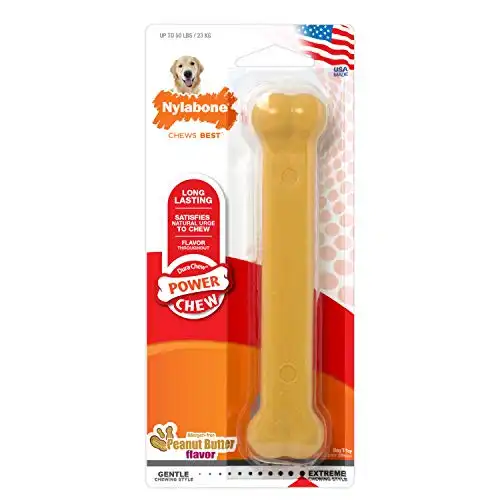 We earn a commission if you make a purchase, at no additional cost to you.
Pros of the Nylabone Bone Chew Toy
The Nylabone chew toy is ultra-durable, even for the most adamant Bernedoodle chewer
Get the Large/Giant size for Medium and Standard Bernedoodles
Get the Medium/Wolf size for Miniature Bernedoodles
Trend towards a larger (not insanely more massive though) chew when possible as it helps limit the risk of destroying the toy or eating bits of a toy.
Experiences with the Nylabone chew
Nylabone claim they have flavor throughout, which may be accurate, but I have found that dogs do tend to get a little less interested in chewing the Nylabone over time. We found this over a few months of regular chewing from a medium chewy puppy.
The nylon also will wear and become a little rough over time. The way that your dog chews and the sharpness of their teeth might make this an issue. If the toy starts to get sharp, you will need to be on the lookout for gum damage or trauma.
Bernedoodles are clever but sometimes a touch stubborn even from a young age. A determined chewer might keep chewing even if they are hurting their own gums! (Shows how much they love eating).
A Stick that NEVER Splits – the Benebone Maplestick Dog Chew Toy for Bernedoodles
Bernedoodles love to run, chase and chew on sticks. When they chew on sticks, a problem is that their sharp puppy teeth can destroy the stick. Splinters are a real risk – or just having to find a constant supply of replacement sticks.
Benebone Maplestick Durable Dog Chew Toy for Aggressive Chewers, Real Maplewood, Made in USA, Medium
BETTER THAN REAL STICKS – Real sticks are a dirty, splintering mess. The Maplestick's unique shape means it's always easy to grab hold and get a good chew going. Upgrade your fetch game.
DURABLE, LONG-LASTING – Super chewer? Bring it on. The Maplestick is tougher than real sticks and lasts for weeks.
REAL WOOD FLAVOR – Dogs dig wood flavor, so we use real maple wood. Your furniture legs will thank us.
USA MADE – We make and source everything in the USA.
HAPPINESS, GUARANTEED – Have an issue? Want to chat? Reach out to us directly and you'll get a real person whose sole job is to make you and your pup happy.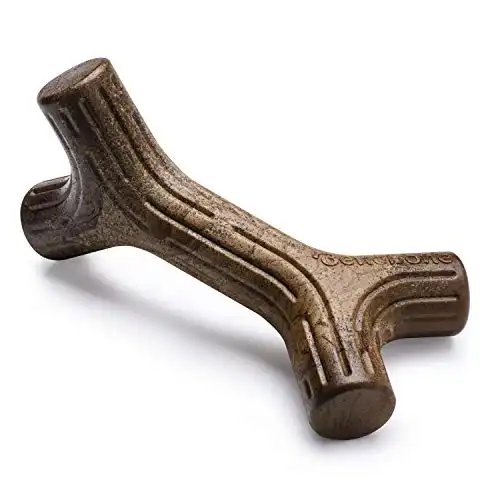 We earn a commission if you make a purchase, at no additional cost to you.
The Benebone is very tough, so perfect for heavy chewers. The materials have just enough give to keep a massive chewing dog interested. Lighter chewing Bernedoodles should consider a softer chew toy like the Kong range of products.
The design of the Benebone is pretty unique – I was impressed by the thought they put into this chew toy. No matter which way the toy lies, there is always a part sticking up to be chewed. I think the toy is perfect for many sizes of dogs. I do wonder how giant paws will go balancing it once a standard-sized Bernedoodle is fully grown.
I picked Maplewood flavor, and it has been a hit. They also offer a "Bacon" flavor type that is just as popular.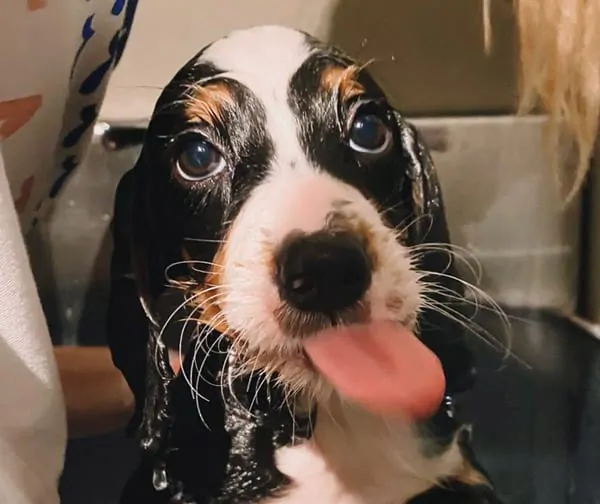 One KONG Ring chew toy to rule them all
I love the KONG Ring chew toy. It is the number 1 chew toy I recommend for Labradoodles. For slightly larger dogs like Bernedoodles, it is still the perfect durable and fun toy while they are a puppy.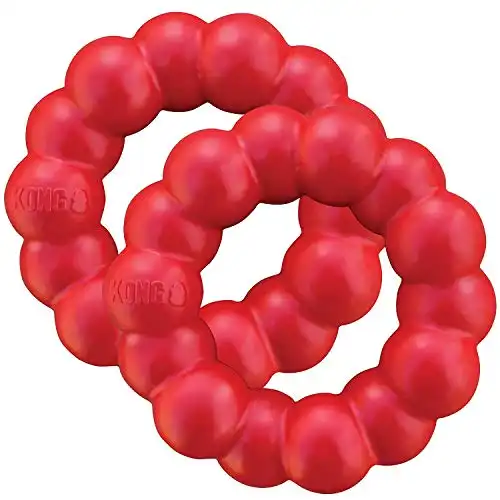 We earn a commission if you make a purchase, at no additional cost to you.
Miniature Bernedoodles might be able to keep playing happily with a Kong ring even longer!
The reason why I highly rate this toy for Bernedoodle puppies is that it is a
chew toy
tug toy
AND
fetch toy
All in one budget-friendly, durable toy.
The reasonably durable red Kong plastic (the tougher black Extreme Kongs are the way to go for traditional shaped Kong) is bouncy and does not damage walls. It can be an indoor throw toy! It rolls nicely and is exciting for a puppy.
The shape is ergonomic to allow safe tug play too. Soft tug play can burn lots of exuberant Bernedoodle puppy energy and tire your dog out. This can be a great way to ensure a good night's sleep for a restless young pup.
An Extremely Tough Kong for Bernedoodles
Never look past the classics. The Extremely tough black Kong plastic makes for the most durable Kong available.
Kongs are the classic you found in every Bernedoodle household. They can be used as part of the training, like a puzzle toy, or only as a chew toy.
KONG Extreme Dog Pet Toy Dental Chew (2 Pack), Large, Large - 2 Pack, Black, Model:K1-2
Ultra-strong, ultra-durable, Black rubber compound is recommended for the most powerful chewers
Used worldwide by police, drug enforcement and military K-9 TEAMS; also used by schutzhund and akc competition trainers
Perfect for stuffing with KONG treats; helps reduce boredom and separation anxiety for powerful chewers
Unpredictable bounce for games of fetch
Made in USA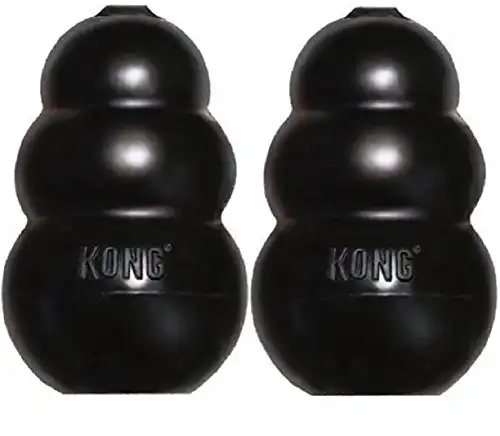 We earn a commission if you make a purchase, at no additional cost to you.
The traditional shape in Large size is the pick for a Bernedoodle puppy. For Bernedoodles (and even miniatures), don't waste your time with a small Kong.
Go straight to the large size for Bernedoodles!
Kong can be stuffed with treats and frozen as a method to slow feed your dog. You can stuff treats, kibble, other foods dogs can eat (even carrots or bell peppers), and seal it all in with a cottage cheese OR peanut butter.
You can give it fresh or frozen to your dog, and they will go nuts playing with the Kong to get the food out. Find out the best ways to stuff a Kong in our Kong-tail ultimate puppy foodie guide.

Starmark everlasting treat wheel
This accessory toy for Starmark treats a surefire winner for Bernedoodles. The long-lasting treat company based out of Texas has a super-wide distribution. The popular wheeler keeps strong chewers occupied with with an everlasting treat.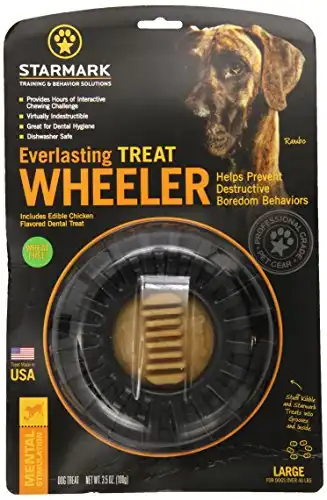 We earn a commission if you make a purchase, at no additional cost to you.
There are dental treats, but I recommend starting with one of the original everlasting treats (comes with an original treat). In my experience, dogs like to play with them more. Maybe it is just the smell preference of the particular dog.
Be careful not to get the treat wet as it will come away from the wheeler too quickly. If you are wetting the treat to get it into the toy easier, you will need to let it dry for a few hours first.
If your dog drools a lot, then the toy will get a little dirty, given how much chewing time there will be (a good thing). Luckily it is dishwasher safe. I rarely wash dog toys in ultra-hot settings in the dishwasher because I am worried about plastic degradation. Consider a regular cycle, faster cycle, or even cold water cycle.
With any toy, be careful of plastic parts and only give for supervised play.
Nylabone Ring
My favorite Ring toy is the Kong ring – but if your Bernedoodle puppy is mad for Nylabone, then try out their Ring alternative.
Nylabone Power Chew Smooth Ring Dog Chew Toy Bacon Cheeseburger Large/Giant (1 Count)
SMOOTH RING SHAPE - This round chew toy for dogs will keep your fur friend occupied and satisfy their natural urge to chew
PROMOTES DOG DENTAL HEALTH - Chew toy helps reduce plaque and tartar buildup as dogs chew
DISCOURAGES DESTRUCTIVE CHEWING - Designed for the most determined chewers, this long lasting nylon chew toy promotes healthy, non-destructive chewing habits
MADE IN THE USA - Chew toy for dogs is proudly made in the United States
FOR LARGE DOGS - Size Giant chew toy is intended for dogs up to 50 pounds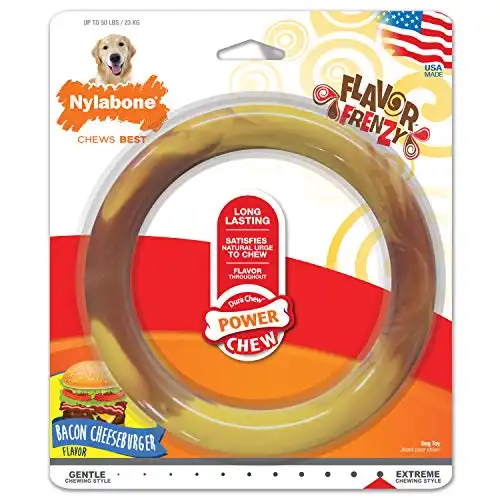 We earn a commission if you make a purchase, at no additional cost to you.
It is less comfortable in hand for tugging games but still works (until the toy gets a little too loved and the plastic if rough).
Dentally I prefer the more straightforward chewing ring for puppies. There are more complex shaped Nylabone rings out there. Still, I worry they might cause damage is chewed too aggressively by an over-excited Bernedoodle puppy. Keep it simple, sometimes.
Extra Tough Tug Toy Pack
Tug toys are an excellent way to burn excess Bernedoodle energy. A safe game of tug with a Bernedoodle is often their favorite activity. Even more than walks or eating!
XL Dog Rope Toys for Aggressive CHEWERS - Large Dog Ball for Large and Medium Dogs - Benefits Non-Profit Dog Rescue - Large Floss Rope for Dogs Dental Health - 100% Cotton Rope Toy for Large Dogs
BENEFITS NON-PROFIT DOG RESCUE - Our dog rope toys for large dogs were created to support Pacific Pups Rescue, a non-profit dog rescue in Los Angeles to feed, shelter and find forever homes for dogs....
Extra Large Dog Toys for Large Dogs - Super tough dog toys for aggressive chewers but not indestructible dog toys for big dogs. These large dog toys for aggressive chewers will be your dog's favorite...
Passes Safety Tests & Made From Safe Materials for Dogs - We only make dogs toys that we will give our own dogs! Our dog rope toys and rubber red tennis ball for dogs are made from dog-safe materials...
Perfect Combination of Puppy Toys for Tug, Dog Chew Toys, and Shaking – Tough dog toys for aggressive chewers large breed will withstand playtime with large dogs and great large breed puppy chew...
Free Poop Bag Roll & Satisfaction Guaranteed - We know your dogs will love these dog chew toys or your money back! These dog rope toys and dog ball are for large dog toys for aggressive chewers & dog...
We earn a commission if you make a purchase, at no additional cost to you.
There is no harm with playing tug of war with a dog, and you can even let them win sometimes. As long as the puppy is not displaying aggressive behaviors, it is a perfect pastime.
I like this particular pack because the ropes are durable, and there are a few to pick from. Tug toys do not last forever, and should not be confused with chew toys.
If a tug toy starts to fray and fibers come away – it goes in the bin.
This is one of the reasons that tug toys are typically sold in larger packs. I find the balance between good value and rope quality pretty great for this set. The ball is not a winner for me – but the rope tug toys are great.
Outward Hound Slow Feeder Puzzle
Is a dog food bowl really a toy? Yes! This brain-stimulating slow feeder is a perfect Bernedoodle puppy toy. You can put kibble (or peanut butter) into the toy, and the grooves slow down how quickly your Bernedoodle will be able to eat.
Outward Hound Fun Feeder Slo Bowl, Slow Feeder Dog Bowl, Large/Regular, Purple
SLOWS DOWN EATING UP TO 10X: Outward Hound uniquely designed Fun Feeder dog bowls feature meal-lengthening ridges to help slow down your dog's eating time by 10X!
AIDS IN PROPER DIGESTION: Common issues that arise in fasting eating dogs include bloating, regurgitation and canine obesity. Our Fun Feeder Slo Bowls both challenge and engage your dog during...
MADE WITH NON-SLIP BASE AND FOOD SAFE MATERIALS: Outward Hound's Fun Feeder Slo Bowl, slow feeder dog bowls are made to hold in both fun and food as your dog forages through the fun patterns with its...
DIET DIVERSITY: With 3 different sizes and 5 styles you can mix and match your dog bowls to fit your pup's personality! Fun Feeder Slo Bowls are great for dry, wet, or raw food diets.
Age range description: All Life Stages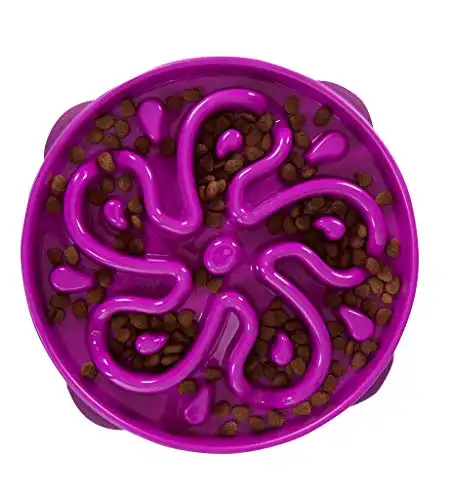 We earn a commission if you make a purchase, at no additional cost to you.
As well as being healthier for a puppy than wolfing their food down in seconds – it stimulates the puppy brain and is a lot of fun.
Considerations when picking toys for Bernedoodle puppies
When picking toys for a Bernedoodle of any age, the priority must always be safety. No toy lasts forever, but durable toys are less likely to break down.
Soft toys and rope tug toys are for supervised use only. Fibers WILL break away. Even super tough chew toys like the Nylabone will eventually deteriorate. Eating plastic is never a good thing, even if most dogs pass any small accidentally consumed with no hassle. Prevention is the best cure, and removing any toy showing signs of deterioration is essential.
Good hygiene is important – and dog toys (stored correctly) will still occasionally need to be cleaned. Be wary of heavy-duty repeat cleaning and using powerful cleaning agents as the risks are two.
Any leftover cleaning chemicals might make your dog feel or actually be ill
Repeat use of corrosive cleaning agents might make toys more likely to break or shed plastic.
Gently clean toys only as required and follow instructions. The best toys will clearly state whether they are dishwasher safe or not (which is a huge benefit when they are).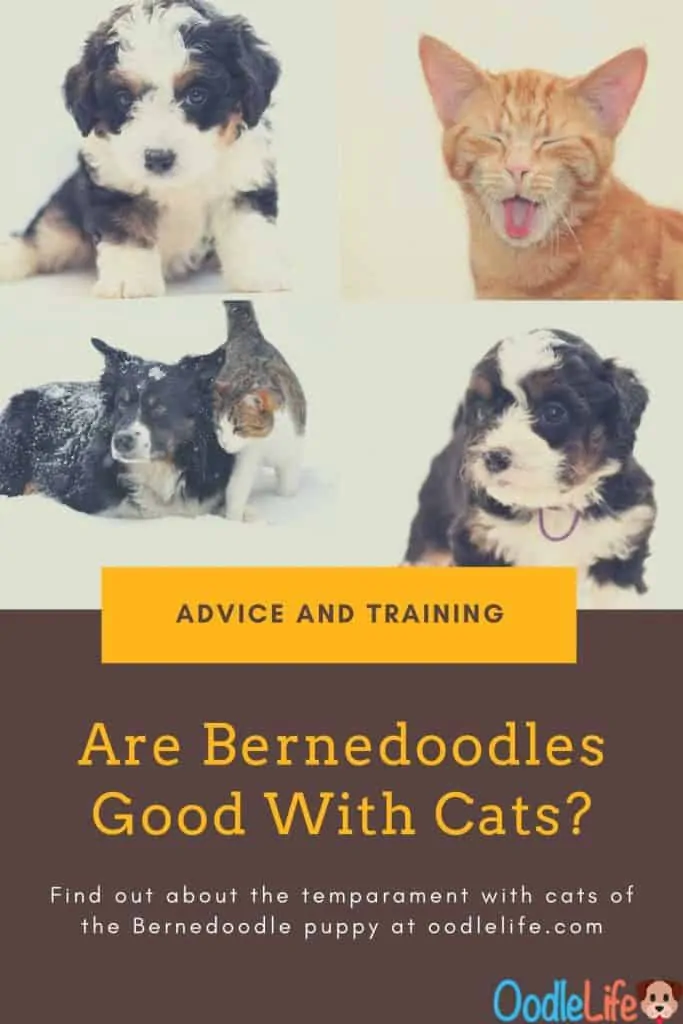 Toys to AVOID for a Bernedoodle puppy
In general, all toys need supervision until you are sure they are safe. The quality of the toy AND the way your individual Bernedoodle interacts with you are two things to consider.
AVOID toys that have small plastic parts or can be broken down into small chunks. Avoid stuffed toys unless your Bernedoodle puppy is playing with them while you directly supervise. This can include things around the house that are not intended to be toys (e.g., PILLOWS). If a dog eats stuffing from inside a toy or pillow, they can get seriously ill. Giving soft toys unsupervised is not worth the risk!
A toy that can break or be torn to pieces is not safe to be left with a Bernedoodle puppy
Bernedoodles are GIANT poodle mix breeds. They are large dogs with strong chewing ability
Even though toys can be broken by a determined Bernedoodle puppy
Any plastic toy that sheds bits can be ingested. A Bernedoodle puppy is not designed to process plastic if eaten. Blockages have been seen in puppies that have eaten parts of a broken down chew toy
Individual Bernedoodle puppy temperament needs to be considered also
Some Bernedoodles will play safely and happily with soft toys
Other Bernedoodles will use their sharp puppy teeth and tear holes into soft toys
If your dog wild story soft toys it can be best to avoid them altogether
At the very least consider soft toys ONLY for supervised play
We love writing about the tricolour marvel that is the Bernedoodle. Some popular articles include