The 8 Best Dachshund Breeders in Texas (2023)
Arguably one of the cutest breeds, you will fall in love with the Dachshund, with its floppy ears and wet kisses. And you will be surprised to learn that this breed, with its stocky and long body, is part of the hound dogs classification.
With their lithe bodies, you can expect Dachshunds to enjoy hiking and being outdoors—wherever their noses lead them.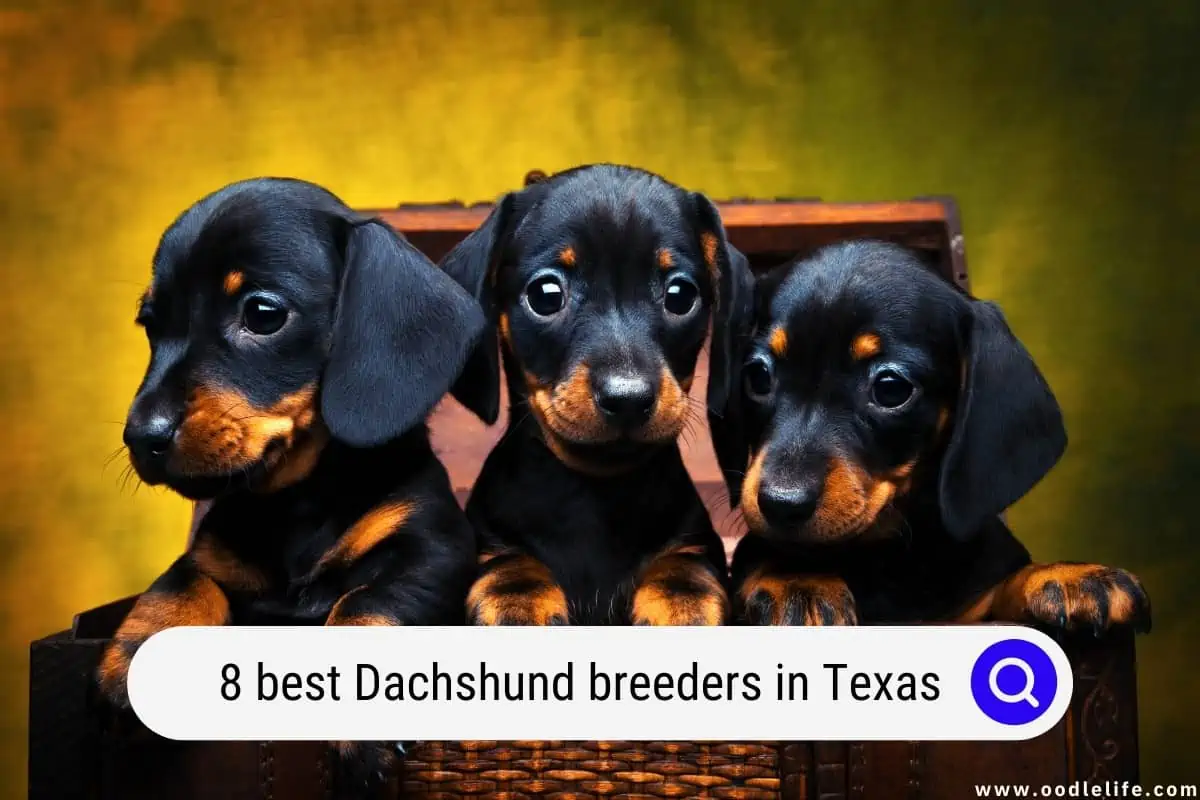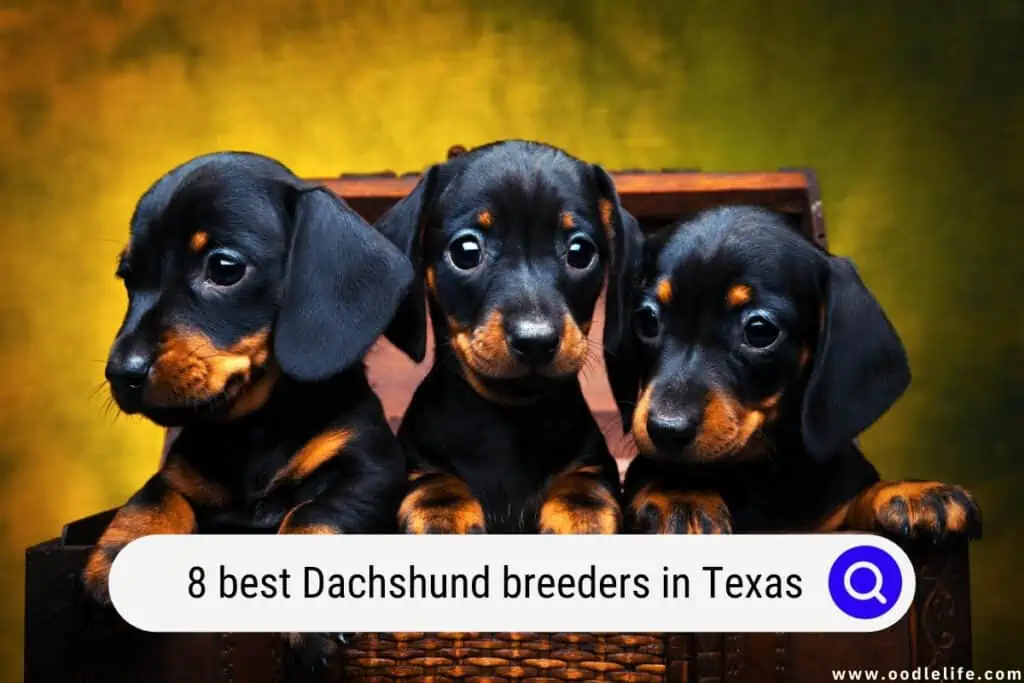 $300 2023 Discount!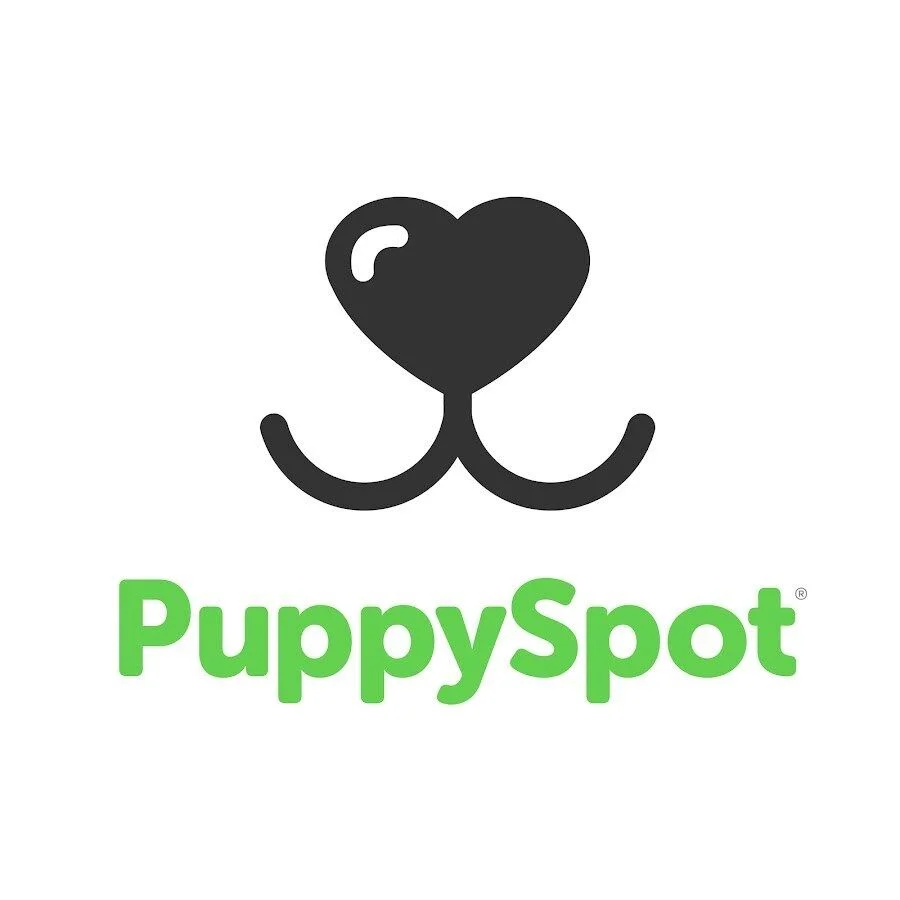 PuppySpot Adoption
PuppySpot is a reputable dog marketplace where you can browse and find compatible puppies right from the comfort of your home. They have placed over 200,000 puppies into homes in the US!
Click through and use the code PUPPY300 for $300 off any puppy adoption.
See Puppies and Save $300
This breed boasts a quirky personality, and with their eyes looking at you so intently, they will challenge you to be the best Dachshund parent ever. You won't have the heart to let this little fellow down.
If you have experienced firsthand how it feels to share your home with a Dachshund, or you want to add this adorable breed to your family, then make sure that you bring home one the right way.
And no, don't buy from just any random breeder. You have to look for the best Dachshund breeders in Texas that can give you a healthy puppy with a guarantee.
The Best Dachshund Breeders In Texas 2023
1. Hound House Farm
The Hound House Goal
Ensuring that their forever homes and families fall in love with their Doxies, the Hound House has set a higher standard for their pups since they began breeding in 2005.
They plan every breeding well and assess each parent for their strengths. They keep looking for opportunities to make the best match. They have a variety of outstanding breeders from impressive pedigrees, but they never pick out the parents spontaneously.
The Hound House's goal is to produce the best Miniature Dachshund puppies not just in Texas but also globally. And to make this happen, they have created a breeding program that they continuously improve.
And the results of their continuous development are apparent in the quality of the Miniature Dachshunds that they offer to families.
The Hound House Puppies
Hound House takes pride in their Doxies being American Kennel Club (AKC) and International Canine Kennel Club (ICKC) Champions, International Champions, Grand Champions, and Intercontinental Champions.
These accolades speak volumes of the attention and dedication this kennel invests in its puppies. Aside from being top in conformation, Hound House also competes in hunting through field trials—a skill that is natural to this breed.
But more than producing champion lines, Hound House is first committed to creating well-rounded Dachshunds suitable as lifelong companions and family pets.
Contact Details:
Website: https://www.houndhousefarm.com/
Phone: (254) 434-8776 or (254) 485-8727
Email: [email protected]
Location: Blum, Texas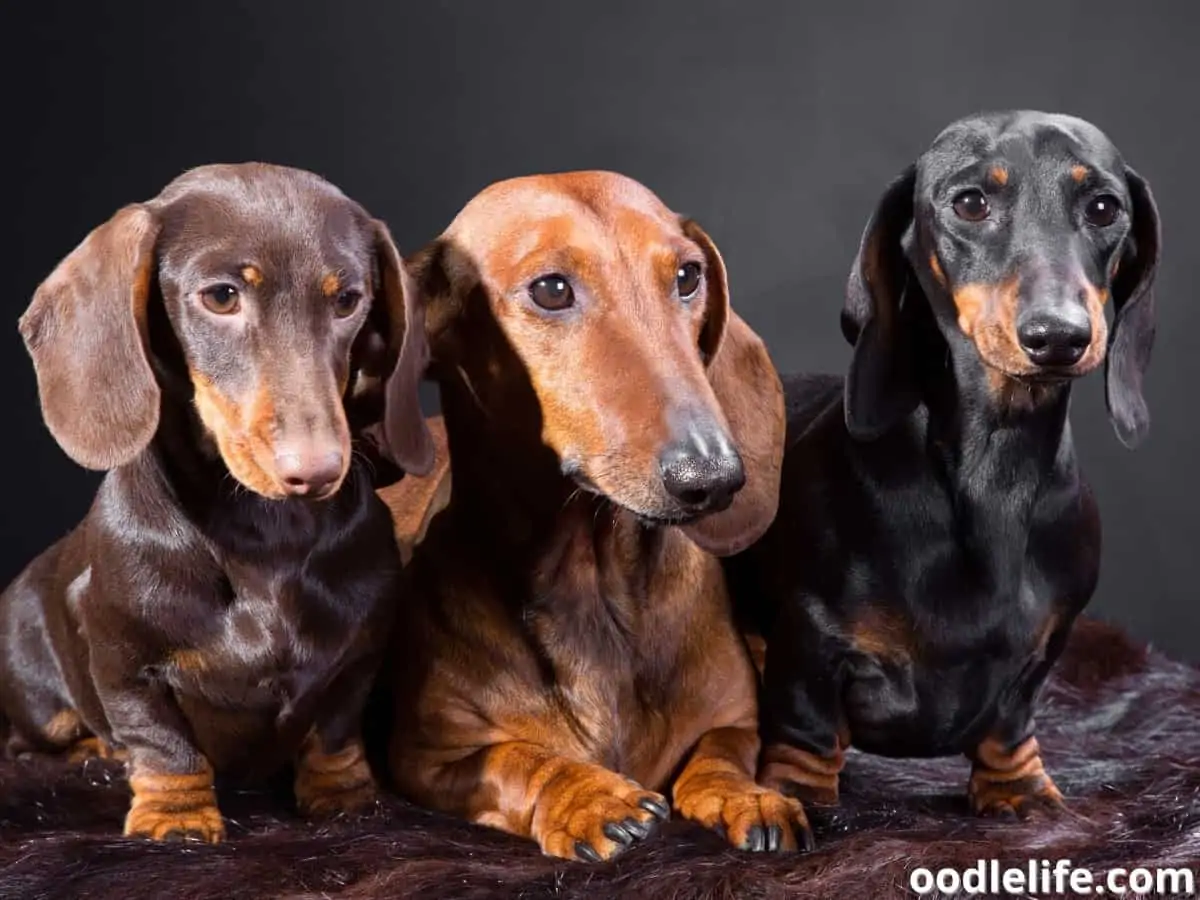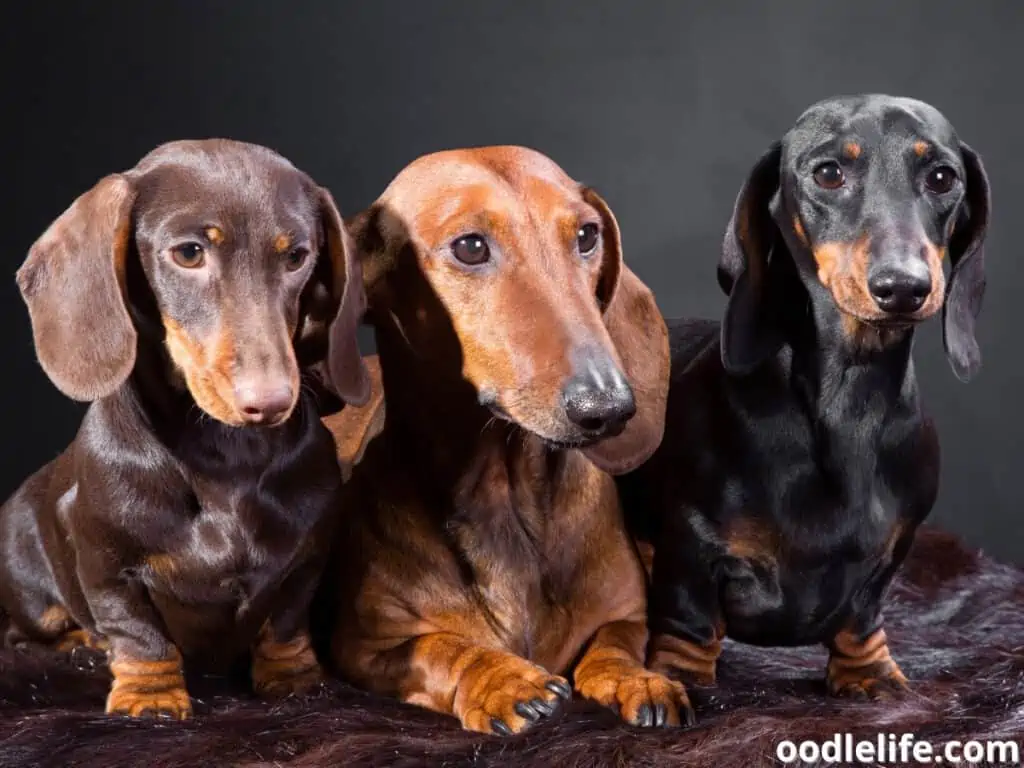 2. Red Oak Dachshunds
About the Breeder
This small breeder in Texas specializes in health-tested purebred Miniature Dachshunds. This breeder produces quality Doxies, not for quantity but quality.
Red Oak Dachshunds has created a close-knit community of Dachshund lovers and overall dog lovers in Texas despite running a small-scale operation. They maintain ethical breeding and follow stringent standards that promote the dogs' welfare, health, and safety.
Being one with these assurances, Red Oaks has all their girls and boys health tested before breeding. They ensure that the puppies are healthy, at par when it comes to conformity, and have all the qualities that people know and love about Dachshunds.
Red Oak is a proud member of the American Kennel Club and strives to promote the standards set by the organization. Being one of the best Dachshunds breeders in Texas, you know that your future Doxie has been given a strong start in life.
The Red Oak Doxies
As Red Oak handpicks their Doxies for confirmation and personality, you may be confident knowing that your future pup will look exactly how a Dachshund puppy should look with the personality to match.
Additionally, all the puppies going to their forever homes have already received their initial distemper and booster shots. Red Oak Dachshunds also deworm the pups and give them their age-appropriate vaccines.
All the Red Oak Doxies come with a 5-year health guarantee, but you can have this upgraded to a lifetime if you decide to keep their Miniature Dachshunds on Nuvet supplements, a recommendation that Red Oaks strongly promotes.
Contact Details:
Website: https://www.redoakDachshunds.com/
Phone: (972) 515-3820
Email: [email protected]
Location: Red Oak, Texas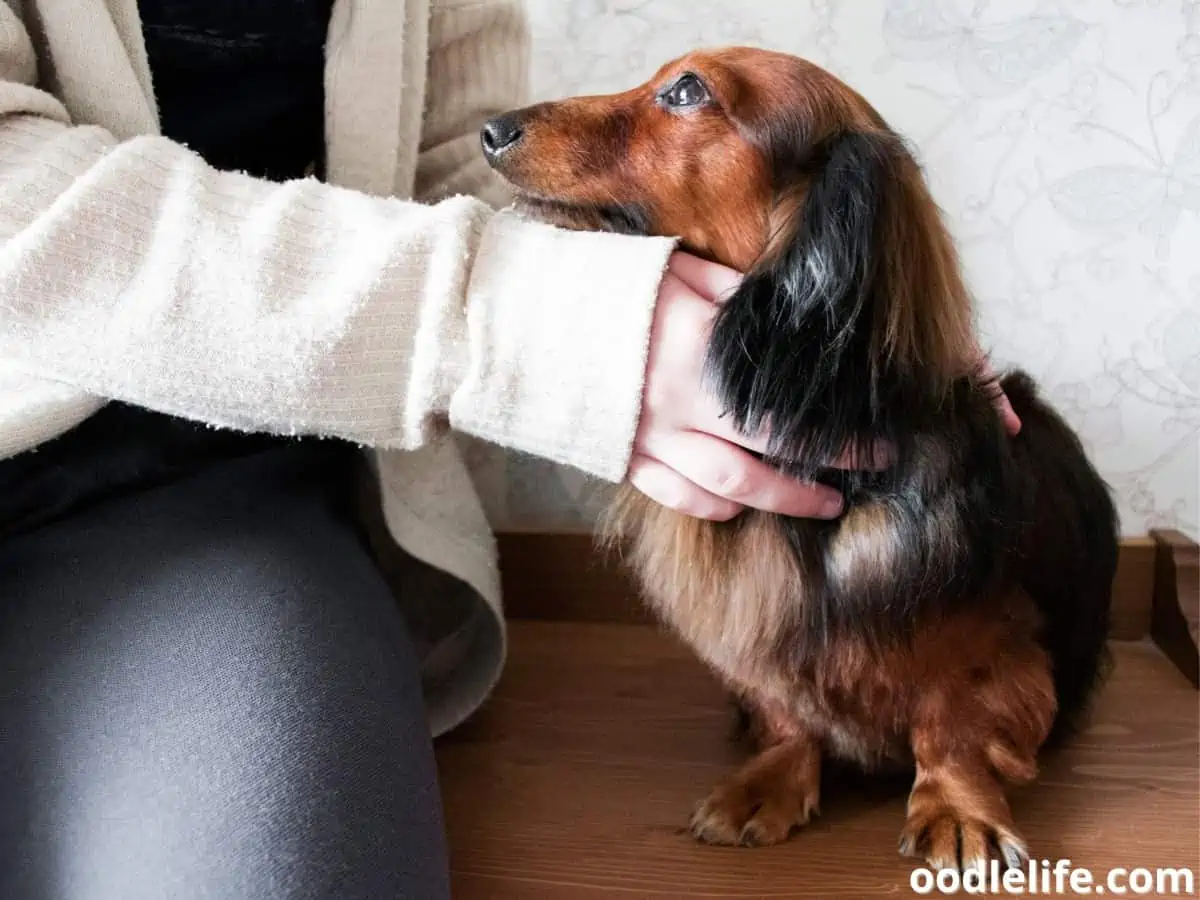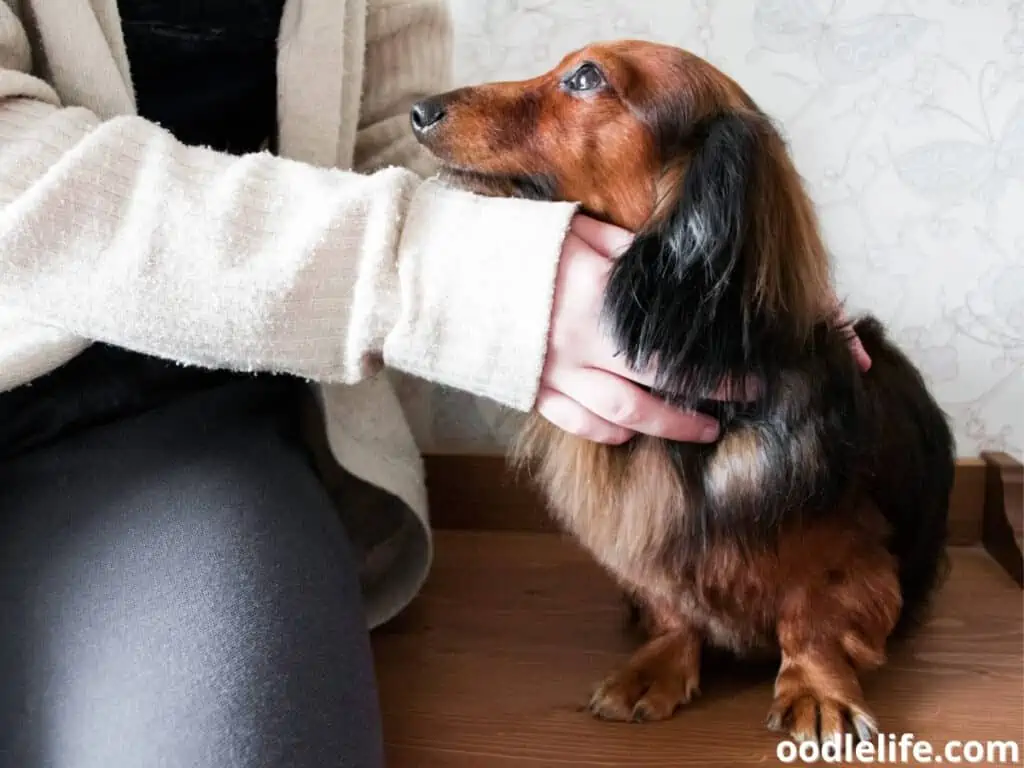 3. Texas Country Dachshunds
The Country Doxies
Located in the heart of Texas, this small home-based breeder aims to share Dachshunds that are healthy and well socialized in their community and within neighboring states.
Texas Country Doxies have a memorable love affair with the Dachshund breed. And with every litter that they produce, they provide individual attention and love. They treat every puppy and dog that belongs to Texas Country Dachshunds like family.
The dogs freely enjoy the fresh country air with plenty of space to run free, explore, and play. And all interested families wanting to add this breed into their family will automatically fall in love with the English Cream Longhair Dachshunds that Texas Country Dachshunds provide.
Getting a Doxie Pup
Texas Country Dachshunds has a simple process if you want to adopt one of their puppies.
Go through the available Doxies on their website, and if you are very sure, get in touch with Texas Country Dachshunds via phone or text message and let them know that you are interested in one of their pups.
You have to be prepared to settle the non-refundable $150 deposit and then wait for updates from the breeder on when you can pick up your puppy. The pick-up date is also when you are due to settle your balance.
If there is no available litter, you can contact Texas Country Dachshunds so they can add you to the waiting list.
Contact Details:
Website: https://texascountrydachshunds.com/
Phone: (512) 773-4248
Email: [email protected]
Location: East Bernard, Texas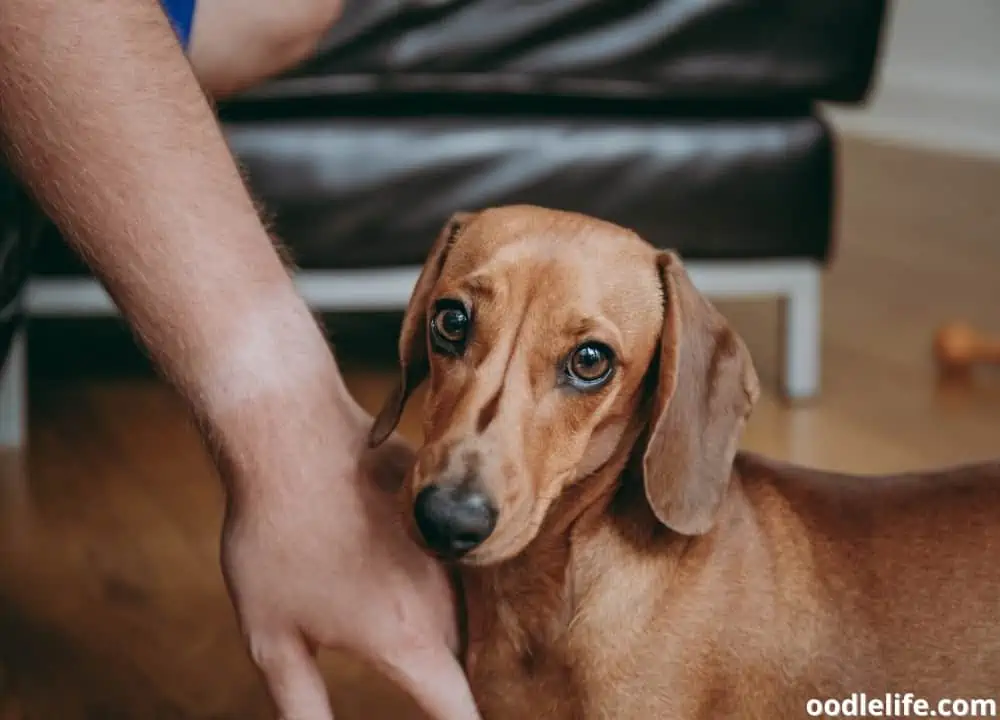 4. Darlin Dachshunds
Bringing Home a Darlin' Doxie
Constant communication with the Darlin Dachshunds is critical if you are interested in bringing home their puppies.
You need to talk to Darlin Dachshunds about the qualities you would prefer in your pet so that they can help you find the best match.
They price their puppies from $1,100 to $1,800, and this price depends on the gender, coat, and color of the puppies. You should go through the puppy contract that Darlin Dachshunds provides. Part of this documentation is the $150 deposit required to secure the puppy.
Once the Doxie pup is ready for pick-up, you'll be pleased to know that it comes home with complete AKC registration with full breeding rights, initial vaccination, deworming, and a 12-month guarantee against life-threatening genetic defects and a thorough vet check.
Contact Details:
Website: https://darlinDachshunds.com/
Phone: (979) 616-0604
Email: [email protected]
Location: Louise, Texas
5. Select Dachshunds
Select Puppy Rules
One of the best Dachshund breeders in Texas, Select Dachshunds are truly selective when choosing new parents for their Doxies.
They are very particular about not allowing their puppies to leave the kennel until they've reached the 8-week mark. Since every puppy is unique, they even hold the puppies longer if the pups are not eating as much as they need to.
As licensed breeders in Texas, they have learned to uphold and stick to their standards, which are non-negotiable. Interested individuals and families have to work with the breeder and not the other way around because the puppies' well-being is and will always be the top priority.
Select Dachshunds are also strict when administering the recommended age-appropriate vaccines to the pups. They even deworm the breeding and adult dogs once a month. They deworm expecting Doxies an additional time about two weeks before the delivery date.
Contact Details:
Website: https://www.selectDachshunds.com/
Phone: (903) 371-8424
Email: [email protected]
Location: Waskom, Texas
6. Muddy River Dachshunds
Knowing the Breeder
Muddy Rivers, one of the best Dachshund breeders in Texas, is your go-to breeder if you are looking for quality AKC Miniature and Tweenie Doxies.
They specialize in short and Long-haired Dachshunds as well as silk wirehair. They carefully screen all adult Doxies and check for family-friendly temperaments before adding them to the breeding group. This ensures that the litter produced is beautiful with that sweet and family-oriented temperament expected from this breed.
Know that Muddy River Dachshunds exclusively breeds Dachshunds but not the micro or toy types. They also do not breed double dapples, nor do they allow dogs from outside to breed here.
You are talking to the right breeder if you want to explore all your options in terms of color. Muddy River Dachshunds offers black, tan, black and cream, red tones, and chocolates. Some pups also come with patterns like piebalds and dapples.
Muddy Rivers Environment
Muddy Rivers treats all their puppies like kids. They give them undivided attention, cuddles, and plenty of playtime.
With 140-acres of land, all the dogs are free to go about their day exploring and enjoying the space of this Texas ranch. They can swim, play with the other animals, and bark at the horses and cattle.
Yes, the owners do not cage these dogs. And although there are kennels available, they primarily use them when they need to temporarily separate a dog or give it individual attention.
They keep all the new litters indoors and interact with them daily. And this methodology that Muddy Rivers uses ensures that the puppies grow with socialization as part of their everyday lives.
Contact Details:
Website: https://muddyriverdachshunds.com/
Phone: (830) 391-8310
Email: [email protected] or [email protected]
Location: Floresville ,Texas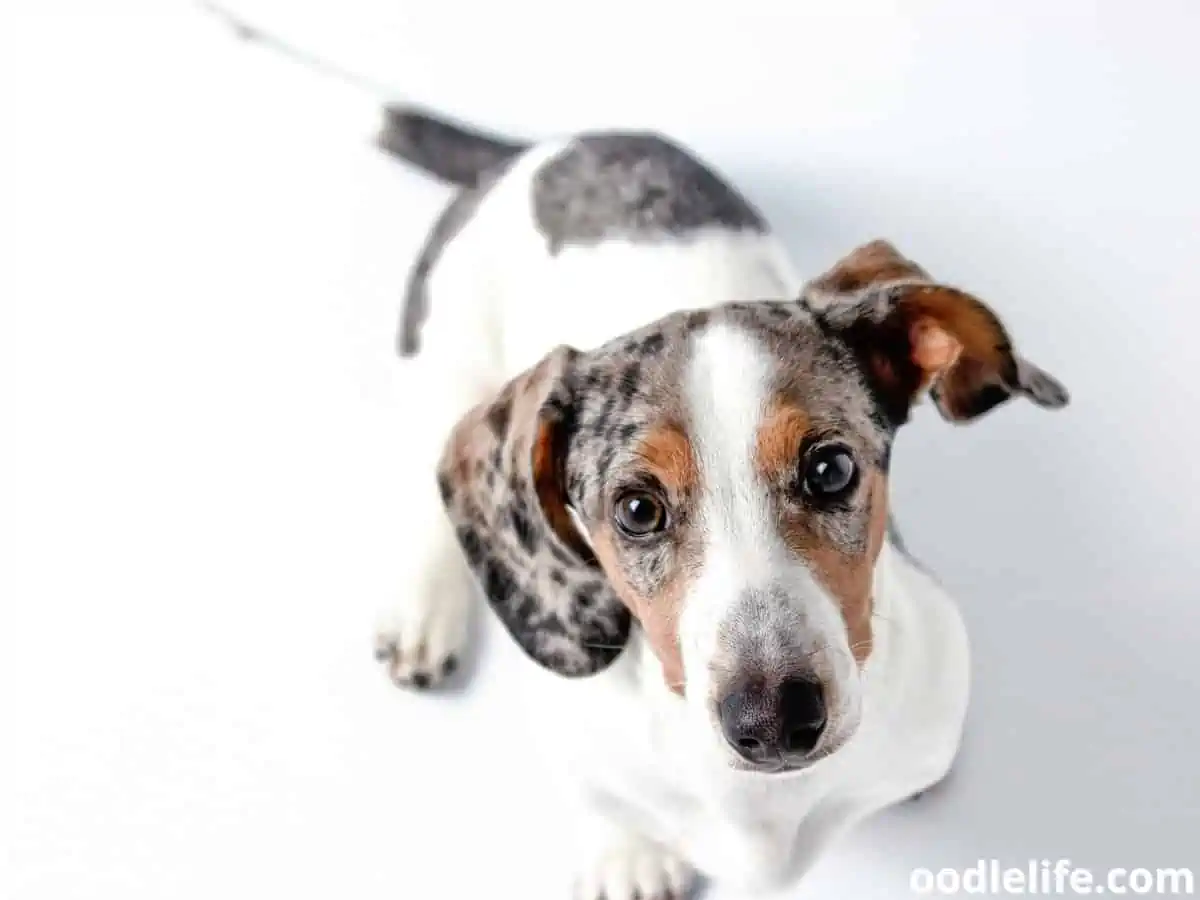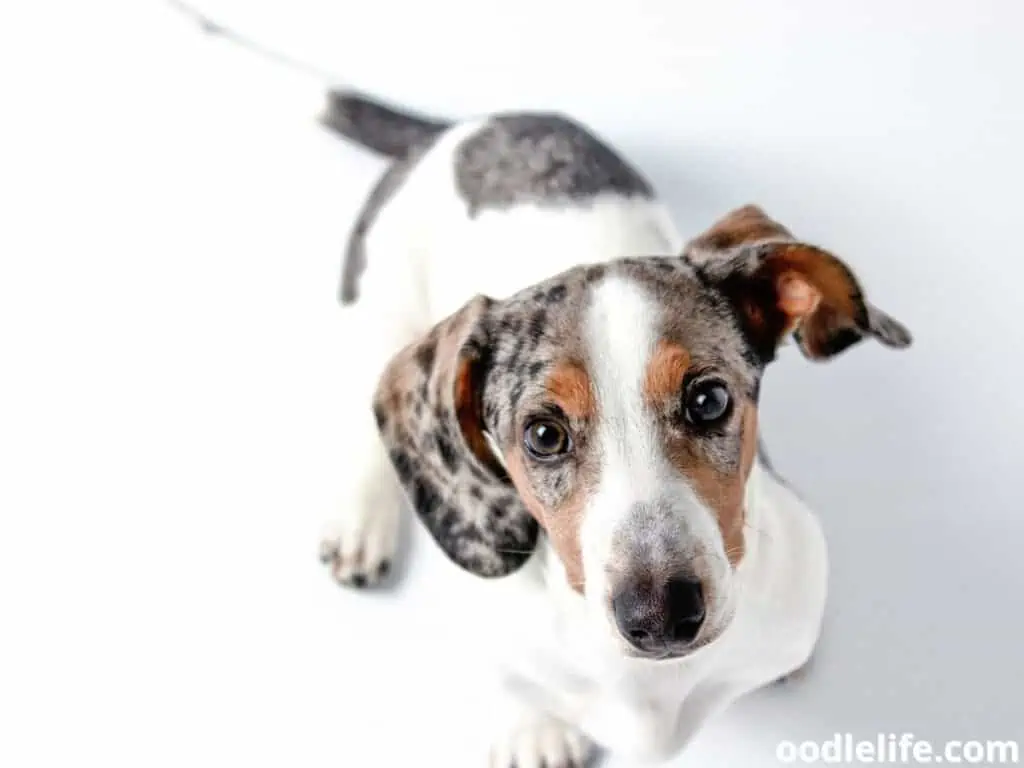 7. Blessed Doxies
Blessed with Colored Doxies
As one of the sought-after and best Dachshund breeders in Texas, Blessed Doxies is strict when releasing their puppies, which is also in conformity with the Texas State Law. They release all their pups to their forever homes only when they reach eight weeks of age.
You'll be amazed at the many color options available for a Doxie. Thankfully, this breeder is a pro in producing most of the colors of this breed. They have and can produce puppies in colors like black and tan, black and cream, red, EE red, shaded red, red chocolate, red brindle, black and ban brindle, piebald, chocolate/tan and cream, shaded and EE cream, dapples, solid black, and chocolate without any markings.
You will love the colors of the Blessed Doxies pups. The pups are also sure to impress you with the cheerful disposition and happy temperament that you expect from this breed.
About Blessed Doxies
Blessed Doxies is not a newbie when it comes to raising dogs. They have over 40 years of experience, and they have dedicated 30 years to Dachshunds.
This breeder focuses on producing strong and healthy puppies that will give their future families a lifetime of happiness and blessings. And to make this possible, they ensure the breeding dogs have long rib cages and muscular loins to fully support the spine.
They are also diligent in breeding dogs that don't have extra weight genetically because obesity is a common health concern among Dachshunds.
Contact Details:
Website: https://blesseddoxies.com/index.html
Phone: (903) 275-5878 or (903) 880-1046
Email: www.blesseddoxies.com or [email protected]
Location: Mabank, Texas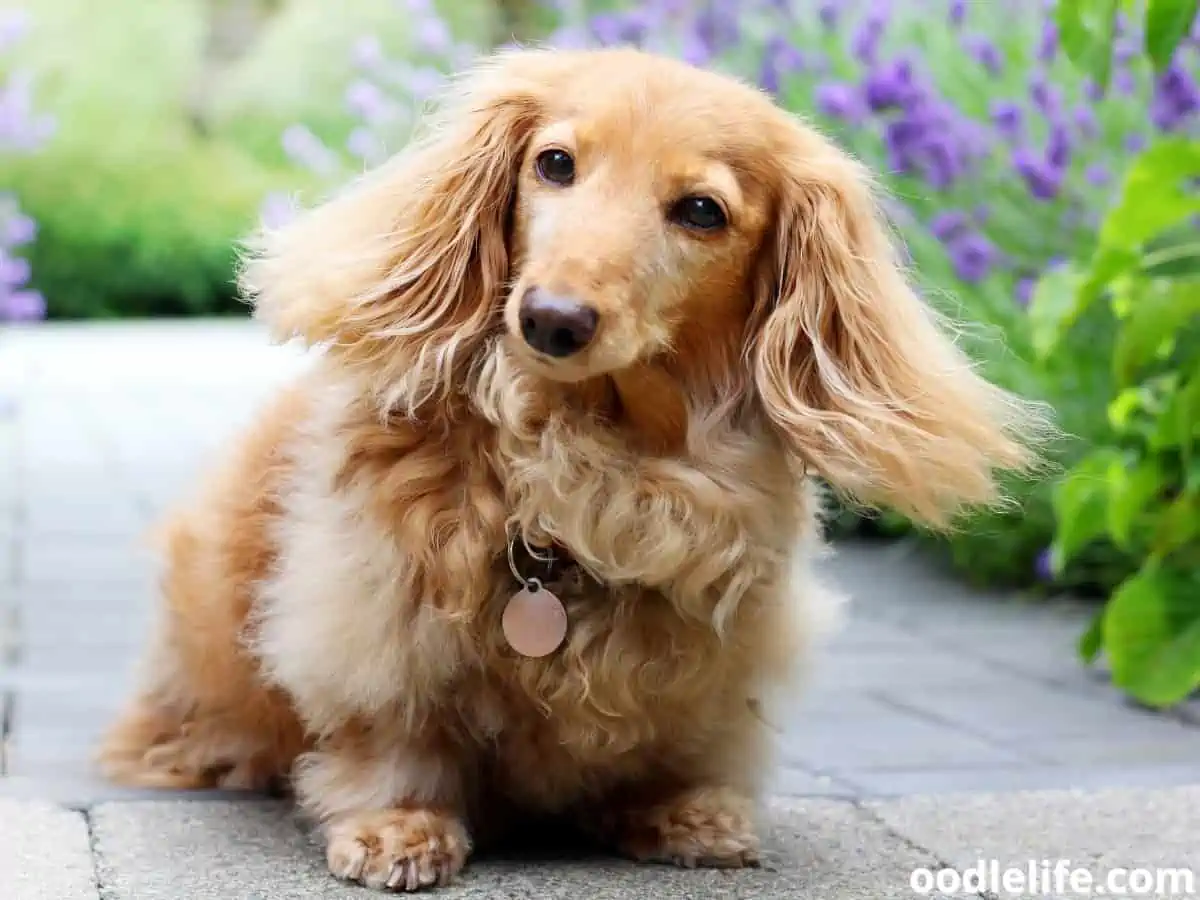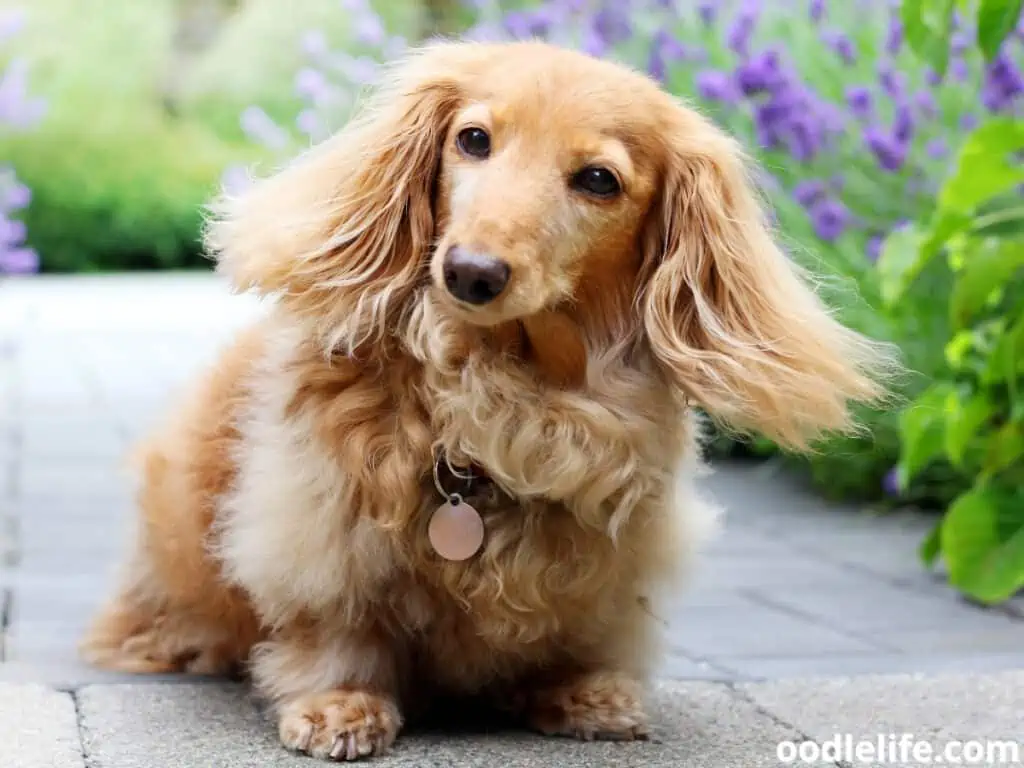 8. Long Bottom Dachshunds
Long Bottom Adoption Guidelines
Long Bottom Dachshunds is a CKC-registered Miniature Dachshund breeder located in Frisco, Texas, just north of Dallas.
When they release the puppies, they send them home with a limited CKC registration. This means that their sole purpose is to be family companions or pets and not future breeding dogs. By this time, the Doxie pups have also received their first round of vaccinations.
Usually, the available colors are black and tan, chocolate and tan, and red. The standard price for male puppies is $1,250, while females have a price tag of $1,350.
Male pups that are dapple, cream, piebald, Isabella, and blue cost $1,550, while their female counterparts sell for $1,650. You'll need to pay a non-refundable puppy deposit of $300 to reserve your Doxie pup.
Upcoming Litters
This breeder updates the details of all their available and upcoming letters on their website. This is a good resource for you to get to know your future pup's parents. Every upcoming litter also has a short description that also mentions whether the puppies would have short or long coats.
Once you have decided on your Doxie, make arrangements to pick up your pup because Long Bottom Dachshunds does not ship puppies.
Contact Details:
Website: https://www.longbottomdachshunds.com/
Phone: (469) 403-0630
Email: [email protected]
Location: Birmingham, Alabama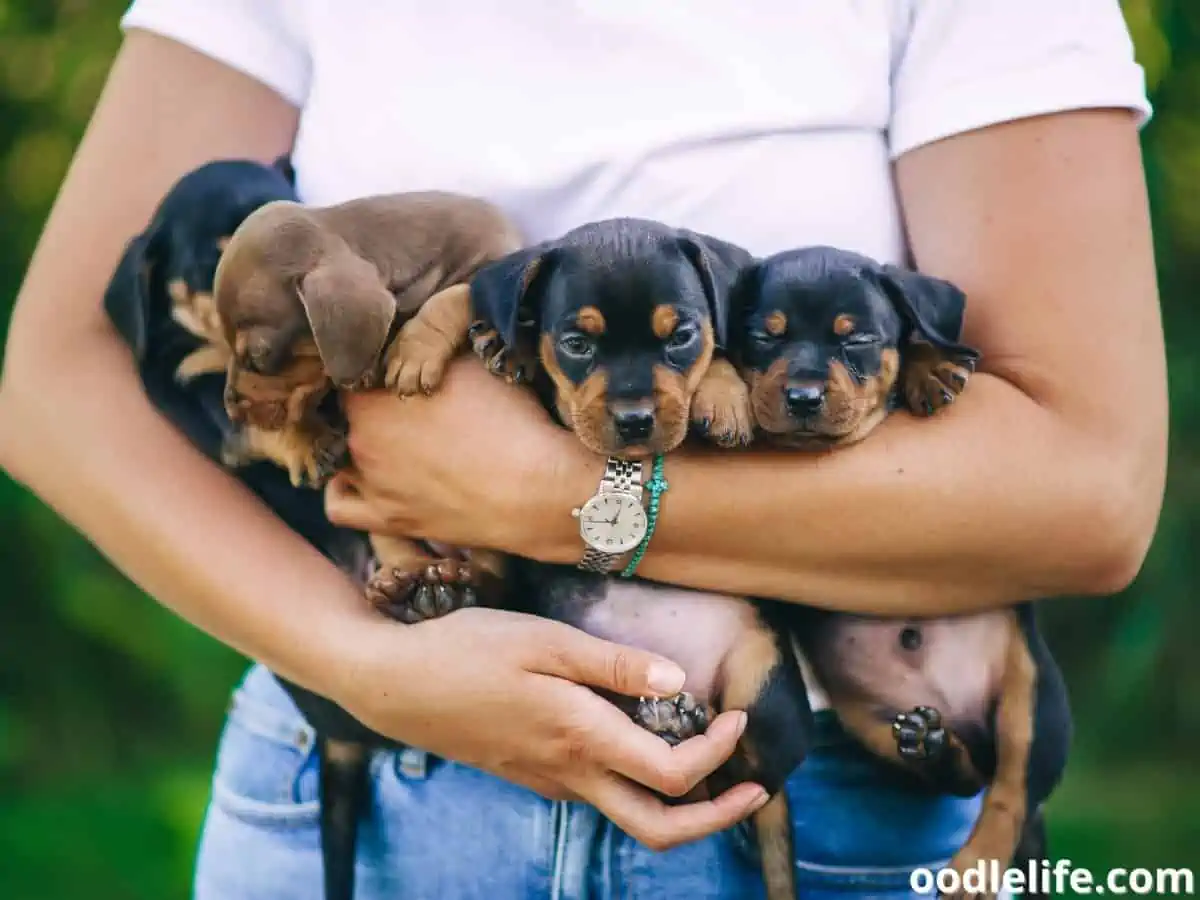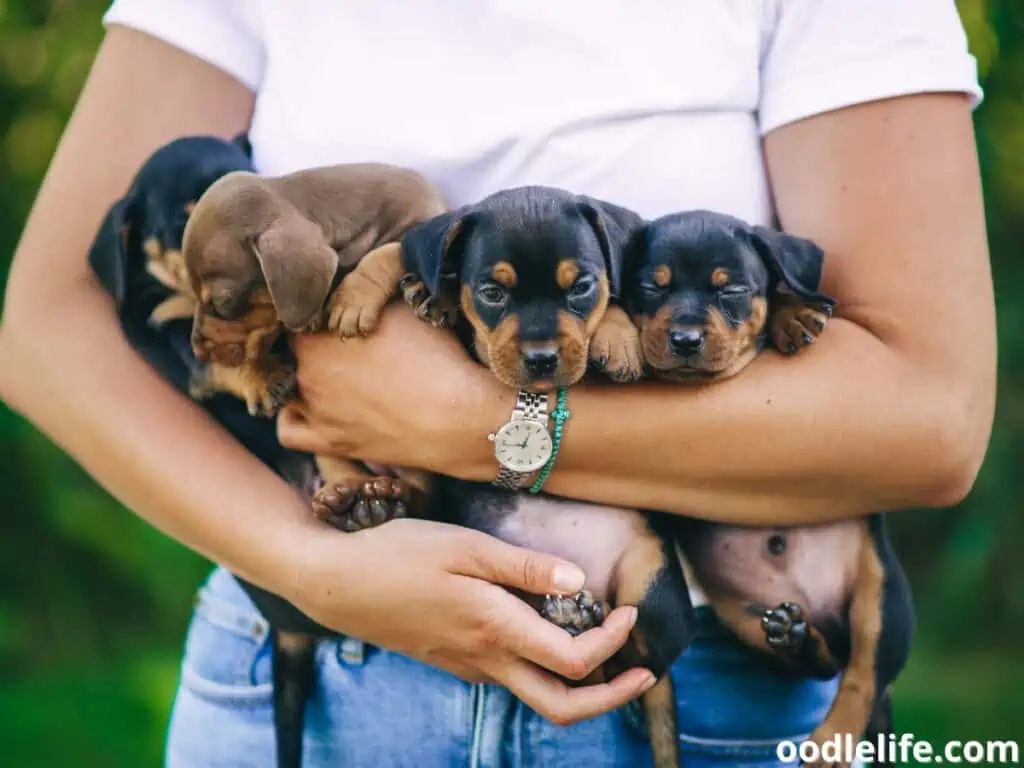 Conclusion
Never settle for anything less when it comes to bringing home your Dachshund. Talk to a reputable and ethical breeder and work with one who puts the dog's welfare first.
A Dachshund will fit right into your family and life, and getting one that got a solid foundation in life from its breeders goes a long way. It will guarantee that you can enjoy your Doxie for years to come without having to worry about the what-ifs.
More top rated Texas breeders