153+ Best Cavapoo Names (Actually Good Dog Names)
When you bring home a Cavapoo, you'll get all of the amazing qualities of the Cavalier King Charles Spaniel and the poodle. In addition to being wonderful family pets, these dogs are also quite intelligent–likely due to their poodle genes.
The Cavapoo can come in several different colors, including brown, black, white, or a combination of the three. They also have beautiful, curly fur, making these dogs some amazing cuddle-buddies.
So if you plan to have a Cavapoo join your family, you'll want to find a name that will suit them well. Of course, naming pets is often a challenging part of the process, so for your convenience, I've compiled some of the best Cavapoo names that will hopefully inspire you!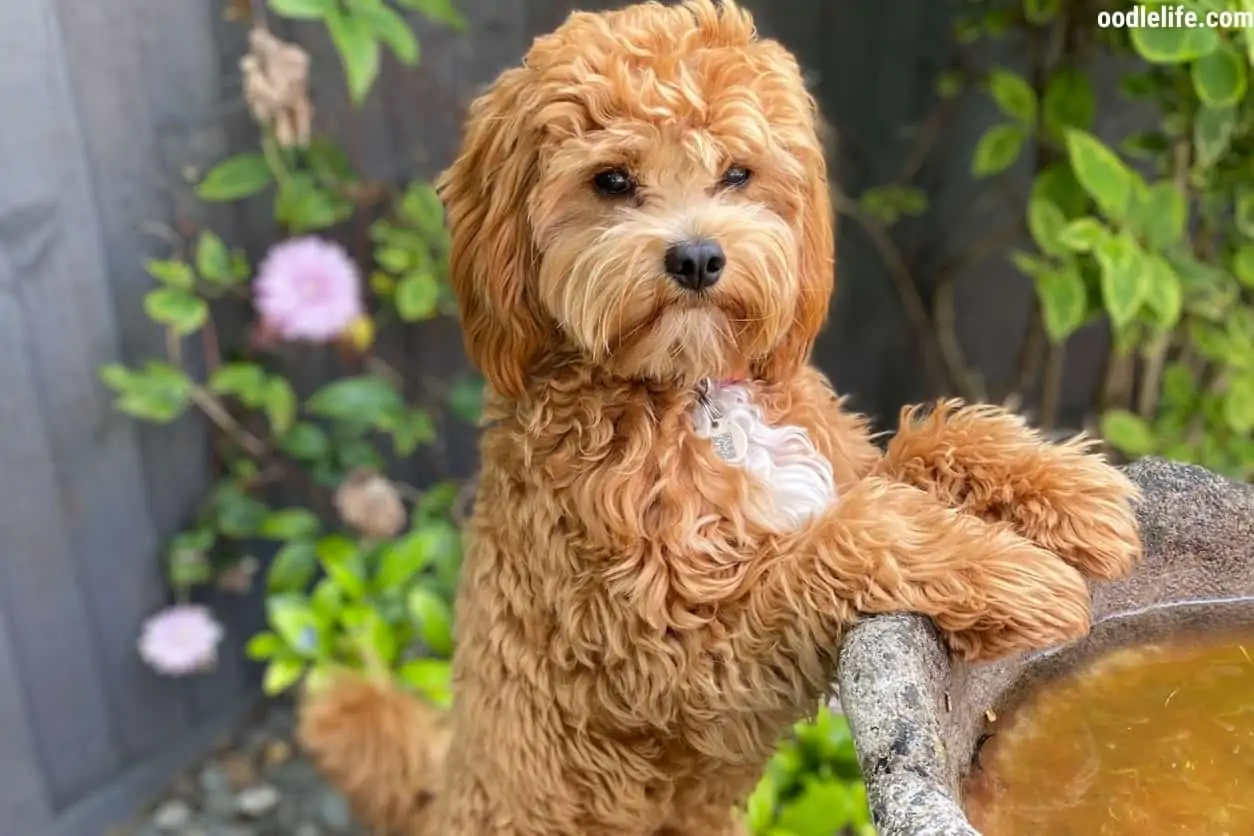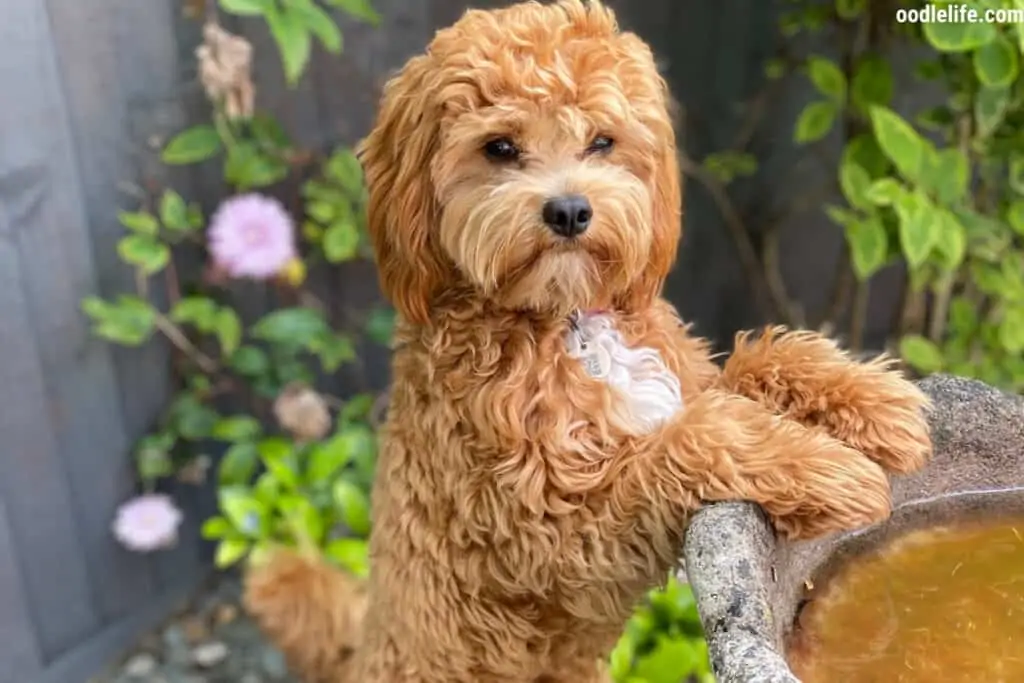 How to Choose a Good Name For Your Cavapoo
When you're choosing a name for your new Cavapoo, you should try to put a lot of thought into it. After all, this dog will be a several-year commitment, and once you teach them to respond to a certain name, it can be hard to change it later on.
Your Cavapoo's personality is something to consider when choosing a name. For instance, a dog with an energetic temperament may inspire some fun and lighthearted names. Or, if your dog is on the shy side, that could inspire some soft and tender names.
Their appearance could lead to some fun name inspiration as well. Because these dogs come in various colors, we'll cover names that are perfect for Cavapoos of each fur color.
Also, consider the pros and cons of a unique name vs. a common dog name. On the one hand, unique names are more likely to draw attention, and they're less likely to lead to confusion at the dog park. On the other hand, common names are popular for a reason–and there's a good chance they will fit your dog wonderfully.
No matter what name you choose, make sure it's one that you and your family love. That's what matters the most. Once you settle on a name, be sure to practice saying it! This practice will not only help you remember it, but it can help your dog learn to respond to their new name as well.
Now that we've covered the basics let's move on to the names!
Best Boy Cavapoo Names
Are you looking for some fun, creative, and masculine names for your new Cavapoo? There are plenty of adorable options to choose from. Whether he's a rough and rowdy canine or a shy dog with a kind heart, there's likely an option on this list that'll suit him just well.
Artie
Theo
Toby
Max
Alfie
Finn
Otto
Rocky
Benny
Zeus
Milo
Buster
Jackson
Roscoe
Eddie
Archie
Scooby
Oscar
Odie
Teddy
Winston
Billie
Best Girl Cavapoo Names
If your beloved Cavapoo is a lady, you will surely want to consider some of these upcoming names. Some people prefer to give their female dogs a cutesy name, while others opt for more serious or sophisticated titles.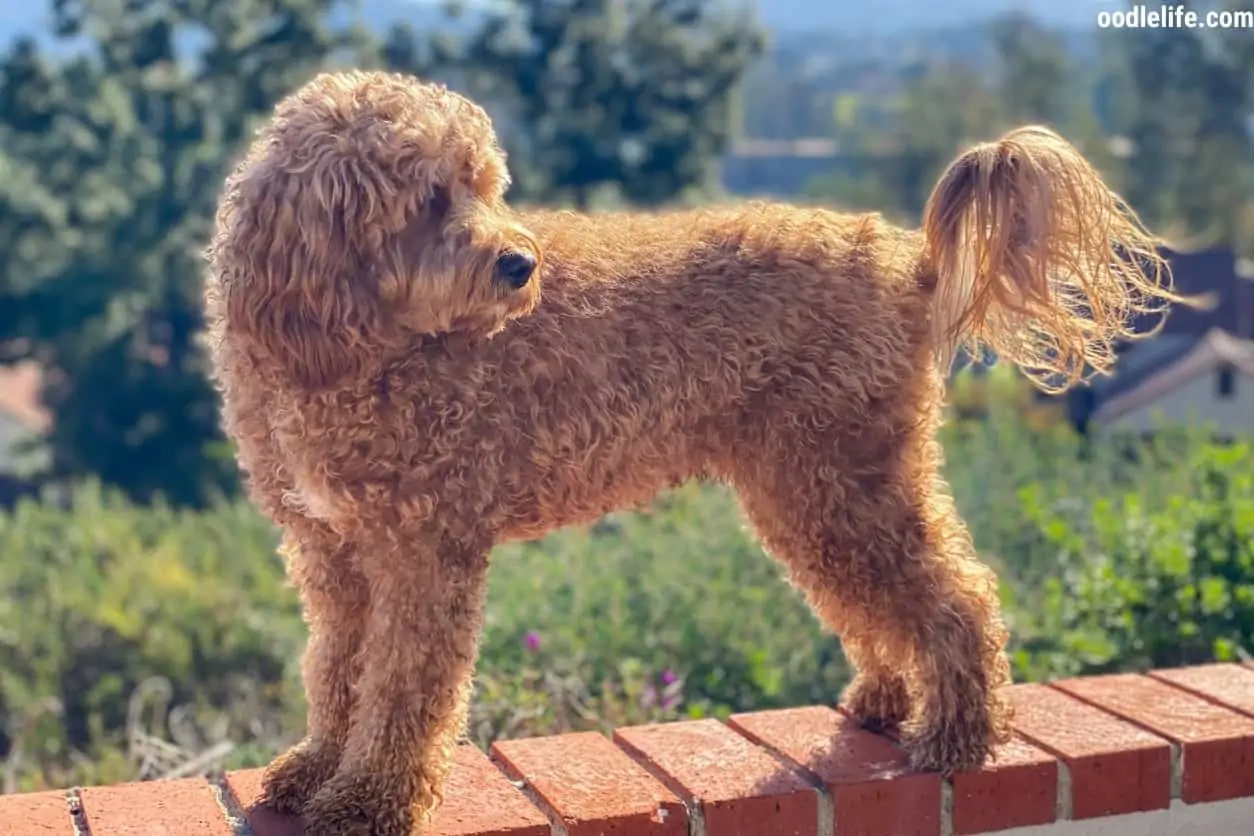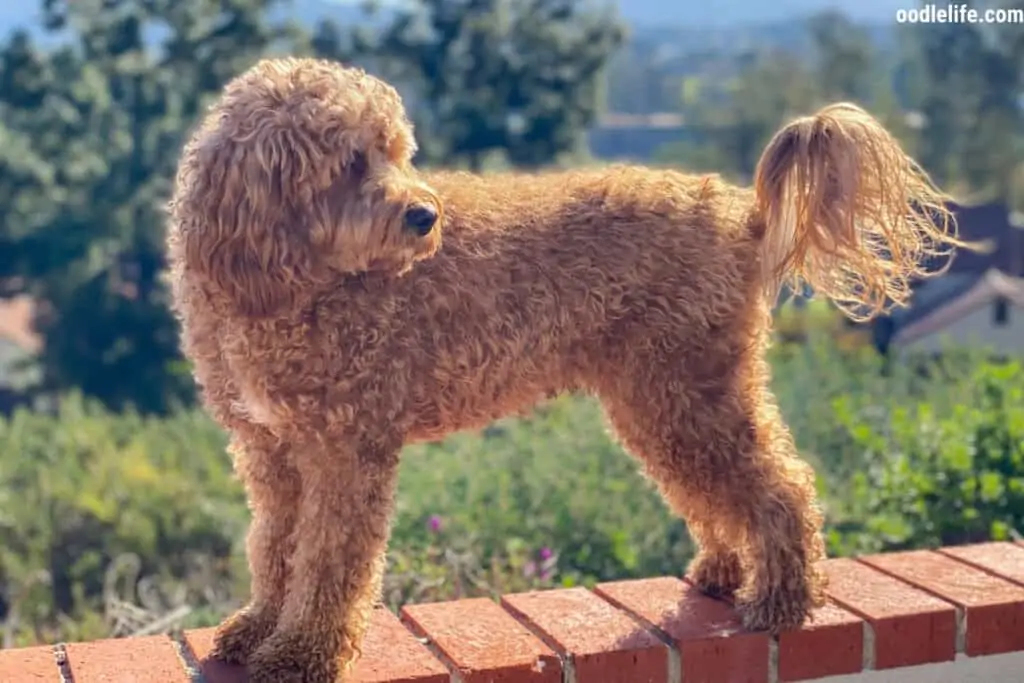 Regardless of your preference, the perfect name for your female Cavapoo is out there.
Daisy
Ruby
Minnie
Lola
Princess
Athena
Maddie
Sadie
Izzy
Bella
Betsy
Abby
Heather
Willow
Zelda
Lulu
Annie
Lady
Duchess
Clover
Jackie
Zoe
Shelby
Best Names for Male Brown Cavapoos
Cavapoos come in a varied range of colors, but brown tends to be the most common. So if you're looking for a creative, masculine name for your brown Cavapoo, there are a lot of different options to choose from.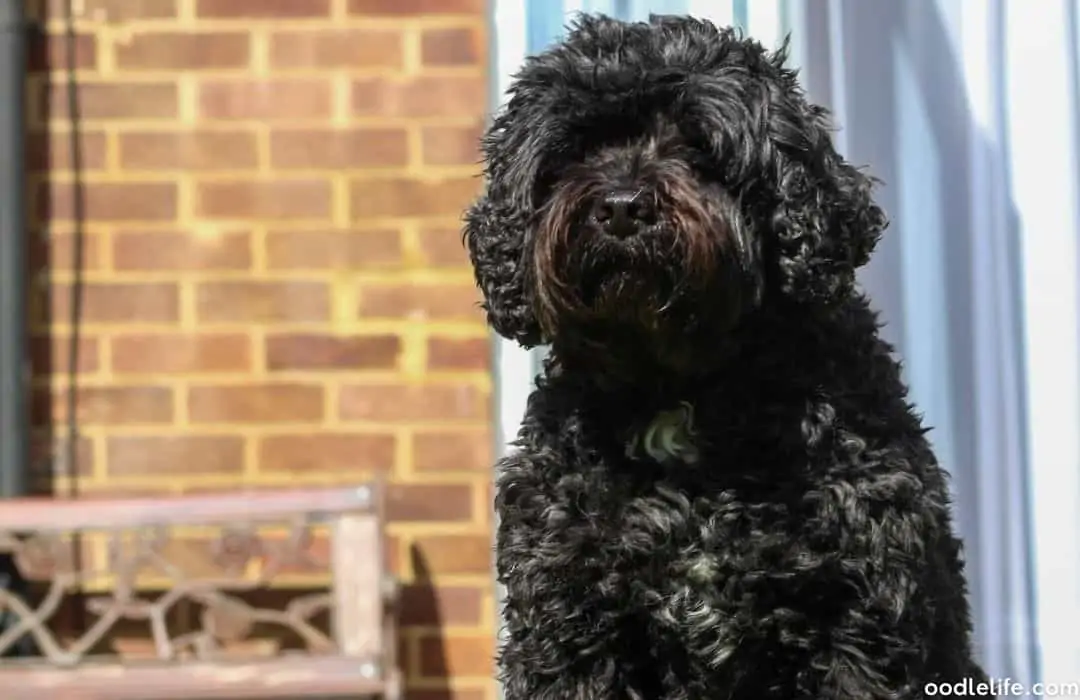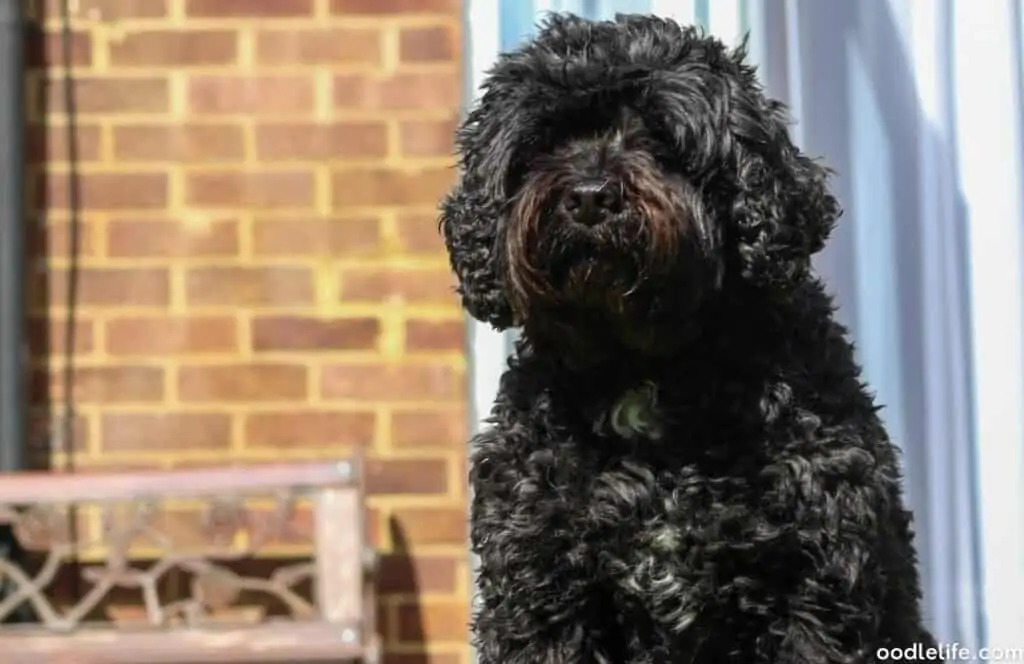 If you're a fan of food-inspired dog names, you'll surely like at least one of these upcoming ideas.
Brownie
Muddy
Jasper
Peat
Oats
Bear
Pecan
Bean
Tater
Walnut
Peanut
Cedar
Cocoa Puff
Pumpernickel
Copper
Best Names for Female Brown Cavapoos
Because it's such a standard color in this breed, there's a good chance your female Cavapoo has a beautiful brown coat. Why not give her a name to reflect it?
Whether you're looking for something that evokes imagery of nature or perhaps something inspired by desserts, there are many great options to consider.
(Lots of the names on our best coffee names for dogs list would also be appropriate for a brown Cavapoo)
Cocoa
Autumn
Maple
Honey
Cinnamon
Sandy
Aspen
Mocha
Latte
Hazel
Fudge
Penny
Tawny
Cedar
Biscuit
Sparrow
Miso
Cookie
Muffin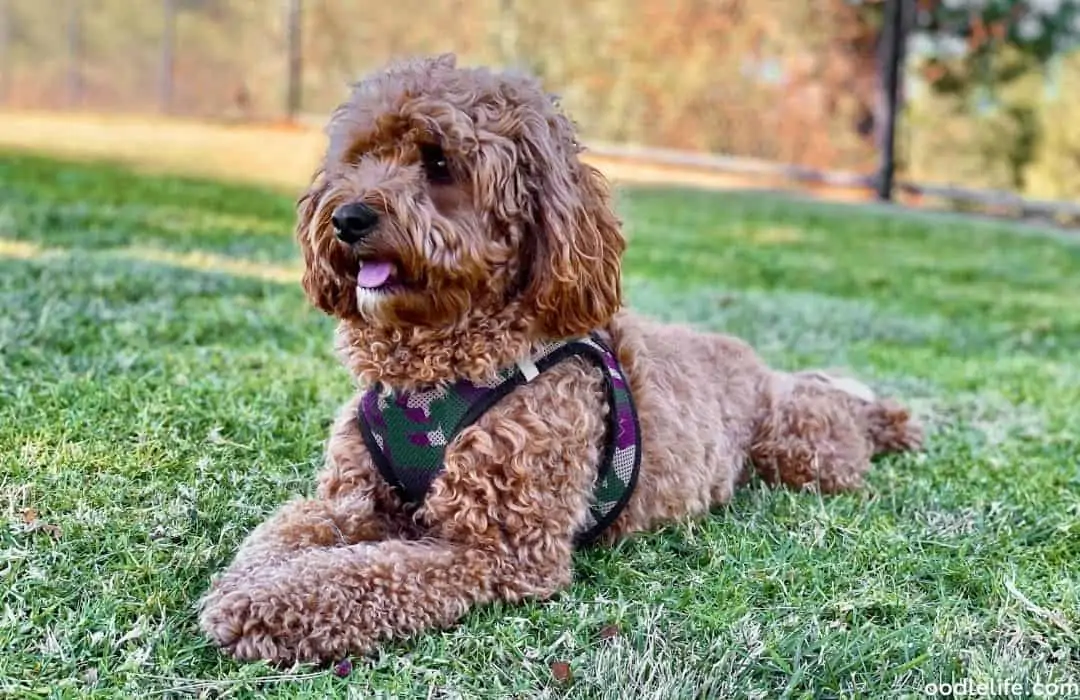 Best Names for Male Black Cavapoos
Not all Cavapoos are brown–some of them can come with fur as dark as midnight! This color is quite rare in this dog breed, however. So if your Cavapoo's pelt is of the darker variety, consider giving him a name to reflect his individuality.
Shadow
Onyx
Tux
Jet
Obsidian
Ash
Grim
Ink
Hades
Smokey
Blackberry
Batman
Comet
Salem
Slate
Coal
Best Names for Female Black Cavapoos
If your black Cavapoo is a girl, she deserves a name that will suit her well. Fortunately, these beautifully dark pelts can inspire plenty of unique names, so you'll likely find one that piques your interest.
Licorice
Twilight
Luna
Morticia
Nova
Ebony
Pepper
Velvet
Galaxy
Sapphire
Dusk
Nightshade
Pandora
Black Widow
Raven
Diamond
Best Names for Male White Cavapoos
A fully-white Cavapoo is rare. It's possibly even rarer than the black Cavapoo. However, it is pretty common to see Cavapoos with predominantly white fur and some brown or black patches. Regardless, these light-colored pelts can inspire some pretty cute names!
Powder
Casper
Cottonball
Milk
Blizzard
Marshmallow
Linen
Ghost
Moon
Snowball
Shiro
Tofu
Mochi
Chalk
Pudding
Sheep
Popcorn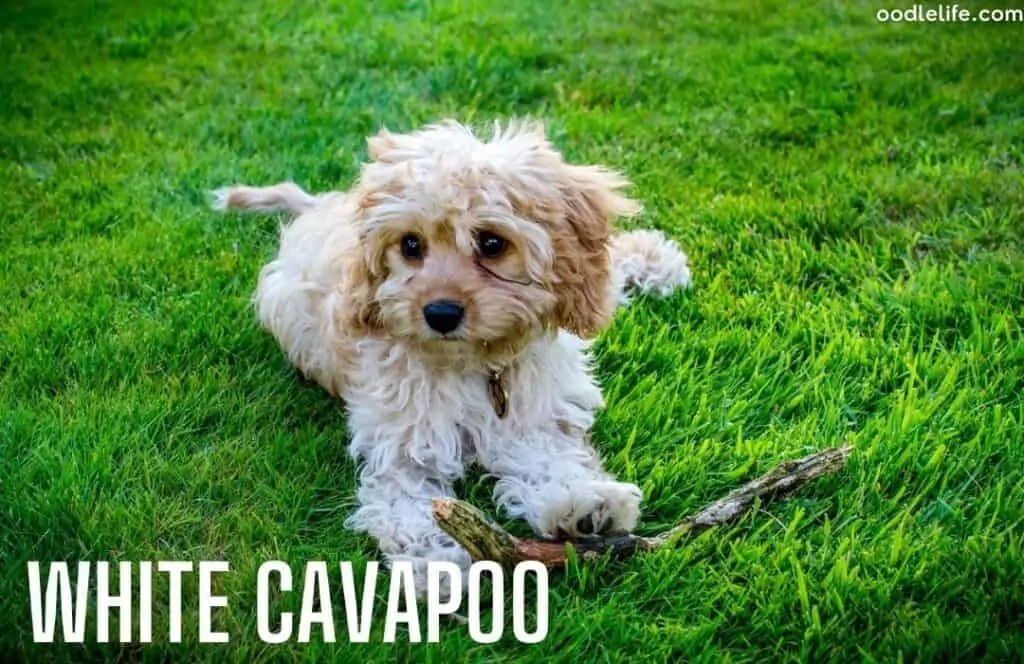 Best Names for Female White Cavapoos
From food-inspired names to nature namesakes, there are plenty of creative name ideas for your female white Cavapoo. While not every white Cavapoo needs a name that reflects her fur color, you can find many adorable name ideas when you go this route.
Pearl
Creamy
Vanilla
Gnocchi
Dumpling
Coconut
Snowflake
Tundra
Opal
Bubbles
Meringue
Mozzarella
Quartz
Alaska
Lily
Swan
Dandelion
Dove
Naming Your Cavapoo: Conclusion
When it comes to naming Cavapoos, the opportunities are endless. Their rich personalities and unique appearances can provide plenty of inspiration for fun and fitting names!
Remember that while I have sorted these names by gender, that doesn't mean they can only apply to Cavapoos of that gender.
In the end, dogs will respond to whatever title you give them. So if you want to name your male Cavapoo "Maple" or your female Cavapoo "Max," go right ahead! It could make your dog's name all the more unique.
If you're still having trouble settling on a name, consider writing down a handful of ideas on this list that stood out to you. Then, try practicing them with your family and your dog. Practice can help you narrow down which is the best name for your new Cavapoo!