The 7 Best Toys For Goldendoodle Puppies and Dogs
Goldendoodles are super smart and LOVE to play. From puppy to fully grown adult dog – your Goldendoodle will have so much fun playing with you. Here is the list and review of the best toys for Goldendoodles available full stop.
We focused one quality, durability, and keeping budget in focus. There are so many different toy options available for Goldendoodles!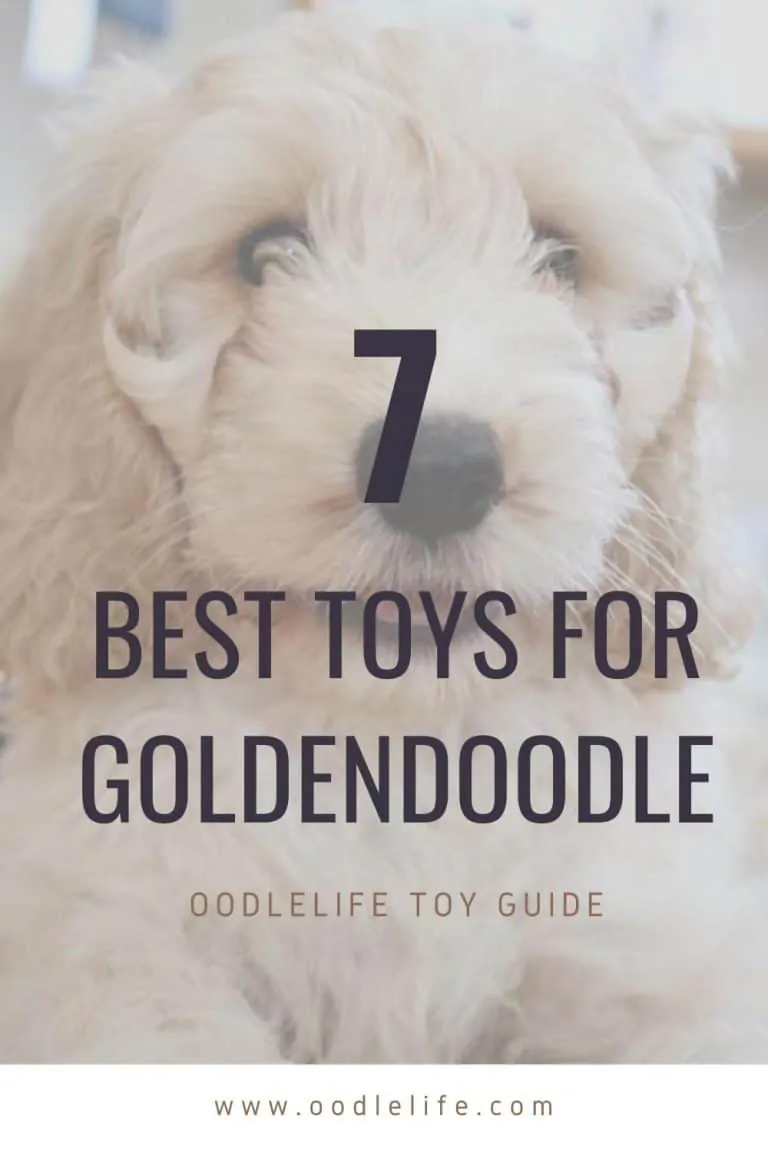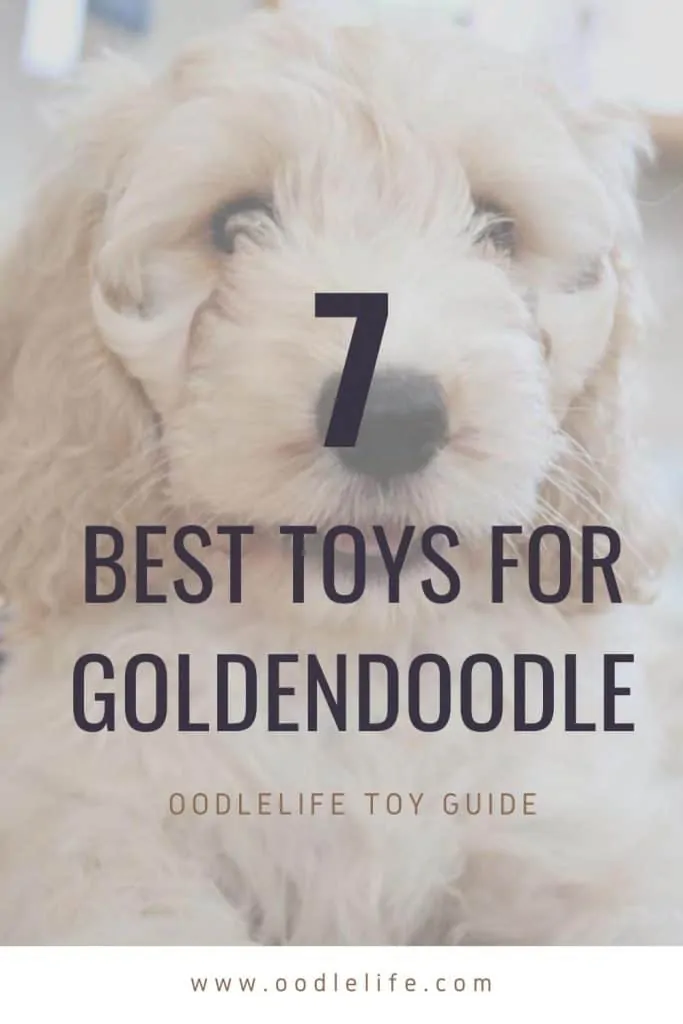 The 7 Best Dog Toys For Goldendoodles
We have picked out some of the best toys for Goldendoodles below. These toys are designed to meet the exercise and playtime need of your Goldendoodle.
Picking the BEST Toys for Goldendoodles
Making their debut in the 1990's, Goldendoodles are one of the most loved dog breeds in the US, Canada and Australia. They're a Poodle Mix cross between a two smart breeds, the Golden Retriever and the Poodle.
The combination makes them a great breed that is generally low maintenance. However, they require a lot of play time and exercise.
They are a popular breed due to their intelligence, loving nature and coat which is hypoallergenic. Although like any dog, without proper exercise they can become destructive and could potentially have health issues such as obesity.
This is why it's extremely important to take your Goldendoodle on regular walks and provide them with plenty of toys.
What Toys For Goldendoodle
Due to the breed's high intelligence one toy is unlikely to meet all of a Goldendoodles needs. An owner should provide a variety of toys with different purposes to keep the dog engaged and coming back for more. Here are a couple of things to think about when buying a toy for your Goldendoodle:
Challenge their mind as well as their body. They will become bored very quickly if you only offer them toys with the purpose of exercise. Look for toys that will keep your Goldendoodle consistently challenged such as a puzzle toy.

Even a simple frozen treat like a stuffed Kong can entertain a dog and keep its mind busy for ages.

Remember that they will teeth and if they are no longer teething their teeth still need to be cared for. Look for toys that have grooves and specifically state they are good for your dog's gums. A good tip is to put your dog's toy in the fridge before giving it to them. By doing this you will help the sooth the soreness associated with teething.
Only buy dog specific toys. Never give a child/human toy to your dog, especially a Goldendoodle. They have strong jaws and sharp teeth.

They will tear a toy to pieces very quickly and if there are beads inside or on the doll they have the potential to choke or harm your dog.
Super tough chew toys like Kong's are popular for this reason.

Try to surprise your dog by getting something new. If you buy a Goldendoodle the same toy over and over again, they will get bored.

There are so many different types of toys to pick from. Fetch toys, chew toys, rope toys, and puzzle toys. Pick the best toys for Goldendoodle carefully.
With so many options your Goldendoodle will be happy, healthy, and feel mentally and physically stimulated.
Picking a toy for your Goldendoodle can be challenging because they have specific needs for play. It may require a little bit of trial and error but just because your dog doesn't like a toy today doesn't mean they wont like it tomorrow.
A Goldendoodles energy has no bounds. They will always find a way to entertain themselves, this is why it's so important to provide them with enough chewing and puzzle toys.
This stops them from dispersing their energy on activities such as eating shoes, scratching at furniture or chewing on anything they can find.
Chewing can be dangerous if you have power cords running from your electronics to the wall.
A bored Goldendoodle can also have a problem with excessive barking. Physically and mentally exercising your dog will limit the risk of problem barking.
Best Rope Toy For Goldendoodle Chewers
When buying a rope toy for a Goldendoodle you want to limit the amount you spend, but also get a tough and durable rope. Value comes from finding a middle ground.
All rope toys will eventually deteriorate a little, but if you pick well you can find budget friendly options that can last months or years.
Otterly Pets Puppy Dog Pet Rope Toys - Medium to Large Dogs (5-Pack)
FIVE HIGH QUALITY LARGER ROPES For Your Best Friend - Perfect for Tug of War, Toss and Fetch Games, and Teething Dental Health. Built Tough to be Chew Resistant and Durable (but NOT Indestructible and...
BEAUTIFUL UNIQUE MATCHING Custom Color Assortment Value Pack Set is Sure to Delight you and Your Dog. Variety Package Includes 1) 4 Knots 22.5 Inch Rope, 2) 6 Inch Ring, 3) Figure-8 With Chewable...
WASHABLE 100% COTTON FIBERS for Your Family Member's Health and Safety. Take Them Outside and do Jump Exercise With Your Hound Knowing That Cleaning the Big Strong Assorted Bundle of Toys is Easy....
Cotton CLEANS TEETH and MASSAGES GUMS and Can Help Fight Plaque Build-Up. Great Gifts for any Breed of Medium to Large Dogs. RECOMMENDED for 40 to 90 Pound Dogs
BACKED BY OTTERLY PETS No-Hassle Lifetime Warranty. Unsatisfied For Any Reason? Let Us Know and We'll Make it Right!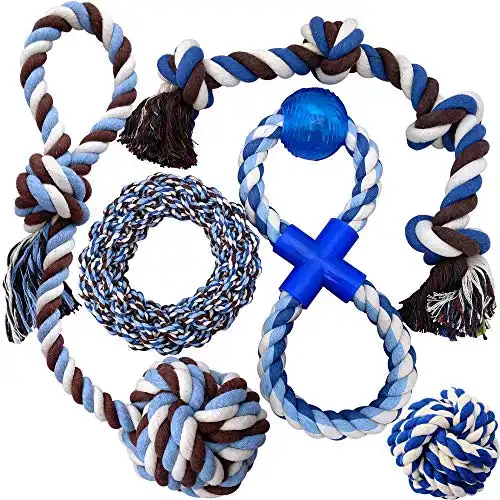 We earn a commission if you make a purchase, at no additional cost to you.
The Best Dog Bones for Goldendoodles
Taking a slight detour from toys – but there is one type of treat and food reward that is ALSO a great mental toy for your Goldendoodle. Bones!
Deciding which are the best type of dog bone for a Goldendoodle is tricky.
Dogs love bones, and Goldendoodles love bones. But there are certain types that are dangerous to dogs.
Risks of bone chewing are real and should be considered. The bone itself can splinter or chip and dig into the gums of your dog. Also if your Goldneododle has bad gums or weak teeth they can make one of their own teeth loose by chewing, or even break a tooth in half!
The other factor to consider is practical. This is because the safest all round type of natural bone for a dog is a beef or deer bone that is raw. Not a lovely smelling thing to have around in hot weather!
Raw bones are safe because they are less likely to splinter
Cooked bones can splinter and create sharp shards that might hurt your Goldendoodle
Smoked bones are safe when done correctly – but you may need to supervise your dog until you know how they eat the smoked bone
Positive Benefits of Dog Toys
Toys can be a great way to bond, establish trust and train your Goldendoodle. Purchasing some toys are some of the best things for Goldendoodles you can get. The value of quality toys being used as part of bonding and training is very high.
People often wonder what are the best things to buy for a Goldendoodle puppy once they have the basics down.
Well it is toys… but specifically great quality toys that will last a long time and exercise the body AND MIND of the dog.
Groodles are great athletes, so they love tug-of-war, hide-and-seek, and fetch. Make sure to reward your doodles good behaviour with delicious treats so they will learn what is good and bad play behaviour.
Then once you have worn them out, your Goldendoodle will happily curl up on the lounge with you and settle into a night of cuddles and Netflix.