33 Best Goldendoodle Gifts (for both Dog and Goldendoodle Parent)
Do you know a Goldendoodle parent who can never have enough pet-inspired goodies? Are you looking to buy a new toy for your beloved Goldendoodle pup?
Trying to find the perfect gift for Goldendoodle lovers can be exhausting. With so much stuff to choose from, you could lose your way.
Luckily, the hard part's over. We have sniffed out the best gifts for you, paw parents! Let's take a closer look at these amazing Goldendoodle gifts. (If you are adopting a new Goldendoodle – check out our list of 103 awesome Goldendoodle names!)
Pawfect Gifts for Goldendoodle Owners
Here's a list of the best Goldendoodle inspired gifts that will endear you to pet owners. They will appreciate presents that are personalized, handmade, or practical.
#1. Goldendoodle Pillow
Add a touch of whimsy with a Goldendoodle pillow. This huggable gift would look great propped up on a couch, garden swing, or bed. You can get a pillow with a stock photo of a Goldendoodle or use a photo of your friend's pet for the design. What's more, you can customize it with the puppy's name and birthday.
#2. Goldendoodle Welcome Mat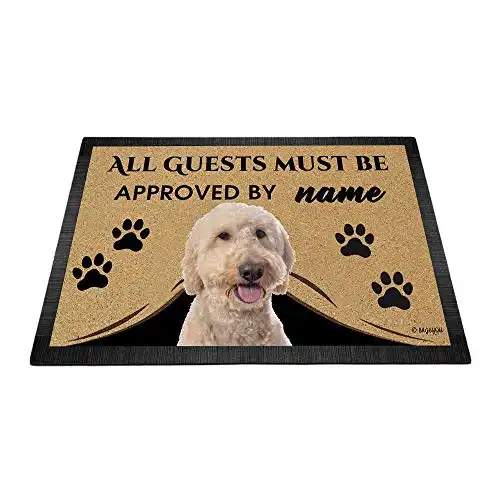 Let anyone who visits your home know how much you love your Goldendoodle with a Goldendoodle welcome mat. There's a plethora of patterns and colors to choose from.
Want to get a laugh? Some welcome mats have witty or funny messages on them. You can even choose your preferred shape, including an adorable bone-shaped welcome mat.
#3. Goldendoodle Cookie Cutter
Do you know a paw parent who loves to bake? If so, a Goldendoodle-shaped cookie cutter is the perfect gift. It can be used to bake choco-chip cookies or pet treats for any occasion.
The best part? You may even end up with freshly baked treats from the grateful recipient. Not a baker? Wrap this cookie cutter in red and green ribbons, then hang it on your Christmas tree to create a Goldendoodle theme.
#4. Goldendoodle Wall Art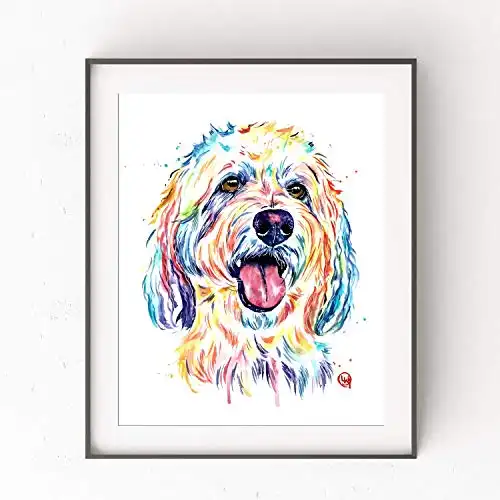 Surprise your fellow Goldendoodle fan with gorgeous artwork that features their beloved canine. Give them artwork that can be hung in the living room or bedroom. Make sure you choose a design that will seamlessly blend with their existing interior design. Proud pet parents will surely appreciate a custom piece.
#5. Goldendoodle Socks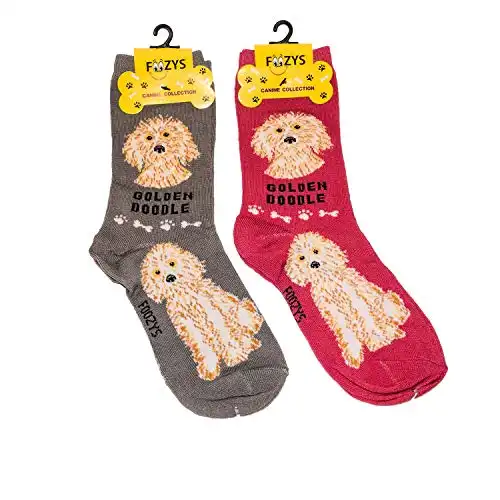 What is a better gift than a cute pair of Goldendoodle socks? Your friend can wear this cozy footwear while cuddling their pups and binge-watching dog movies on Netflix. Select a Goldendoodle pattern in their favorite color and see the reaction on their face. During the holidays, these can double as chimney stockings that you can stuff with small items from Santa.
#6. Goldendoodle Tote Bag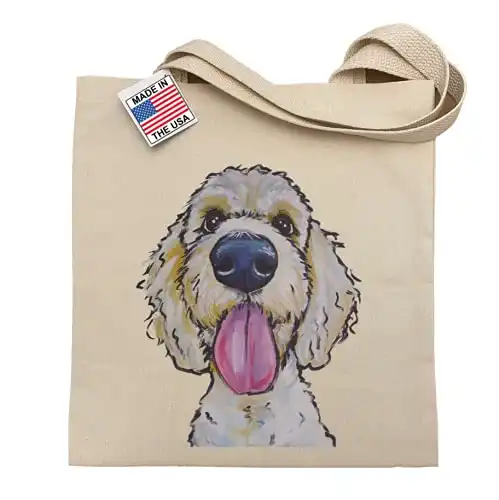 Goldendoodle tote bags are perfect for a grocery run and other errands. Your friend will surely find it useful for pet supplies when they take dogs to the park. Always choose bags that are sturdy and roomy enough to hold everything.
Why not buy a Goldendoodle tote bag for yourself as well? Then, gift a matching one to your friend. Twinning for the win! As with most products, you can customize the design of this tote.
#7. Goldendoodle Towels
If you are going to the beach with your Goldendoodle, why not carry a Goldendoodle towel along? These dog-themed towels come in a variety of sizes and colors. Even better, choose a material that's quick-dry for a trip to the gym or pool.
You can also give a Goldendoodle kitchen towel to paw parents. This will surely inspire them as they try new recipes for dog treats.
#8. Goldendoodle Figurines
A Goldendoodle figurine is yet another gift that your friend will be keen to show off. They can display it on a study table, bedside stand, or on the mantelpiece. Better yet, give a cute bobbing head figure that's designed for a car dash.
#9. Customized Cookie Jars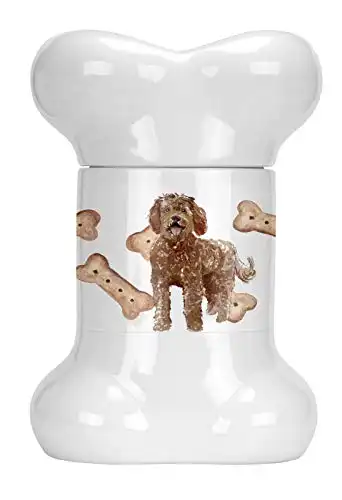 If your friend wants to stick to a Goldendoodle theme at home, why not buy a customized cookie jar? These cookie jars have shapes and patterns inspired by canines. They also come in a wide range of sizes. Colored glass is always a sure bet.
Don't forget to fill it up with cookies or candy to satisfy that sweet tooth.
#10. Goldendoodle Plush Stuffed Toy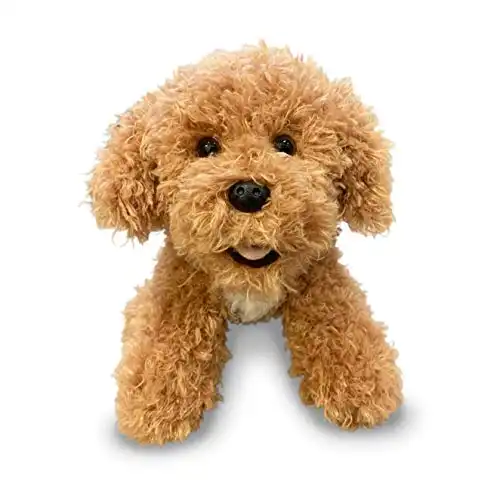 These super soft and fluffy playthings are great for snuggling. You can select from teeny-tiny plushies to life-sized stuffed toys. They make great presents for kids.
For even more cuteness, ask your friend to take a picture of their actual Goldendoodle sitting beside the Goldendoodle plush toy. It would be an Instagram-worthy moment.
#11. Goldendoodle Umbrella
Do you hate going out for work while it is raining cats and dogs? We know everything might seem dull and gloomy, but it will not be if you have a Goldendoodle umbrella with you. With it, paw parents can stay nice and dry while showing off their puppy love. You can get these umbrellas customized with the dog's name or photo.
#12. Goldendoodle Zipper Pouches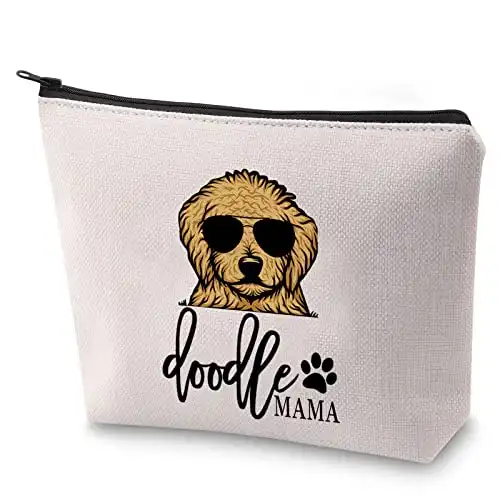 A Goldendoodle zipper pouch is perfect for storing or carrying essentials. These zipper pouches are available in different sizes. They can hold coins, toys, crafts supplies, eyeglasses jewelry, pencils, games—the options are endless. If you are good at sewing, you can create these on your own based on patterns available online.
#13. Goldendoodle Coffee Mug
What better way to start the day than having a cup of joe in a Goldendoodle mug? If you know a Goldendoodle lover who also happens to be a caffeine addict, look no further. You can also use these mugs to serve hot chocolate or tea.
As with the other gift ideas on this list, customize this mug to make it extra special.
#14. Goldendoodle Oven Mitts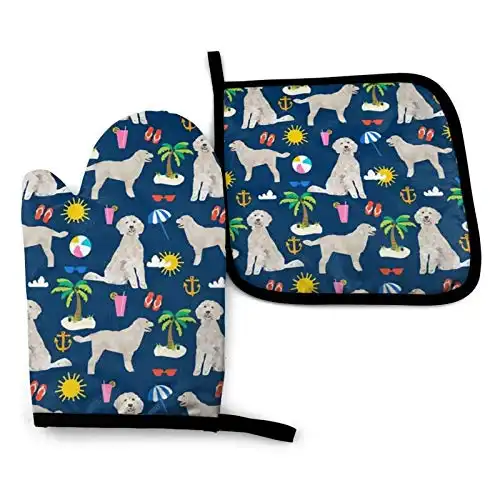 Here's a practical gift idea for Goldendoodle moms and dads who love to bake. These can be used to move around hot pots and pans while cooking. Heat-resistant Goldendoodle mitts are sure to make chores safe and fun.
#15. Goldendoodle Calendar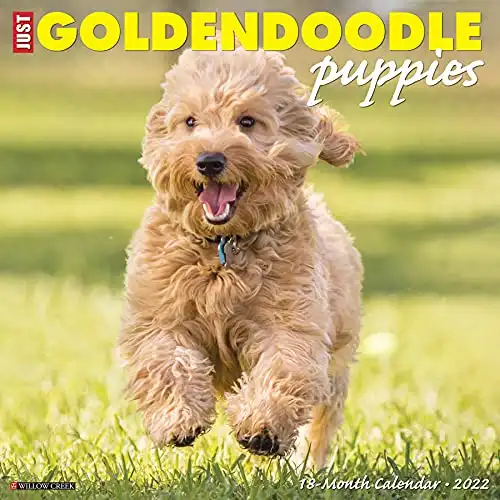 Goldendoodle calendars are another useful gift. It can be kept on a desk at home or in the office. Your friend can use it to keep track of puppy playdates. Each month can feature a cute Goldendoodle pose that's guaranteed to banish work stress. It's a nice reminder that there's a loyal companion waiting at home.
#16. Goldendoodle Jewelry
Take your gift-giving to the next level with Goldendoodle jewelry. Buying jewelry shows a deeper level of care than other presents. You have a wide array of options: necklaces, pendants, rings, or earrings. Surprise a paw parent with a piece in gold or silver, or get one with a birthstone or name engraving.
Pet-inspired jewelry doesn't have to be expensive. What matters is selecting a design and material that matches the recipient's preferences.
#17. Goldendoodle T-Shirts
Do you have a lot of people on your gift list? This is one of the most versatile and affordable items for gift-givers. T-shirts are appropriate for any age, gender, or size. Plus, they can serve as comfy sleepwear or exercise attire. Your friends will enjoy donning a Goldendoodle T-shirt when going out for dinner or a walk.
#18. Goldendoodle Beanie Caps
Flaunt puppy love during colder months with Goldendoodle beanie caps. These are the perfect last-minute gift for a pet owner. They may not be the height of fashion, but they can keep recipients warm while outdoors.
#19. Goldendoodle Laptop Sleeve
Laptops have become commonplace in offices, schools, and homes. If your colleague happens to be a Goldendoodle parent or fan, why not give a laptop sleeve that matches their passion? This thoughtful gift will brighten their day. You may even purchase dog-inspired art from independent artists and get them printed on the laptop sleeve.
#20. Goldendoodle Keepsake Box
There's nothing like physical items to keep memories alive. That's why a pet parent would love to get a keepsake box with a Goldendoodle design. It can be used for storing photos (I enjoyed this guide on taking good pet photos), documents, and other pet-related memorabilia. This box can also be used for jewelry and other small items. 
Gifts for Goldendoodles
If you are looking for gifts for a Goldendoodle, we have you covered. Goldendoodles require training supplies, treats, and toys to get them going.
Here is a list of the best Goldendoodle gifts you can buy for your fur baby.
#1. Dog Crates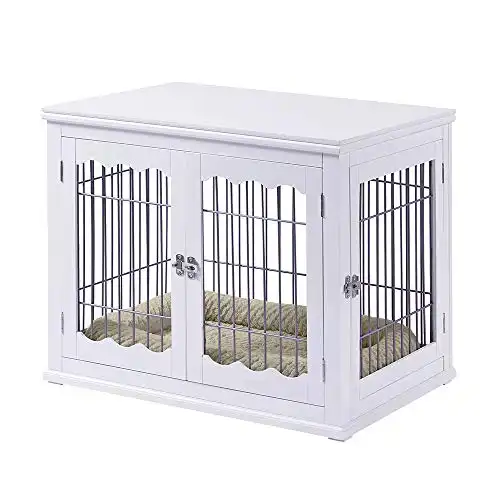 Crating helps your Goldendoodles feel secure and relaxed. The tight space helps reduce separation anxiety and stress. You can choose between soft and hard crates. Make sure you get a dog crate that matches your home aesthetics.
A playpen is a crate that is big enough for your Goldendoodle to play around with. You can gift your Goldendoodle a playpen and keep its food bowl, water bowl, and favorite toys inside. This way, your pet can keep itself busy while you are working.
See the best Goldendoodle Dog crates here.
#2. Pee Pads
If you are a new Goldendoodle parent, pee pads are essential. Puppies have little control over their bowels. It takes time for them to be potty trained, so these pads will save your furniture from accidents. This handy tool is also a great gift for older dogs.
Pee pads are filled with an absorbent material that helps you clean up easily. You can also buy charcoal-infused pee pads that prevent odors and leaks. It's surely a non-negotiable requirement for owning a young Goldendoodle.
#3. Dog Harness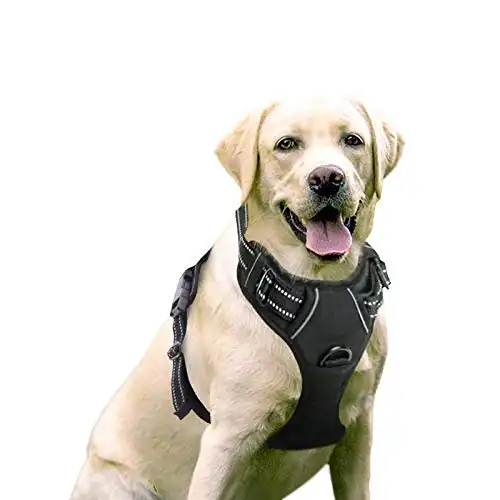 A dog harness is a better option than dog leashes because they put less strain on your pet's neck. It also makes it easier to train and manage a Goldendoodle puppy who has not yet learned to walk on a leash. You can choose from a myriad of colors, patterns, and materials. Just make sure it fits your pet perfectly.
#4. Puppy Training Treats
Positive reinforcement is the ideal approach for training your Goldendoodle. Otherwise, you may reap the consequences of harsh words or punishment.
Instead, offer delicious dog treats as a reward for a Goldendoodle that has been behaving well. Your puppy soon learns that good behavior equals yummy treats. Puppy training treats come in various flavors.
#5. Edible Dog Chew
Puppies mostly chew on things to relieve pain during the teething process. They also chew on anything they find because they are naturally curious or bored. Edible chew treats are safe, delicious, and last long. They distract puppies from chewing on shoes and household items. It is the perfect gift for Goldendoodle puppies and dogs.
We list the best dog chews on the market in our guide here. Yum yum!
#6. Natural Tearless Dog Shampoo And Conditioner
Many wellness brands provide natural, tearless dog shampoos and conditioners that will keep your Goldendoodle's fur healthy and smooth. It even helps soothe your skin and that of Goldendoodle puppies. A good conditioner also makes it easier for you to brush your Goldendoodle's fur.
Whether you want all-in-one or ultra nice smelling – our Goldendoodle shampoo guide has you covered.
#7. Low-Noise Pet Clippers
A low-noise pet clipper is another brilliant gift for your Goldendoodle. With it, you can clip their nails without scaring or hurting them. You can choose either a fine or a skip tooth variety. The Skip tooth variety has wider teeth that help cut through matted fur without actually pulling it.
Find the best dog clippers for Goldendoodles in our guide here.
#8. Dog Toys
Dog toys include plush toys, fetch toys, squeaky toys, and much more. These toys will keep your Goldendoodles active, entertained, and happy. Choose a toy that is best suited for your Goldendoodle.
#9. Dry Dog Food
Dry dog food from a recommended brand can be your next choice for a Goldendoodle gift. Dry dog food is crucial to dogs for bone and muscle development, nutrition, and wellness. Choose a dry food that is both delicious and easy to digest for your puppy.
We wrote extensively about the best dry food for Goldendoodles in our guide here.
#10. Non-Skid Dog Food Bowl
Puppies usually tend to flip or play with their bowls. Anti-skid bowls are the perfect choice for your Goldendoodle. You can also choose a bowl with no-spill and anti-skid features. These have raised edges so that food does not fall out of the bowls.
#11. Dog Oral Care Kits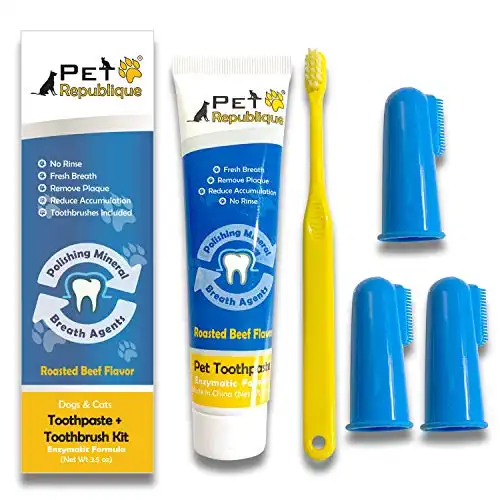 Dog oral care kits are perfect gifts for your furry friend. Their oral hygiene and health must be maintained to prevent any oral issues. Oral care kits usually include an angled dog toothbrush, dog toothpaste, and dental liquids.
Dog toothpaste is available in different flavors your Goldendoodle would love. Dental fluids are necessary to prevent and reduce any plaque. Dog toothpaste flavors include peanut butter, bacon flavor, and many more.
#12. Slow Feeder Dog Bowl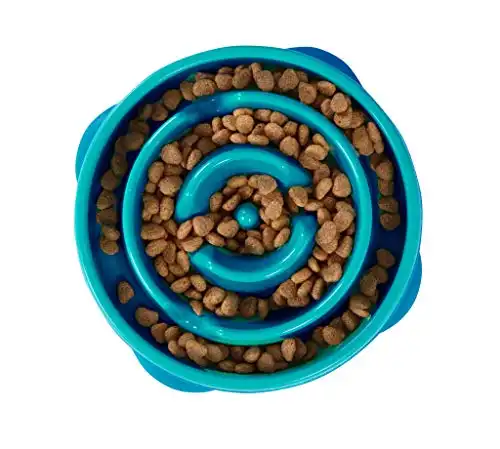 These cleverly designed bowls have puzzles that slow down your Goldendoodle while eating. If your puppies consume too much food, they might throw up or gain excess weight. You can help your pet avoid excessive eating and stay healthy.
Conclusion
These cute little munchkins bring so much joy and love into our lives. It's time to give it back with specially chosen treats that both pets and their parents will enjoy. You can't go wrong with these Goldendoodle gifts that show you care.