8 Best Shampoos for French Bulldogs (2023 Update!)
Although French Bulldogs have shorter coats than some dog breeds, they still have their fair share of coat care problems. For instance, Frenchies are prone to many skin problems, from dry, flaky skin to excessive shedding, commonly caused by environmental and food allergies. You'll need quality shampoo to manage these issues. 
Finding the right shampoo for your dog's needs can feel overwhelming, so I've compiled this list of my top picks for the best shampoo for French Bulldogs to simplify your search.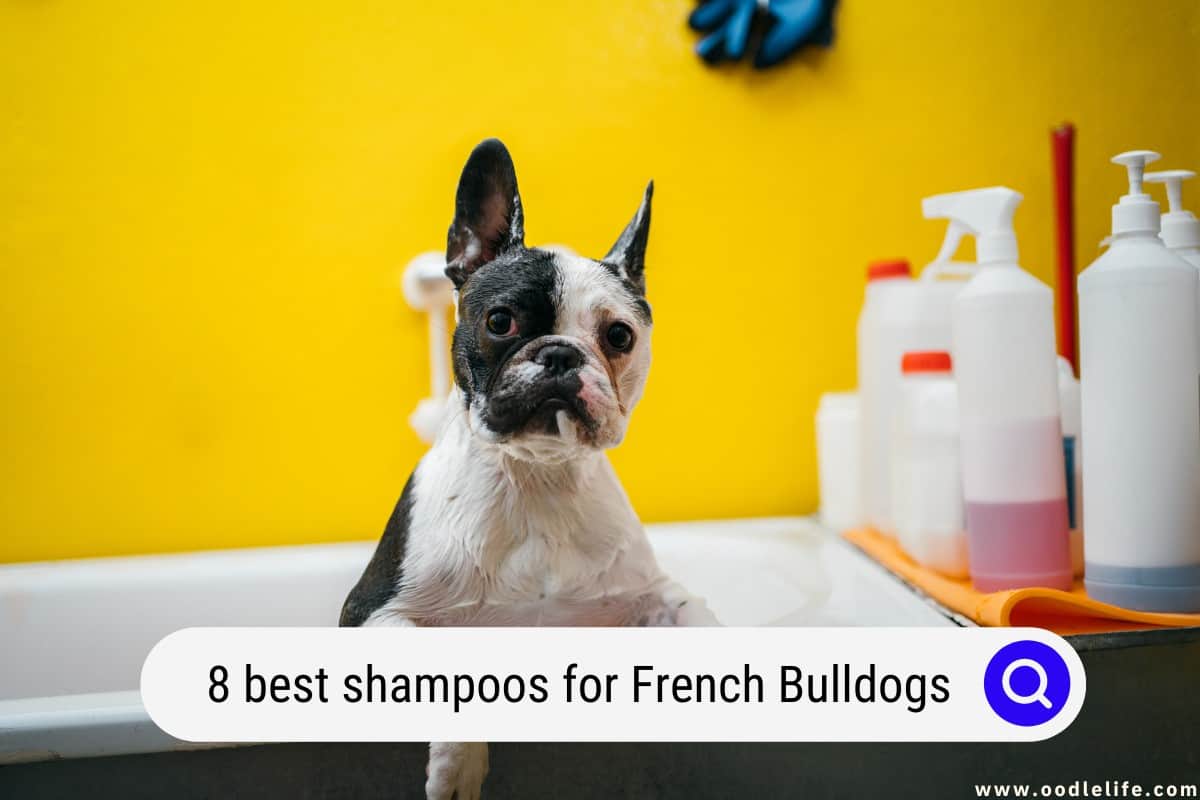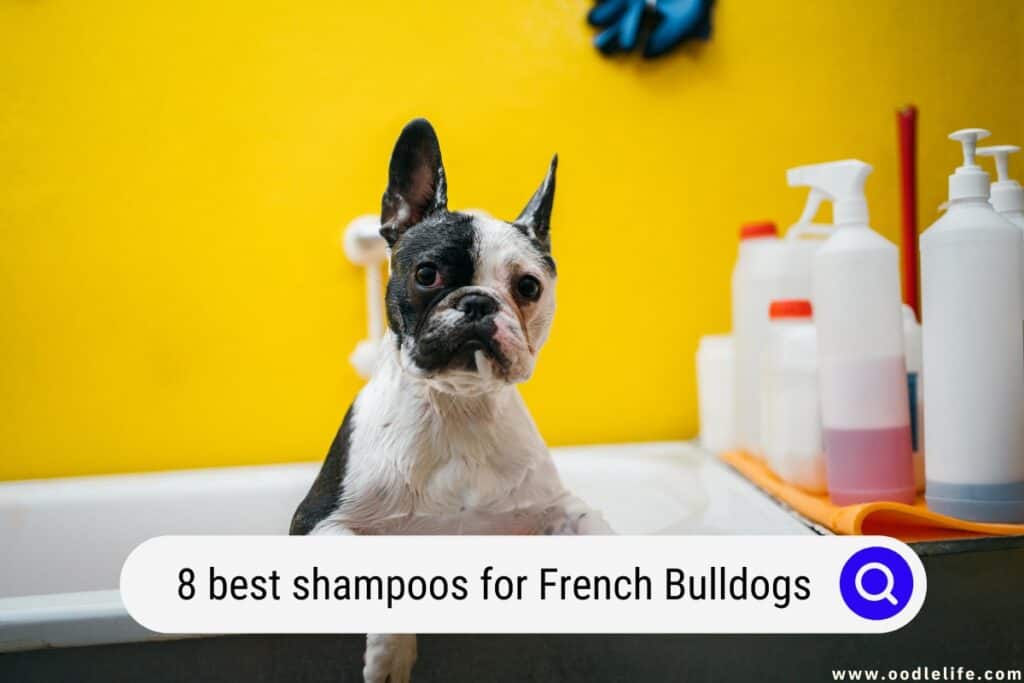 Overall Best Shampoo for French Bulldogs – Natural Dog Company Itchy Dog Shampoo
My best overall pick for the best shampoo for French Bulldogs is Natural Dog Company Itchy Dog Shampoo. Its formula has natural ingredients, like aloe vera, lavender oil, kelp powder, and jojoba oil, that help eliminate odors and hydrate your Frenchie's coat and skin.
Natural Dog Company Itchy Dog Shampoo (12oz) | Natural and Hypoallergenic | Non-Toxic and Paraben-Free | Dog Shampoo for Itchy Skin Relief and Coat Health | Hydrates, Soothes and Heals Irritations
DOG SHAMPOO FOR SKIN IRRITATIONS: Includes (1) 12 oz. bottle of Natural Dog Company Itchy Dog Shampoo that washes away skin irritants while giving a cool, soothing feeling to restore healthy skin.
HYDRATES & SOOTHES ITCHY SKIN: A deep-cleaning specially formulated shampoo to help pups with recurring or severe common skin issues like allergies, bug bites, rashes, and other skin irritations.
ALL-NATURAL INGREDIENTS: Our special formula of lavender oil, eucalyALL-NATURAL INGREDIENTS: Our special, lightly scented formula of lavender oil, eucalyptus oil, jojoba oil, and aloe vera provides deep-cleaning and odor-eliminating relief for skin issues.
DEEP-CLEANING & HYPOALLERGENIC:Our dog shampoo for allergies and itching works great for all breeds, ages, and sizes to provide a clean coat and healthy, healed skin.
MADE IN THE USA: Our soothing formula is free of sulfates, parabens, alcohols, toxins, and artificial fragrances to help balance your dogs skin. It works best when paired with our Skin Soother organic healing balm.
The formula doesn't contain sulfates, parabens, or artificial fragrances that can harm your dog, making it one of the safest shampoo options for French Bulldogs of any size, coat condition, and age. 
Its hypoallergenic properties make it the perfect solution for French Bulldogs with extra-itchy skin caused by allergies. It doesn't have an overbearing aroma, but it wears off quickly. It needs plenty of soap to lather up, so consider measuring it carefully.
Pros:
Relieves excessive itching
Contains skin-hydrating kelp powder, jojoba oil, and aloe vera
Hypoallergenic properties
Cons: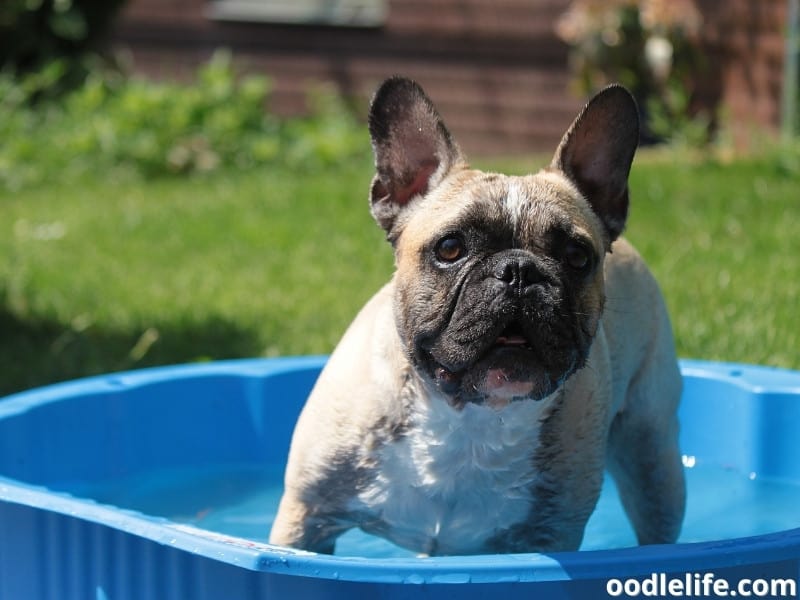 Best Tearless Shampoo – Aroma Paws Dog Shampoo and Conditioner
French Bulldogs have sensitive eyes, so finding a shampoo that won't irritate their eyes while washing their face might be challenging for some owners. Then, consider using Aroma Paws Dog Shampoo and Conditioner to maintain your French Bulldog's coat and skin.
Aroma Paws Dog Shampoo and Conditioner - Tearless Shampoo for Cleansing, Grooming, and Conditioning - Hot Spot Treatment Shampoo for Dogs and Puppies - Lavender and Neem 13.5 oz
Powerful Formula: Made for pets that suffer from skin problems. Blended with the simplest combination of conditioning extracts and oils to gently clean and treat your dog's skin and coat
No Tears: This tearless formula is great for face washing on dogs of any age, as it won't irritate the eyes and would make bathing a pleasurable experience
No Harsh Chemicals: This dog and puppy shampoo contains lavender and cold pressed neem oils to calm and soothe hot spots, areas that your dog has been biting or sensitive skin
Made for All: This dog and puppy shampoo is pH balanced and formulated to be effective yet sensitive enough for all breeds and ages
Made in the USA: All products from Aroma Paws are proudly made in the USA under strict quality control standards, offering natural benefits for furry friends, pet parents, and the environment
This tearless, pH-balanced shampoo moisturizes your dog's skin and is safe to use for French Bulldogs of any age. Its formula contains natural ingredients and pro-vitamin B5 to relieve skin and coat dryness.
Although it's available in several fragrances based on the essential oils used in its formula, some aroma options are more suitable for dogs prone to skin allergies or hot spots, such as their Fragrance-Free and Lavender and Neem varieties. Texture-wise, the shampoo can feel soggy, but it lathers well.
Pros:
Doesn't contain harsh chemicals
Affordable
Available in many scents
Cons: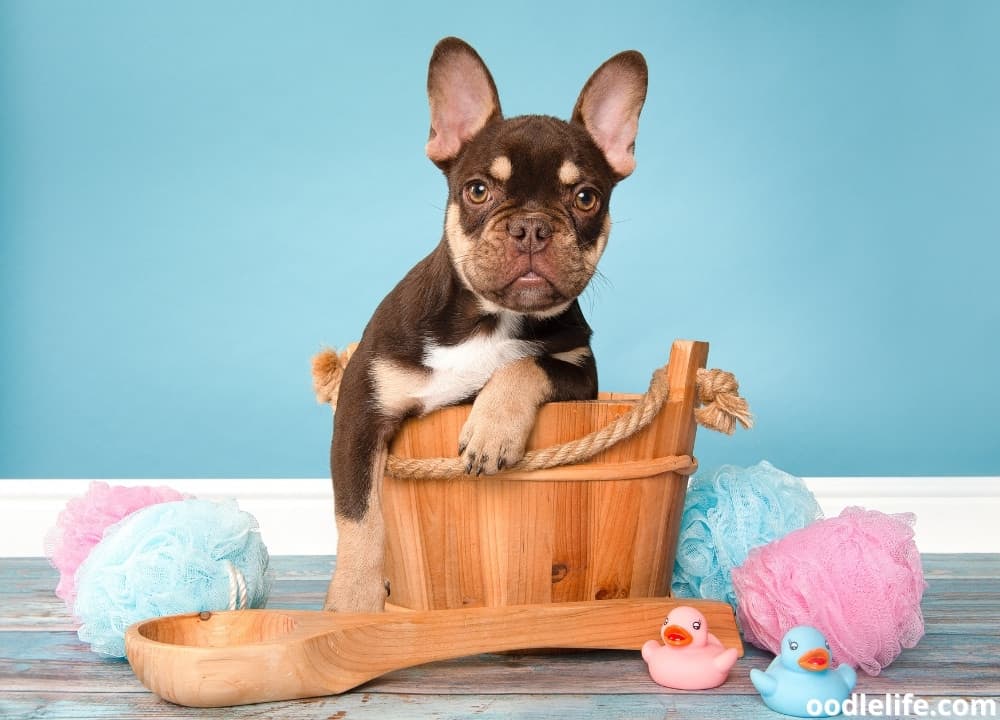 Best Shampoo for French Bulldog Puppies – Veterinary Formula Solutions Puppy Love
If you're looking for the best shampoo for French Bulldogs, finding one suitable for younger dogs can be frustrating, no matter your budget. Thankfully, Veterinary Formula Solutions Puppy Love offers gentle cleansing capabilities for any French Bulldog puppy's coat condition.
Sale
Veterinary Formula Solutions Puppy Love Extra Gentle Tearless Shampoo, 17 oz – Safe for Puppies Over 6 Weeks –Puppy Shampoo with Fresh Scent, Long-Lasting Clean – Cleanses Without Drying Delicate Skin
EXTRA GENTLE – Recommended by vets for puppies first year, Veterinary Formula Solutions Puppy Love Extra Gentle Tearless Shampoo is sulfate and DEA-free. This puppy shampoo cleanses without drying out delicate skin and leaves coat soft and fluffy
TEAR-FREE FORMULA – Mild enough for puppies over 6 weeks, the tearless puppy shampoo will not burn or irritate the eyes
LONG-LASTING SCENT – The clean, fresh scent of the gentle shampoo for puppies is reminiscent of baby powder. It is light and not overpowering but remains after bath time is over
FORMULATED FOR PUPPIES – Puppy Love extra gentle shampoo is specifically formulated, and pH balanced for puppies over 6 weeks. It is gentle enough for frequent use and will not wash away topical spot-on flea and tick treatments
EFFECTIVE & AFFORDABLE – Veterinary Formula Solutions products are created with premium ingredients but available at a price that pet parents can afford. We know your dogs and cats are more than just pets, because we are pet parents too
It's safe for puppies over six weeks old, has tearless properties that won't irritate your puppy's eyes, and has a subtle baby powder fragrance that isn't overpowering and keeps your pup smelling fresh for days.
Like most puppy-friendly shampoo, it doesn't contain sulfates or DEA. As a result, it won't dry out your Frenchie's skin after continuous use and won't wash away topical flea or tick treatments. However, it can be hard to rinse after lathering it onto your puppy.
Pros:
Safe for younger dogs
Subtle baby powder fragrance
Doesn't dry out skin quickly
It won't wash away topical skin treatments.
Cons:
Hard to rinse after lathering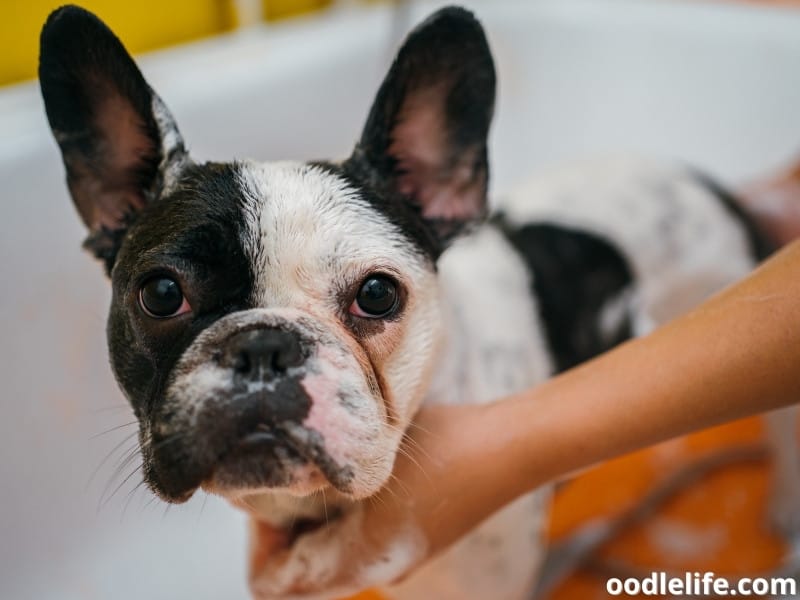 Best 2-in-1 Shampoo for French Bulldogs – Warren London 2-in-1 Pet Shampoo and Conditioner
If you prefer saving time when washing your French Bulldog, Warren London 2-in-1 Pet Shampoo and Conditioner is an excellent option to consider while shopping for quality pet supplies. 
Warren London 2 in1 Pet Shampoo and Conditioner for Dogs, Puppys, & Cats | Best Puppy Shampoo and Conditioner for Dry Itchy Skin | Dandruff Shampoo for Cats & Dogs | Made in USA | 17oz
Conditioning Pet Shampoo For Dogs - All-in-one formula with Shea Butter dog skin conditioner leaves coat shiny and makes this the Best Shampoo for Dogs with Itchy Skin - Great dog and cat dandruff shampoo and conditioner
Works on All Coats - Safe as a cat shampoo and conditioner, and also works as a puppy shampoo and conditioner for small dogs and big dogs alike - Premium moisturizing soap for sensitive skin.
Soothing Coconut Scent - This coconut dog shampoo and conditioner leaves the stinkiest of pets smelling clean and refreshed without overpowering. Great dog shampoo for smelly dogs!
Professionally Formulated - Warren London dog shampoos are developed by high-end groomers to create a rich lather for use on all types of coats
Made In The USA with Premium Ingredients- Infused with shea butter, coconut, vitamin E, and plant proteins - Contains NO SOAP, DETERGENTS, or PARABENS- Will not disrupt topical flea preventives
This professionally-formulated shampoo lathers well, making it easier for owners to wash every area of their French Bulldog. Consider letting it sit on your dog for five to ten minutes for the most effective results.
We also like this formula because it conditions dogs' coats with shea butter to keep them shiny and soft. It's an effective shampoo for reducing itchiness.
It doesn't wash off topical flea treatments, doesn't contain detergents or parabens, and has a light coconut-scented fragrance. Other natural ingredients incorporated into its formula include vitamin E and plant proteins. 
Pros:
Made with plant proteins and vitamins
Keeps coat shiny and soft
Light coconut-scented aroma
Cons:
The scent might not appeal to some people.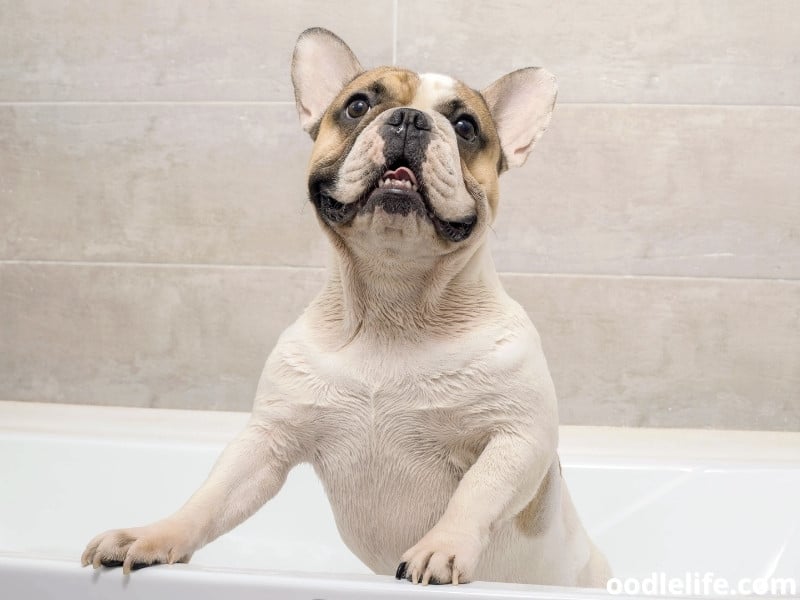 Best French Bulldog Shampoo for Deodorizing – NaturVet Hemp Deodorizing Shampoo
The best shampoo for French Bulldogs with foul facial fold odors is NaturVet Hemp Deodorizing Shampoo. This hypoallergenic shampoo is ideal for dogs with sensitive skin. This shampoo is one of our top options because of its gentle cleansing properties and sweet smell.
Finding a shampoo without harsh aromas can feel overwhelming for most dog owners, especially for ones with breeds prone to allergies. This NaturVet shampoo emits a natural honey and oatmeal aroma and incorporates coconut oil, aloe vera, and hemp seed oil for enhanced moisturizing properties. 
If you plan on using this shampoo for your dog, you'll need to be extra careful to keep it from getting into your Frenchie's eyes because it isn't tear-free.
Pros:
Sweet, natural aroma
Ideal for moisturizing sensitive skin
Cleanses smelly odors
Cons:
It can cause eye irritation.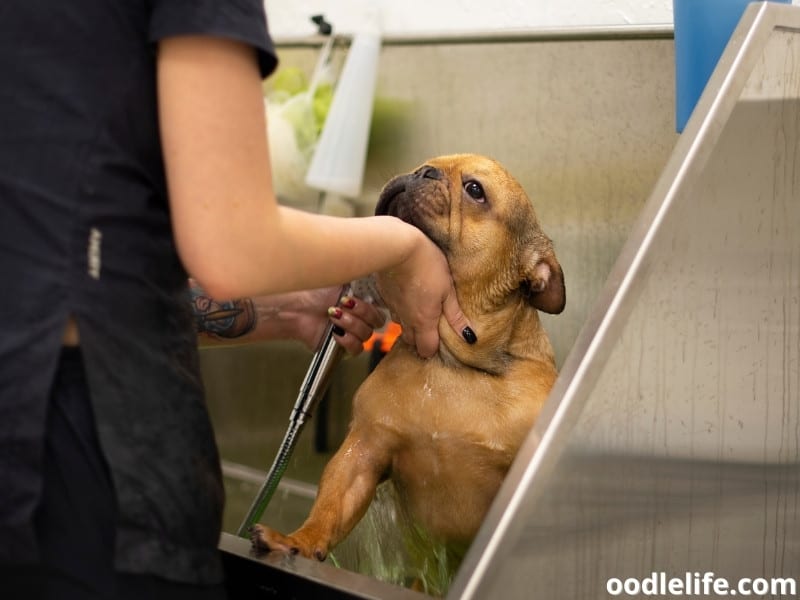 Best Shed-Free Shampoo – Natural Wunderz Pet Systems Pet Shampoo & Conditioner
French Bulldogs shed year-round, despite their short coats. However, they tend to shed more hair if you don't manage their skin allergies. Natural Wunderz Pet Systems Shampoo & Conditioner is an excellent solution for French Bulldog owners to consider for reducing their shedding while treating their skin.
Pet Shampoo & Conditioner, Shed Free 2-in-1, Oatmeal and Honey, Hypoallergenic, Vegan, Natural Extract, for Healthy Skin & Coat, 32 Fl Oz, for Dry Itchy Skin, All Breeds, by Natural Wunderz
2-IN-1 SHED FREE - Dog shampoo and conditioner controls shedding, for a soft luxurious coat. Contains no sulfates & no parabens, infused with 100% natural extracts
PROFFESSIONAL PET CARE SYSTEMS - Helps reduce excessive shedding, hypoallergenic, formulated with rich conditioners including wheat proteins and moisturizing aloe vera, delivering a concentrated infusion of vitamins and botanicals to restore healthy pet skin & hair follicles
OATMEAL AND HONEY TREATMENT* Oatmeal & Honey deliver soothing relief & healing dry, itchy, sensitive skin, for mattered hair while conditioning, softening hair & smelling fresh. Your family pet dog and cat will love it!
MORE FOR YOUR BUCK – Large 32 Fl Oz (946 ml) bottle offers exceptional value without sacrificing great quality. For all breeds, small and large size dogs, puppies, poodles, huskies, cats, rabbits, etc., contains natural organic ingredients, deep conditioning for healthy family pets
MADE IN USA - Bottled in Sunny California, this product is PETA cruelty free & vegan. We stand by the quality of our product and pride ourselves on guaranteed customer satisfaction or money back, part of sales proceeds will be donated to an animal rescue foundation and other non-profit organizations
This 2-in-1 shampoo soothes dry and itchy skin as it cleans and softens your French Bulldog's fur with honey and oatmeal treatments. In addition, it has deep conditioning properties suitable for dogs of any size, breed, and hair type. Other core ingredients include aloe vera and wheat proteins.
Pros:
Reduces shedding
Made with natural ingredients
Comes in a large 32-ounce bottle
Cons:
Limited fragrance options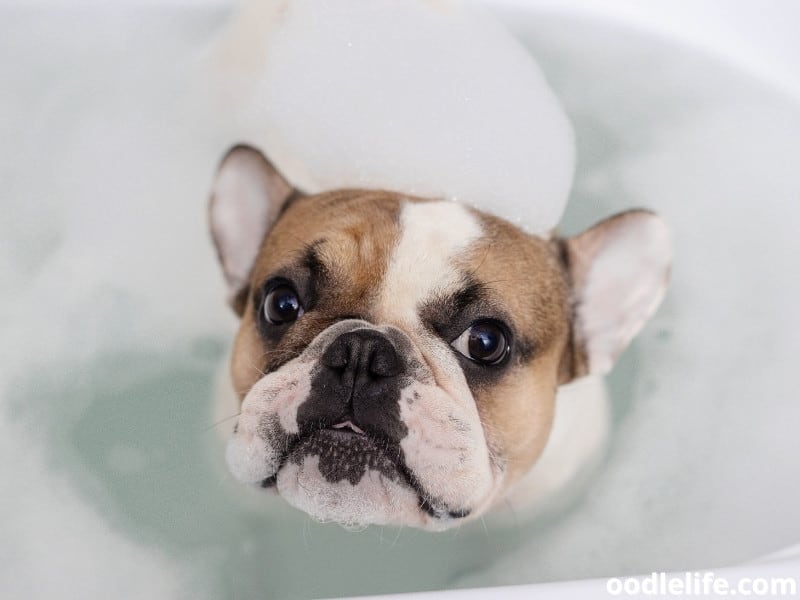 Best Medicated Shampoo for French Bulldog Skin Issues – VETNIQUE LABS Medicated Shampoo
Itching can indicate irritation caused by ringworm or hot spots, so you'll need special dog shampoo to treat it properly. VETNIQUE LABS Medicated Shampoo offers the best treatment for your French Bulldog's long-term skin issues.
Vetnique Labs Dermabliss Dog Allergy and Itch Relief, Skin and Coat Health Supplements and Grooming Supplies with Omega 3-6-9, Biotin - Ditch The Itch (Medicated Relief, 16oz Shampoo)
VETERINARY STRENGTH FORMULA - Dermabliss Medicated Dog Shampoo contain 2% Chlorhexidine which decreases bacteria on skin. They also contain 1% Ketoconazole that is designed to treat skin issues like ringworm and dry, flaky skin conditions.
PET SHAMPOO FOR DOGS and cats to reduce itching, irritated dog skin and provide soothing relief. This Chlorhexidine Shampoo with Ketoconazole is great for regular bathing, ringworm treatment for cats and dogs and hot spot treatment for dogs.
SOOTHING PET SHAMPOO – Dermabliss is not just an anti-itch dog shampoo, it also soothes and deodorizes the skin and coat with a PH balanced formula created by veterinarians. The rich lather rinses easily and leaves pets smelling fresh.
SAFE FOR DOGS AND CATS - Dermabliss Medicated Shampoos are safe to use on dogs and cats of all ages. For best results use in conjunction with Dermabliss Medicated Wipes and Dermabliss allergy supplements.
CREATED BY VETS FOR HAPPY PETS - Our Dermabliss veterinary formula dog shampoo, and all Vetnique Labs products, are created with the health and well-being of pets and pet parents in mind. Our products are MADE IN THE USA and recommended by veterinarians worldwide.
It contains 2% chlorhexidine and 1% ketoconazole. Dog owners will find these ingredients helpful for reducing odor-causing bacteria and combating their dogs' ringworm and flaky skin. Although many use it as a medical shampoo, it's also an ideal option for regular bathing routines. 
Its formula is soap-free, lathers well, and is easy to rinse. However, it can cause eye irritation if it gets on your dog's face and doesn't have as many natural ingredients as other shampoos. Consider washing your dog with it every few days for the best treatment results. 
Pros:
Excellent lathering properties
Eliminates odors
Can be used for regular bathing
Cons:
Can cause eye irritation
No notable natural ingredients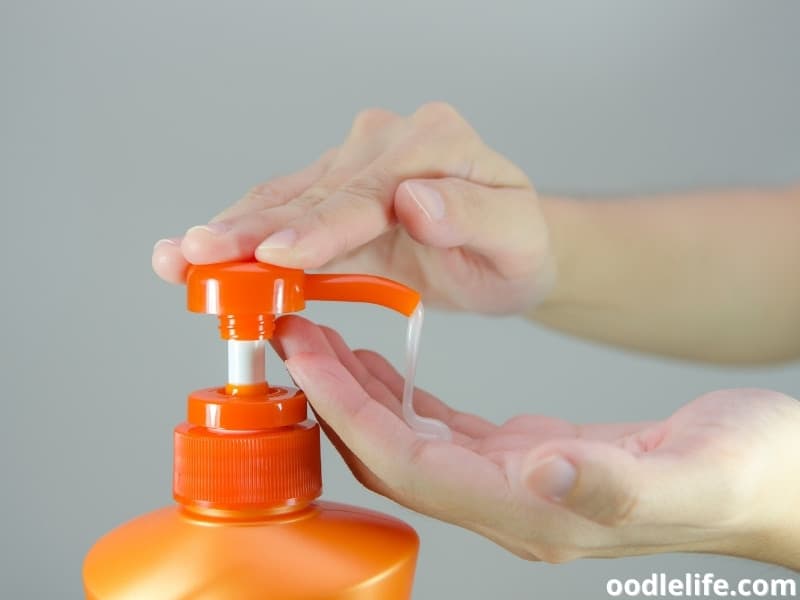 Best Budget Shampoo for Sensitive Skin – Healthy Breeds Oatmeal Shampoo with Aloe
Affordable and effective dog shampoo can be hard to narrow down. Still, we consider Healthy Breeds Oatmeal Shampoo with Aloe one of the best shampoo options for dog owners interested in saving extra during their search.
Healthy Breeds French Bulldog Oatmeal Shampoo with Aloe 16 oz
Provides relief for itchy, scaling and sensitive skin with the mild oatmeal and aloe formula! A gentle shampoo is more suitable for dogs with sensitive skin or allergies!
Hypoallergenic formula is safe for use with topical flea control treatments! Keep your dog fresh and clean with the delicious Pina Colada scent!
pH balanced! Healthy Breeds offers a high-quality oatmeal shampoo that is gentle and soap-free! Help restore natural moisture and emollients in your dog's skin and coat!
MADE IN THE USA! Buy with confidence! All shampoos made in federally regulated manufacturing facilities! Excellent customer service and return policy. 100% satisfaction guaranteed!
Healthy Breeds also offers a Deodorizing Shampoo and a Bright Whitening Shampoo for lighter/whiter coats to bring back the puppy shine! Search for your breed and product!
Its mild aloe and oatmeal formula is ideal for dogs with sensitive skin and doesn't contain harsh soaps that can trigger skin allergies. It's a natural cleanser for scaly skin or coarse fur and restores its natural moisture and emollients.
Its formula incorporates several essential vitamins and natural ingredients that can soothe your French Bulldog's skin, including aloe vera, coconut oil, and walnut oil, giving their coat a healthier look. Its piña colada scent overpowers any harsh odors after a nice, refreshing bath.
Pros:
Affordable
Made with essential oils and natural ingredients
Restores skin moisture
Cons:
Its aroma can smell artificial to some people.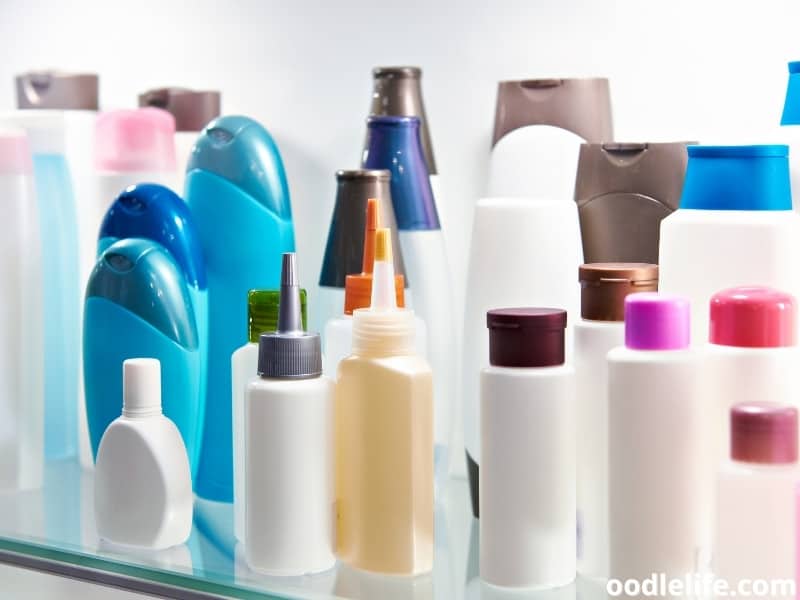 Things To Consider When Choosing the Best Shampoo for French Bulldogs
You'll need to consider several things when narrowing down the best shampoo for French Bulldogs to manage potential skin issues. Some shampoos might have characteristics you'll favor over others, so it's essential to know what you want from the one you desire.
Your Dog's Skin Condition
The best shampoo for French Bulldogs should match your dog's skin care needs if they're prone to allergies. Medicated shampoos are ideal for treating skin parasites or flaky skin while cleansing shampoos combat odor and dry skin.
Ingredients
Consider buying shampoo with natural ingredients, like aloe vera or oatmeal. The safest shampoo options for your Frenchie shouldn't contain harmful parabens, sulfates, or soaps that can dry your dog's skin and cause irritation.
Fragrance
Artificial fragrances can trigger skin allergies in your French Bulldog, so it would be wise to consider choosing a shampoo without fragrance or one with subtle, natural ones.
Conclusion
The best shampoo for French Bulldogs should be gentle yet effective when treating potential breed-specific skin issues. Washing a Frenchie too often can dry out their skin, but you might need to bathe them frequently to combat itchiness and inflammation.
No matter what shampoo you choose, you're bound to find something that works for your dog's bathing routine.